Secretary of Veterans Affairs Denis McDonough highlighted new VA initiatives and the importance of MOAA's support for the department's efforts in a keynote speech at the luncheon of MOAA's 92nd Annual Meeting on Oct. 15 in Arlington, Va.
Only the second non-veteran to lead the VA, McDonough's experiences have nevertheless imbued a strong appreciation of the armed forces. His grandfather's service in the Marines, frequent trips to Afghanistan and Iraq for the White House National Security Council, visits to the resilient wounded at Walter Reed, and the somber arrivals of fallen heroes coming home one final time at Dover Air Force Base, Del., all made a lasting impact before he took on his current position.
"You take care of us, we'll take care of you. You fight for us, we'll fight for you. If you have our backs, we'll have yours," said McDonough. "The thing is our nation as a whole makes that promise, but we at VA, at MOAA, are among those most responsible for keeping that promise."
With that commitment in mind, he shared his "fundamental principles that shape our visions of the future":
Advocacy: "Make sure VA is the nation's premier advocate for veterans, their families, caregivers, and survivors."
Access: "We'll move heaven and earth to get veterans timely, and I underscore timely, access to their VA resources."
Health care: "Rebuilding, repairing, realigning and modernizing our health care infrastructure to meet your needs because that infrastructure is critical for the health of our nation's best."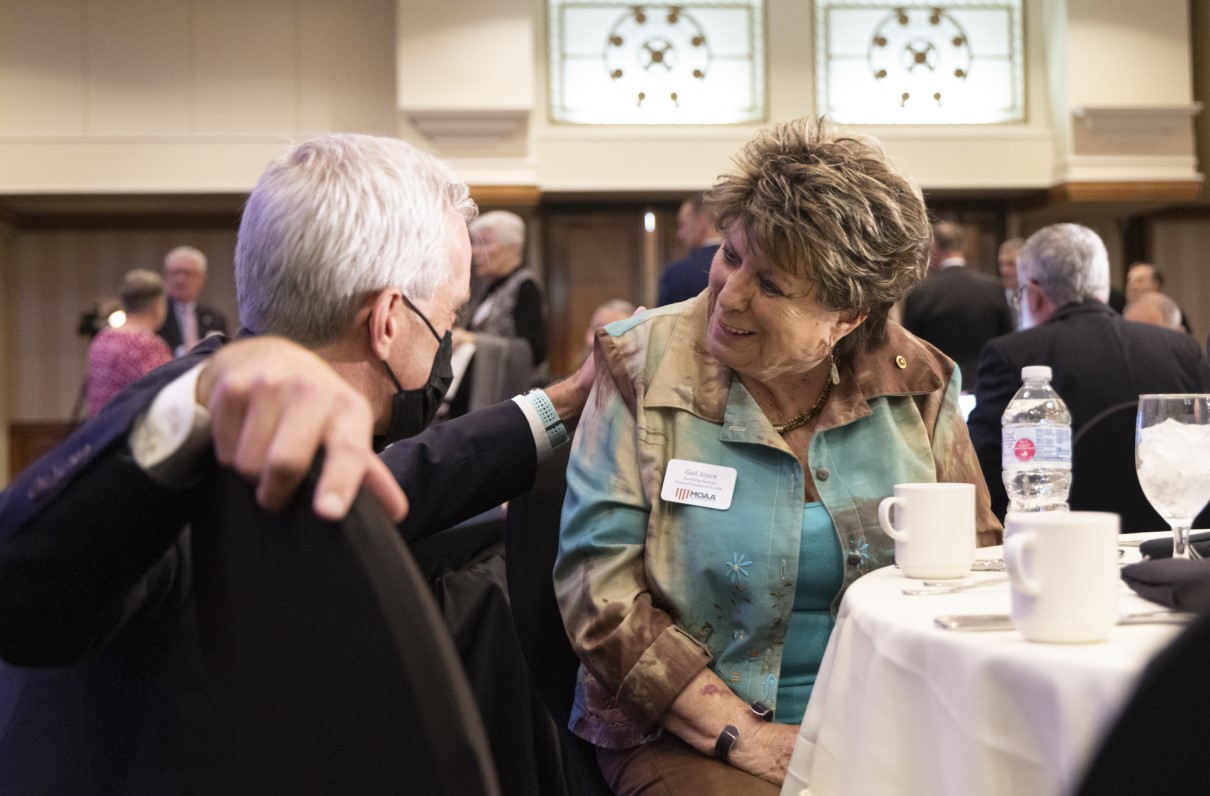 Surviving spouse and Gold Star Mother Gail Joyce, a member of MOAA's board of directors and chair of the Surviving Spouse Virtual Chapter, speaks with Secretary of Veterans Affairs Denis McDonough during the MOAA Annual Meeting on Oct. 15 in Arlington, Va. (Mike Morones/MOAA)
[RELATED: Members Gather in Person and Virtually for MOAA's 2021 Meeting]
McDonough elaborated on how the health care infrastructure would be expanded, particularly regarding telehealth, mental health, and women's health – each area addressing a growing need or demographic within the veteran community.
He also addressed how the VA is taking on toxic exposure reform.
"We're not waiting for Congress to act on this. We're going ahead and acting ourselves," he said, highlighting recent changes: The VA will reexamine previously denied Agent Orange claims automatically, so resubmission is not necessary, and those who served in Southwest Asia and are now affected by asthma, sinusitis, and rhinitis are presumptively receiving disability benefits.
"Veterans have waited far too long" for these benefits, McDonough said, "and we're doing everything in our power to make sure that they don't wait any longer."
The secretary also reminded the MOAA audience that the VA offers COVID-19 booster shots to the immunocompromised as well as others interested.
McDonough concluded his remarks by lauding MOAA's dedication to the military and all the organization does serving those who serve.
"Just as you have been, since 1929, answering the call to service. … I know you'll be there again whenever the next call comes," he said. "Not because I take you for granted. Because you're the ones who never stop serving."
The speech was well-received by MOAA members, some of whom had the chance to speak with McDonough at the luncheon.
"I thoroughly enjoyed Secretary McDonough's speech, his comments, his initiatives," said MOAA Board Member Col. Rojan Robotham, USAF. "I think he has the right focus ideas to really help provide top tier services to veterans."
MOAA Meeting Resources
Are you a chapter leader interested in sharing materials from the 2021 Annual Meeting? Want to watch the event or see some of the related materials and video? Click below to access these resources. NOTE: Member login required to access all materials.