By Contributing Editor Blair Drake
Early on an October morning, CW4 Edwina "Eddy" Mroz, USCGR (Ret), boarded an airplane at Chicago Midway International Airport. The flight was headed to Washington, D.C., where Mroz and the 92 other women veterans on board would see the memorials honoring their service to the nation.
This was the first all-women Honor Flight out of Illinois — an experience Mroz describes as "awe-inspiring."
"I don't think I can do anything better than that," she said. "There was such camaraderie among the women. We could talk about our experiences serving. It was like a sisterhood."
The trip, sponsored by Operation HerStory and Honor Flight Chicago, was extra special for Mroz because she was the only Coast Guard member on the flight.
Her career in the Coast Guard Reserve began in May 1973, but she said she had long considered joining the military. Her father and two uncles served in World War II, and her husband was serving in the Marine Corps.
"I've been patriotic all my life and thought it was a good time to [join]," she said.
[RELATED: More MOAA Members in the Spotlight]
Mroz, who was teaching second grade at that time, was a college graduate with administrative experience, so she was able to enter the Coast Guard Reserve as an E-5.
"My husband commissioned me in front of the whole school with Navy, Coast Guard, and Marine Corps recruiters there," she said.
During her 30-year career, she served primarily in administrative roles, including at Naval Station Great Lakes, Ill., in downtown Chicago, and in Detroit as well as active duty assignments in Hawaii and at Naval Air Station Glenview, Ill.
She also continued to teach second grade and later worked as an administrator for New York Life Insurance.
After retiring in 2003, Mroz became involved with numerous veterans' groups, serving as commander of the American Legion Post in Glenview, Ill., and currently as secretary of the North Shore and Chicago Chapter of MOAA.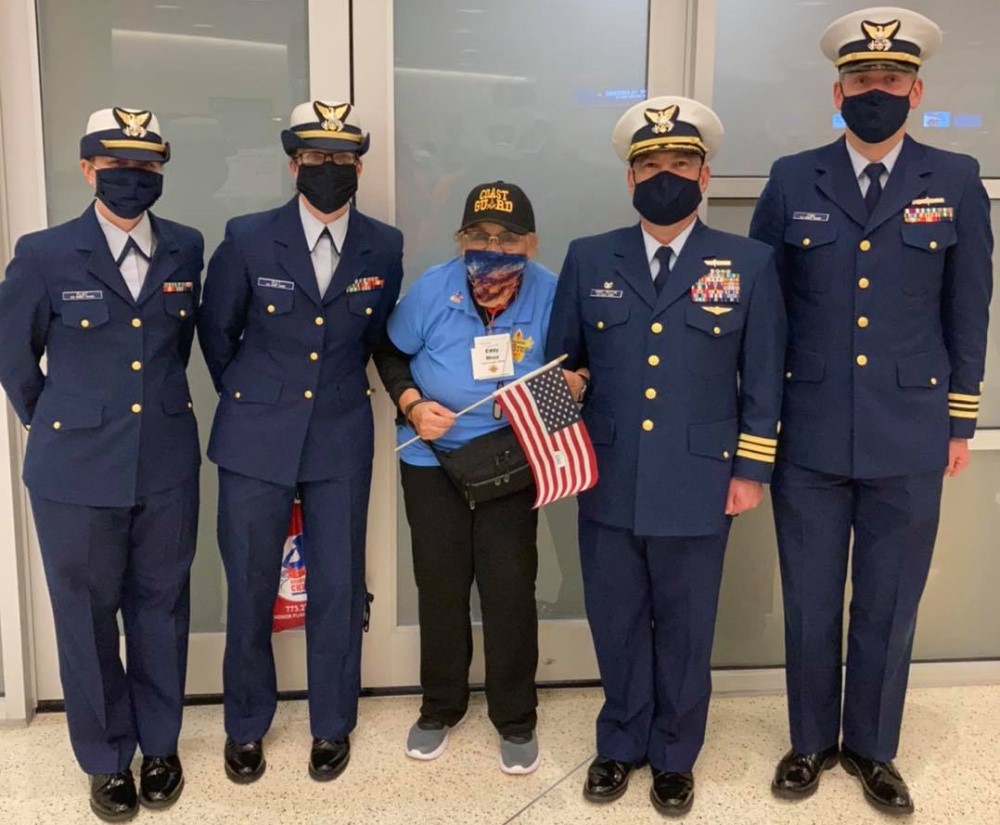 Coast Guard officers from Marine Safety Unit Chicago welcome CW4 Edwina "Eddy" Mroz, USCGR (Ret), upon her return to Chicago. (Photo by Coast Guard Marine Safety Unit Chicago)
She looks back on her Coast Guard career fondly and is proud of her service, though she admits as a woman and Coastie, she has not always received the same recognition as other servicemembers.
"Whenever I go out and have my Coast Guard cap on and my husband is wearing his Korean War cap, he will get thanked for his service, but I do not," she said. "It's really strange that people recognize him more than me."
Because of this, Mroz said, "It was absolutely wonderful to be recognized" during the Honor Flight.
When she returned back to Chicago Midway International Airport at the conclusion of her visit to Washington, D.C., Mroz had a surprise waiting for her.
"As I'm getting off the plane, there were four Coast Guard officers from [Coast Guard Marine Safety Unit Chicago] who escorted me to baggage," she said. "I was so proud. My husband was there with a welcome home sign. It was a wonderful experience — probably one of the biggest in my whole life."
Blair Drake is a contributing editor for MOAA and lives in Souderton, Pa. She previously served on the editorial team of Military Officer magazine for nine years.
Want to Help Servicemembers in Your Community?
Learn how you can make a difference with your local chapter.