(This article originally appeared in the March 2021 issue of Military Officer, a magazine available to all MOAA Premium and Life members. Learn more about the magazine here; learn more about joining MOAA here.)
By Amanda Dolasinski and Jennifer Hlad
While women have served in the military in various ways since the Revolutionary War, it took a 1948 law to formalize their acceptance in the armed services. In 2016, women began to be admitted into combat roles.

Today, women servicemembers continue to smash the military's glass ceiling and diversify the officer ranks, easing the way for future generations of female warriors. Many of those who spoke to Military Officer about their achievements framed them in humble terms. But their accomplishments are larger than that, serving as beacons of possibility for those who follow in their footsteps. Here are their stories.


Capt. Emily Thompson, USAF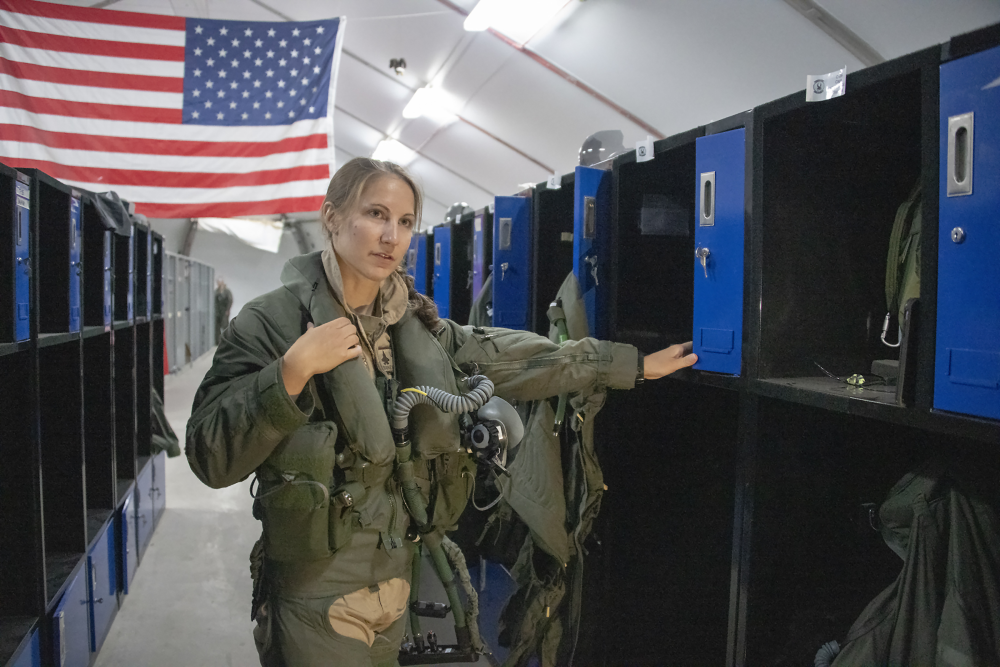 The first woman to fly the F-35A Lightning II in combat.

Air Force Capt. Emily Thompson ran down her preflight forms as she slipped into the cockpit of her F-35A Lightning stealth jet on the airfield at Al Dhafra Air Base in the United Arab Emirates (UAE) last summer.

She was focused, just as she'd been on hundreds of previous missions. But this time, she and the four-woman maintenance crew supporting her launch would be part of a historic moment in military aviation: She would become the first woman to pilot an F-35 into combat.

"It's just another day doing the job, what I've been training my entire life to do," Thompson reflected. "But at the same time, once we were out there … it gave me an appreciation that what I do is unique, and there's a lot of women that are interested and inspired by it."

Thompson's military service was inspired by her father's time in the Army. She trained on F-16 jets, earning the call sign "Banzai."

She said she's used to being the only woman in the room, including the time she switched to train on F-35 jets and was her squadron's sole woman pilot deployed to the UAE in 2020. But her skills, rather than her gender, are what set her apart.

"It doesn't really matter who the pilot is because you're judged by your flying," Thompson said. "Once you get airborne [and] your helmet gets on, if we didn't have radios, they would have no idea who's up there flying. And that's what we grade ourselves by: how you perform in the aircraft. If you're good, you're good. And that's genuinely how I've always been treated and have always felt."

So when she landed her jet that summer day in the UAE — her first deployment — Thompson carried on as usual: more preflight checks, more missions. Yet, to women across the Air Force, she offered a glimpse into possibilities not yet experienced by women before that moment.

That was a pretty cool experience to share with women, Thompson said.

"I hope it just provides them an example for someone that has done that position, and that it is open to anyone that wants to do it," she said. "I strongly believe that if you want to do something, there should be nothing stopping you."


1st Lt. Stephanie Simon, USMC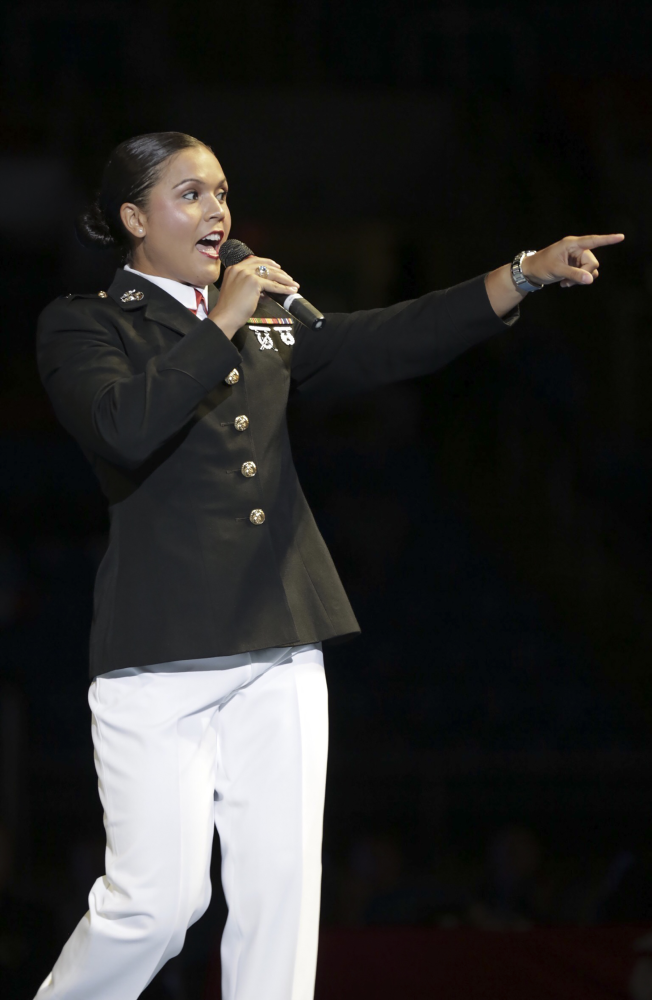 The only woman officer on the II Marine Expeditionary Force boxing team.

Marine Corps 1st Lt. Stephanie Simon is used to being underestimated.
It started at the U.S. Naval Academy (USNA) when she was fighting for the brigade championship boxing title against the same opponent she'd lost to over the previous two years. So when she introduced herself to the all-male amphibious assault vehicle platoon she would soon command during a physical fitness test in 2018, she could sense their skepticism.

"We were doing the PFT and the [outgoing] platoon commander said, 'Who wants to go first on the pullups?' I jumped up first and busted out 20," Simon said. "And when I got off the bar, I looked around and … you could tell that they were pretty shocked, but there was also that respect."

As her platoon learned, Simon never backs down from a challenge. And just like she knocked out her opponent at USNA to finally clinch the brigade boxing championship title, she knocked out any doubt about a woman's ability to lead.

Simon's job was among the combat arms positions newly opened to women in 2017, the same year she graduated from the academy. After her time in the platoon, she continued to prove her doubters wrong by becoming the sole woman officer on the corps' boxing team.

She's the platoon commander for the team, responsible for their health and well-being. She trains alongside her Marines three times a day.

"I was curious to see if there's any other female officers, but when I realized that there weren't, it was not a surprise," she said. "That being said, it excited me in a way because now I have somewhere to go with this. Hopefully I can, over the next year, influence and inspire maybe five or six female officers to come to the team, and then by the time it's three years down the road, there's 10."

She's already made progress. When Simon attended the academy, she said only a handful of women were on the boxing team, but when she went back to watch the tournament recently, she noticed more women.

After a match, one of the women tracked down Simon to tell her she was her inspiration. It's a conversation Simon often thinks about when she hits the ring outnumbered by men.

"I teared up," Simon said. "What I do does matter, and it matters on a scale much bigger than anything I could ever imagine, because now these women that I'm seeing come after me are doing better than I ever did. It makes everything worth it, and sometimes, in a lot of ways, it's more rewarding than winning a championship."
Lt. Kayla Barron, USN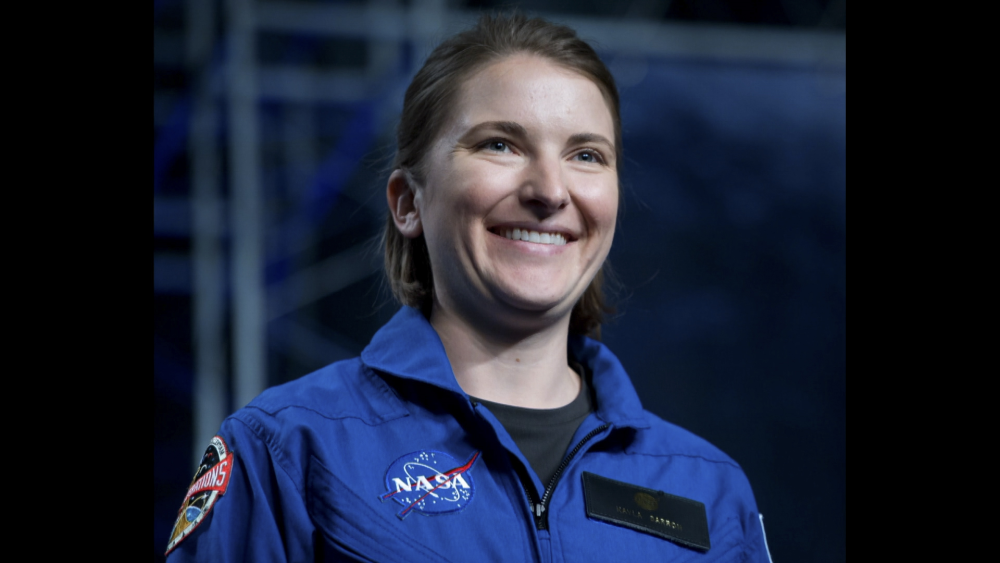 A NASA astronaut and one of the Navy's first woman submarine officers. (Photo courtesy of Department of Defense)


Lt. Kayla Barron's wildest dreams were never limited by her gender, let alone the availability of oxygen.

Barron, who graduated from the U.S. Naval Academy in Annapolis, Md., fearlessly commissioned into the Navy's first class of women serving in the submarine warfare community in 2010. And her barrier-breaking may not stop there: She could become the first woman to walk on the moon on a future NASA mission.

Both jobs uniquely require special equipment to provide life-saving oxygen to her body, but they're also jobs that no woman before Barron has held. She hopes her platform will inspire future generations of women officers.

"I certainly was inspired by the women in the astronaut office when I was applying and seeing everything women have been accomplishing in space for decades. And, even though the submarine community was new to women when I joined it, there are a lot of amazing role models for us throughout the Navy who integrated the aviation community and surface warfare communities," Barron said in an interview with Military Officer last year.

The Navy opened submarine jobs to women for the first time in 2010. There were 24 women, including Barron, who seized the new opportunity. She completed her training and was assigned to the USS Maine (SSBN-741), an Ohio-class ballistic missile submarine that largely conducts strategic deterrent patrols around the U.S.

Barron was accepted by NASA in 2017, where she completed two years of astronaut training. She found numerous parallels between the jobs, she said, including the importance of teamwork.

"There are a lot more similarities than there are differences," Barron said. "In both cases, you have human beings who are living and working in an environment where humans really aren't supposed to be. Whether it's under the surface of the ocean or out in the vacuum of space, you need the same kind of equipment to keep you alive and the same kind of teammates to be successful."

In December 2020, Barron was among 18 astronauts selected by NASA to begin training on moon landings.

"We're pretty focused on the moon and Mars," Barron said. "We're really excited about that, to build on the legacy of Apollo, but also to start to learn what it takes to have a sustainable human presence on another planetary body. So we're going to use the moon as proving ground for all of the technologies, procedures, operations, techniques, and teamwork that we're going to need to eventually push to Mars."
Capt. Anneliese Satz, USMC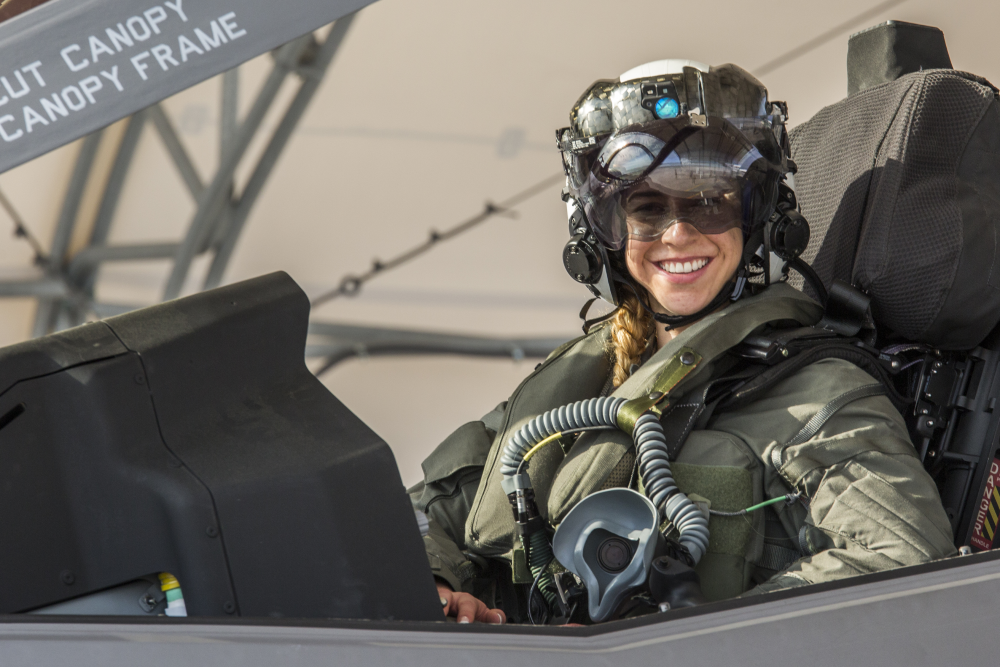 The first woman marine pilot to qualify on the F-35B.


Capt. Anneliese Satz never shied away from a challenge, but no woman in the Marine Corps had ever taken on the F-35 supersonic stealth jet before.

She remembers her first time climbing into the cockpit and fumbling with the harness and emergency ejection connections, like all first timers do. Once she was airborne that July day in 2018, she glided across the South Carolina sky, proving Marine women are up for any challenge.

"It's never been about trying to be the first female or stand out in any way," said Satz, who earned the call sign "Yato." "I've always believed that actions speak louder than words, so if my presence here means something, then I'm really happy about that. You have no idea where life is going to take you. The best you can do is set yourself up for success and when an opportunity does come your way, you can show up to it fully prepared."

Satz got a jump start in aviation by earning her commercial pilot license flying a Robinson R44 helicopter before commissioning. When she began military flight training, she again pushed herself by requesting the F-35B Lightning II Joint Strike Fighter, a stealth jet capable of landing on ships near combat zones.

No woman had ever made it through the training before Satz.
As she began the advanced training, she noticed she was the only woman in the class. But just like she'd always heard, a Marine is a Marine and gender is irrelevant, she said.

"First and foremost, you're a Marine," Satz said. "We're graded on the same standards, by the same people. If you perform to this level, you'll pass. If you don't, you won't. You either have it or you don't."

She earned more than 300 flight hours over her four years of training. She's currently serving in her first operational unit, the Marine Fighter Attack Squadron 121 in Iwakuni, Japan.

If the Marine Corps is called to defend itself or allies, Satz knows the jets could be part of those contingency plans — and she's ready for that challenge, too.

"I will do the best that I can, and I will try to make myself valuable to the Marine Corps," Satz said.


Cmdr. La'Shanda Holmes, USCG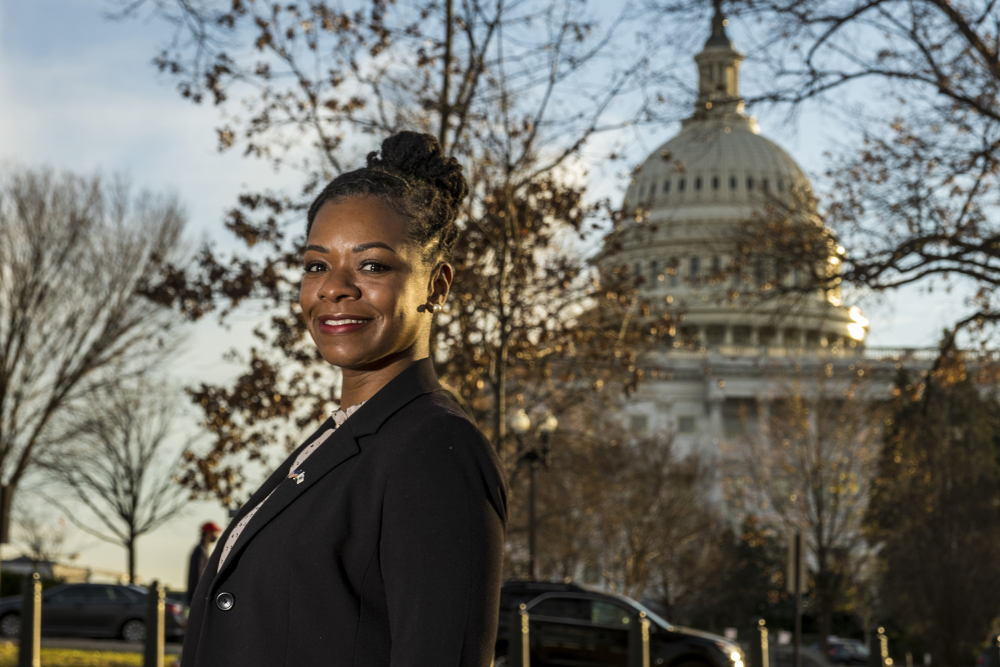 The coast guard's first black woman helicopter pilot. (Photo by Jay Wescott)

A chance encounter with a Coast Guard recruiter helped propel Lt. Cmdr. La'Shanda Holmes from the foster care system to a successful career. Now, as a helicopter pilot flying the MC-65 Dolphin, she helps rescue people stranded at sea.

"Nothing trumps being able to save a human life," Holmes said. "At the end of the day, when you've been out there doing a search pattern and … you see that one little strobe light … attached to somebody whose boat sunk hours ago …. we get to be the people to pull them out of the water and take them back to their husbands, wives, children."

Holmes' other assignments have included drug and migrant interdiction as well as intercepting aircraft that pose a threat to the White House or other critical infrastructure in Washington, D.C. She is currently a congressional fellow on Capitol Hill (pictured at right).

Today, Holmes is one of five Black women Coast Guard pilots who call themselves the "Fab Five." She said she values all of the relationships she's cultivated in the service, like her friendship with Jeanine Menze. Holmes learned about Menze — the Coast Guard's first Black woman pilot — when she was underway on a Coast Guard cutter between graduating from college and attending Officer Candidate School. Menze urged Holmes to get orders to Florida once the ship returned to port, and she took Holmes on a flight.

"I just remember sitting behind her and watching her and just being so wowed. … Why didn't I get the memo that Black women were doing this? Nobody told me that this was possible. … I was really just blown away by her. And it was at that moment that I thought, 'I can at least try,'  " Holmes said.

Still, the fact that Holmes was going to be the second Black woman Coast Guard pilot — and the first to fly helicopters — didn't fully dawn on her until she was about to graduate from flight school, she said.

Menze went up on stage with Holmes' other friends and family at the graduation. The two were holding hands when Menze told Holmes she was giving her the wings she got when she graduated from flight school.

"She's holding my hand. She's like, 'Can you believe it? Isn't it so special?' And our eyes, our eyes are like… we're trying to suck in the tears. We had just that moment of, 'Man, now it's me and you,' " Holmes said.
First Capt. Reilly McGinnis, U.S. Military Academy


One of few women to serve as first captain at the U.S. Military Academy.
First Capt. Reilly McGinnis has joined an elite group of women who have earned the rank of first captain at the U.S. Military Academy at West Point, N.Y. – just six in the academy's 218-year history.
"Thinking back as a plebe, I never would have thought this would happen," McGinnis said. "Getting to lead in this position is definitely humbling."

The first captain is the highest position in the cadet chain of command. She's responsible for the performance of the 4,400-member Corps of Cadets and acts as a liaison between the corps and the administration.

It's been a whirlwind of a journey for McGinnis. The native of Macungie, Pa., didn't know much about the military before stepping onto campus for a tour, but instantly felt that was where she belonged.

She grew up leading her teammates on the soccer field, so leading comrades during academy training was a seamless shift. When an injury sidelined her, McGinnis decided to put all of her energy into more military activities.
She was thrilled when she learned she was selected as the commander of the Cadet Leader Development Training, but disappointed when it was canceled because of the COVID-19 pandemic.

The pandemic, which could have dismantled the prime leadership opportunity, presented McGinnis with a new one. She was tasked with leading a detail to plan how to safely get cadets back to the academy, undergo COVID-19 testing, and make the most of the two-week quarantine.
At the end of the detail, McGinnis was selected for first captain.

The honor has been shared by just five women before McGinnis. But McGinnis said she has always felt supported and empowered at the academy.
"Forty years ago from this past graduation was the first time females graduated," McGinnis said. "We've come such a long way since then. I've felt nothing but included the whole time I've been here. Nobody has ever looked at me differently or thought I couldn't do it. The result of that is, I never had hesitations to pursue something."


Midshipman Sydney Barber, U.S. Naval Academy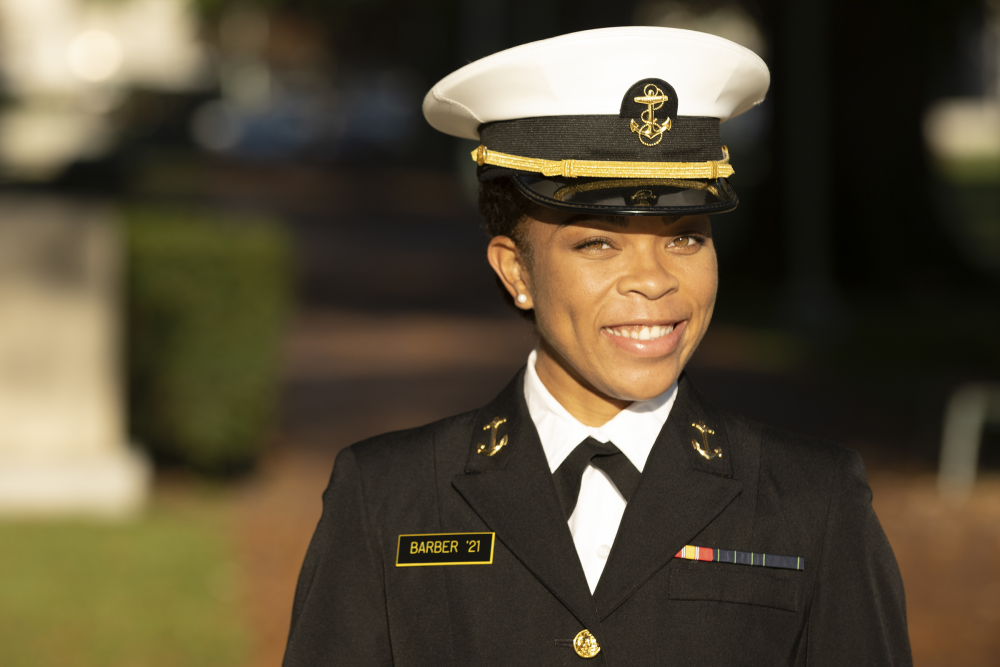 The first black woman to serve as class brigade commander at the U.S. Naval Academy . (Photo courtesy of Department of Defense)


In a year scarred by tragedy and racial injustice, the U.S. Naval Academy in Annapolis, Md., made history when it selected its first ever Black woman to serve as class brigade commander — a position out of grasp to the thousands of Black women who have attended the academy since 1976.

Sydney Barber, of Lake Forest, Ill., was selected to the semester-long position in November 2020 through an application and interview process by senior leadership from the commandant's staff. The position is the highest within the brigade.

"I'm extremely humbled to hold this position," Barber said. "Being a female and being a Black woman, I know how many people have come before me and the struggles they faced. I'm extremely proud to be in this position now. It's a testament to how far we've come as a nation and how far we've come in the military."

Barber's selection came at the same time the country elected Kamala Harris to serve as the vice president. "As difficult as this year has been … I think that there have been several silver linings that have come out of this," Barber said. "I feel very proud and very humbled to be a part of this time in 2020."

Barber's interest in the Naval Academy came as a surprise to her father, a 1991 graduate to whom she told she wanted to diverge and follow her own path. But, as she completed several mission trips during high school, Barber's spirit for public service intensified and only the Naval Academy could fulfill it.

When she arrived on campus, her goal was to push herself to improve every day. That mindset pushed her from her comfort zone in quantitative economics into mechanical engineering.

The COVID-19 pandemic changed the way midshipmen interact, but Barber said she's been committed to personal connections and leading her fellow 4,000 students. She said she'll take the same leadership approach after she commissions and arrives at her first duty station with the Marine Corps.

"I try to make [my comrades] a priority," Barber said. "At the end of the day, I can look someone in the eyes, and they can know that they can trust me and that I'm going to take care of them."


Lt. Cmdr. Danielle Varwig, NOAA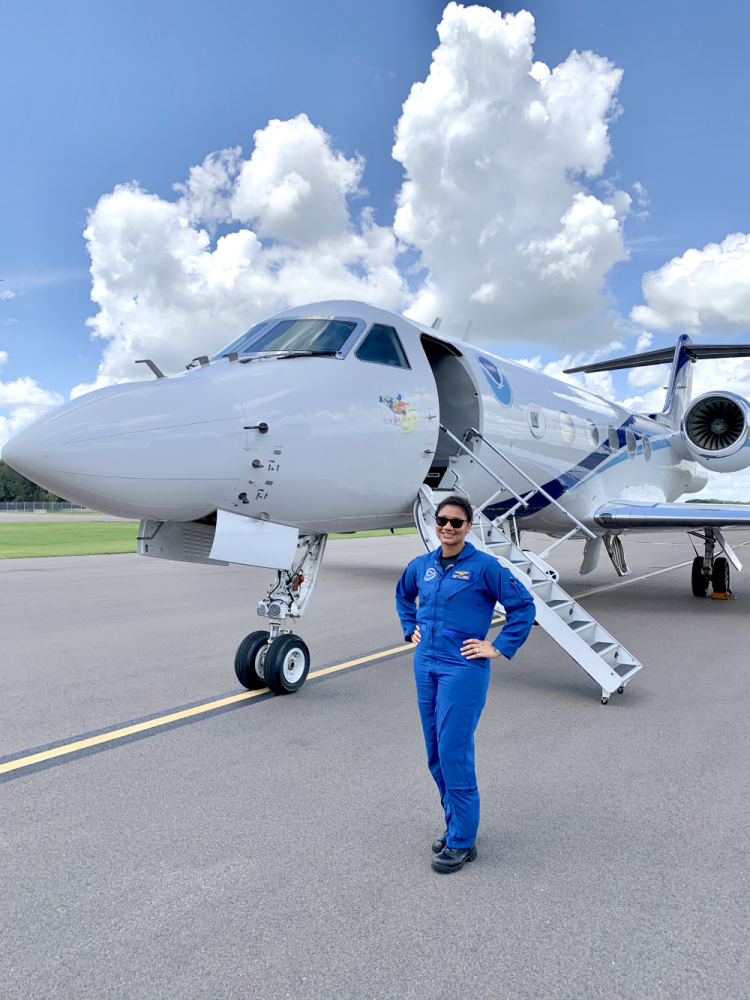 The first Air Force pilot to transfer to NOAA Corps directly into the G-4.


Lt. Cmdr. Danielle Varwig was never interested in flying bombers or being in the middle of the action — she joined the Air Force because she loved to travel and had a love for science, technology, engineering, and math. And while she loved the "C-17 lifestyle," she didn't think it would mesh well with having a family.

After serving in the Air Force for 13 years, she started to look for other options, which is how she learned about the NOAA Corps.

NOAA Corps officers support the National Oceanic and Atmospheric Administration's environmental science and stewardship mission, commanding a fleet of research and survey ships and aircraft.

Varwig transferred to the NOAA Corps in February 2020. She began flying the Gulfstream IV-SP with NOAA's Hurricane Hunters just in time for the historic 2020 hurricane season.

But while the jet does fly into hurricanes, "it's not what most people envision," Varwig said. The G-IV flies at high altitude, carrying scientists who are gathering data to predict a storm's track — the cones and spaghetti charts — unlike the better-known Lockheed WP-3D Orions, which fly through the eye of a hurricane to pinpoint a storm's location and intensity.
Varwig said the G-IV flies in complete overcast the entire time, and experiences a lot of turbulence, but cannot fly over the eye of a storm.

"It's a whole different type of danger that we encounter," she said. "It's wild, it's completely against my nature as an aviator … to go towards a crazy storm instead of away from it."

As a Black female pilot who is also an engineer, many people would expect her to have faced obstacles along the way, but Varwig said she has "not experienced any hardships" because of her race or gender. There are some stressors associated with "being a working mom in general," particularly one with a working spouse, "but I think it's worth it," she said.

And being the first Air Force pilot to do an interservice transfer to the NOAA Corps is an honor, she said.

"I'm honored for sure. It's a wild and awesome opportunity."
Lt. Col. Michele Pierce, USAF (Ret.)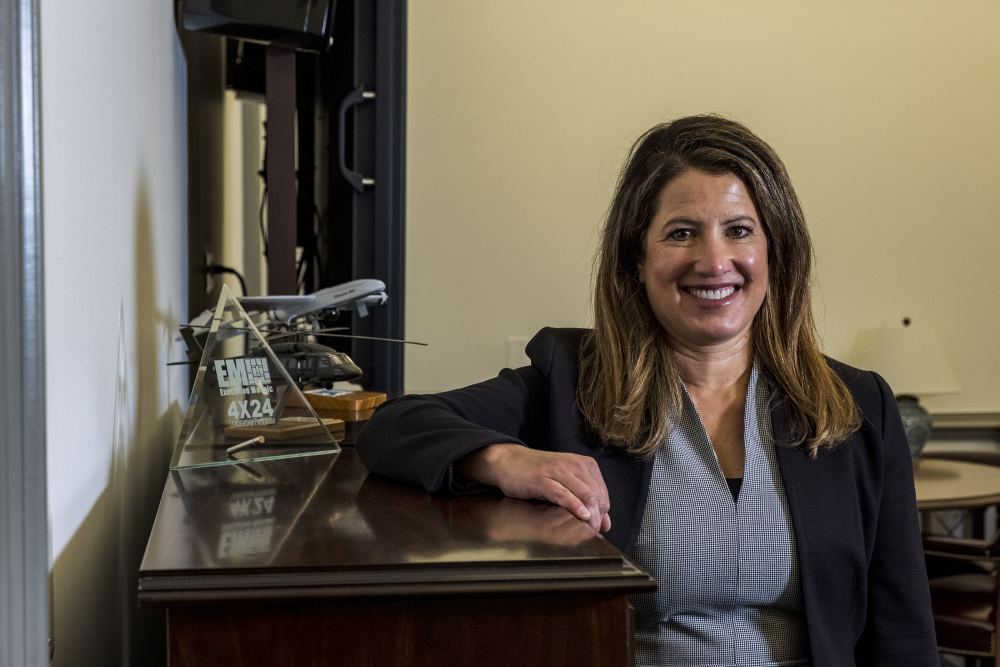 The first Hispanic woman to serve as the Army's acting general council. (Photo by Jay Wescott)


The goodwill of Lt. Col. Michele Pearce, USAF (Ret), likely will be felt long after her last stroll in the Pentagon as she wraps up her final days as the Army's top lawyer.

She's the first Hispanic woman to serve as the Army's acting general counsel, which provides legal advice to senior Army leaders. Equally notable, she fulfilled a personal crusade to mentor those who came after her — especially women and people of Hispanic and Black heritage.

"I'm hopeful that the generation of women that I've connected with and mentored will assume the mantle of leadership and do the same for those around them when they have the opportunity to do so," she said.
Pearce began her career as a judge advocate in the Air Force from 1996 to 2009. That's where she first noticed more clients of Hispanic and Black heritage than other ethnicities.

"When I was a defense counsel, I saw a lot of my clients were Black and Hispanic," she said. "It impressed upon me the challenges that exist in our system. … I can tell you that education played a significant part in why, in my view, these clients ended up in my office. In addition to education, just a lack of opportunities and pathways for success. I felt like a lot of them were either ignored by their chains of command or they weren't given the kind of support that they needed as they were transitioning into the military."

Later in Pearce's civilian career, she noticed she was always outnumbered by men. Recognizing her own gender and heritage, Pearce said she thought about what made the difference for her. Her best guess was the education and opportunities afforded to her — and so began her crusade to lend a hand.

"Until more women sit in leadership positions, every one of us who has kind of broken the glass ceiling has a responsibility to make sure that it's not as difficult for someone who is to follow us to assume a position of power and to feel that he or she is a member of the team," Pearce said.

"No one should have to think about their gender or their ethnicity when they walk into a room and the United States military," she said.

Even as Pearce prepared to leave office, she was clearing a path for those coming up behind her. The Army's Office of General Counsel developed and established groundwork to encourage students at historically Black colleges and universities and minorities at other universities to apply for jobs with the office after completing law school.

"I couldn't think about leaving this position without focusing on outreach efforts," Pearce said.
MOAA Knows Why You Serve
We understand the needs and concerns of military families – and we're here to help you meet life's challenges along the way. Join MOAA now and get the support you need.