For all you Defense Finance and Accounting Service (DFAS) myPay users, a new security procedure starts April 27. It's called two-factor authentication, and it will be mandatory for all DFAS myPay accounts.
When accessing your account on and after April 27, you'll be required to select a preferred method, mobile phone or email, to receive a random one-time PIN when using your Login ID and password. Once you receive the PIN, type it into the block on the page to access your account. Many of you are doing this already on various financial accounts, so this will not be a new procedure.
Once logged in to myPay, be sure to check all your contact information – especially your preferred contact email and mobile phone used by the two-factor system.
The myPay web site allows DFAS payees online access to their pay accounts. If you have not used myPay, you are missing out. There is so much you can do online without having to call the customer service line or mail paperwork. You can handle actions instantaneously. Note this DFAS web menu of actions and downloads available for an Air Force retiree (click here if you can't see the below image):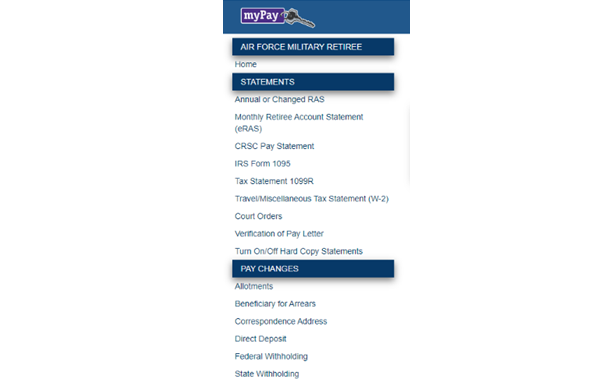 Visit this DFAS website for more information on myPay accounts and gaining access, plus more information on the two-factor process.
Support MOAA's COVID-19 Relief Fund
Donate to help The MOAA Foundation address emerging needs among currently serving and former uniformed servicemembers, retirees, and their families.