Whether she's watching NASCAR races with her 4-year-old son or contacting lawmakers as part of MOAA's Advocacy in Action campaign, bringing the challenges of military life into focus is never far from Megan Powell's mind.
Her husband, Maj. Jesse Powell, USA, folded her into military life 10 years ago in Nashville, Tenn.; the next decade would include three deployments to Afghanistan. When they welcomed son Andrew, they saw the challenges of the military's long training assignments and traumatic impacts of war through a new lens.
Megan Powell also saw an opportunity to share the struggles her family faced and be the voice for thousands of other military families when the military brought her family to Washington, D.C. She became a member of MOAA's Currently Serving Spouse Advisory Council and also volunteers with the National Military Family Association.
"I thought I could aggregate it and be part of the change," she said. "That would give me a chance to help families."
[RELATED: MOAA's Advocacy in Action]
This year, Powell threw her energy into MOAA's Advocacy in Action campaign to talk to lawmakers about the TEAM Act, which would give veterans exposed to toxic substances improved health care and benefits. Her husband has struggled with post-traumatic stress (PTS), which she explains to her son as "Daddy's having a stormy day."
"My family, as an active-duty family, we live every day with [traumatic brain injury] and PTSD in our house, and on top of that, he's burn-pit registered," Powell said. "We have to wonder, what's that going to do long-term? This is a currently serving issue, too. It's not just a past-error issue."
Need for Speed
In between advocacy events, Powell looked for a way to honor the couple's son, preferably with some kind of race car angle.
Andrew is the proud owner of more toy cars than Powell can count – most of them Lightning McQueen from the Disney movie Cars. He inherited his love of cars and racing from his mother, who used to cover NASCAR races for ESPN before her son was born.
That's how she found the Checkered Flag Foundation, an organization established in 2010 by NASCAR driver Brad Keselowski to honor and assist military families. The foundation held an auction to support military families, offering a spot for a child's name on Keselowski's car on a race day.
"Our mission has always been to honor and assist those who have sacrificed so greatly for our country," Keselowski said. "That means honoring the families that support them too. We believe military families also serve, just in a different capacity. There are many challenges military families face every day from frequent moves to finding long-term employment. The obstacles military families face are oftentimes done so alone. It is a great honor to give back to this courageous community and ensure their sacrifices are recognized."
The Powell family settled in together in their Texas home April 18 to watch the race at Virginia's Richmond Raceway and there it was – Andrew's name emblazoned in purple paint on Keselowski's No. 2 car.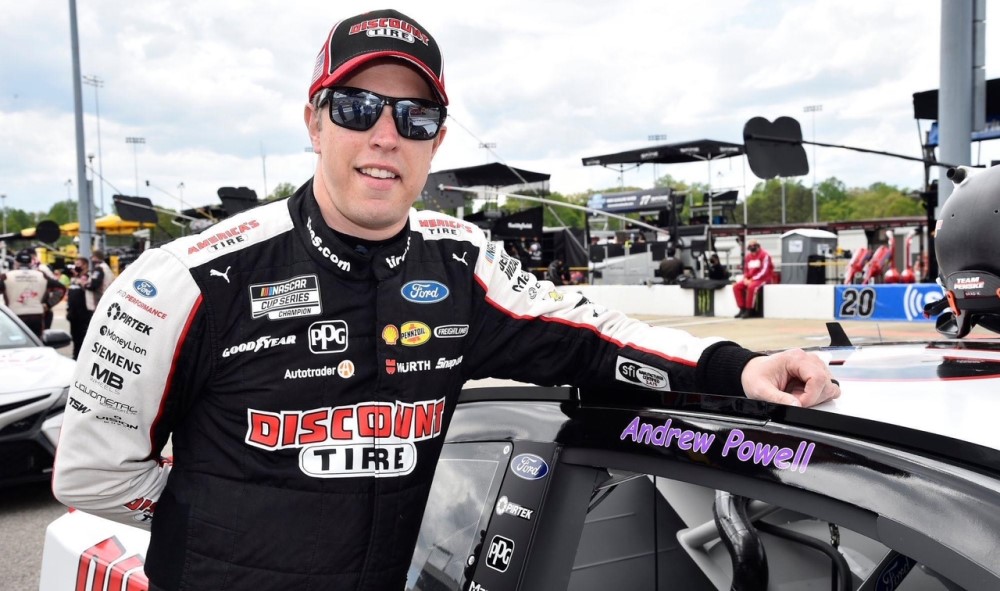 NASCAR driver Brad Keselowski poses next to Andrew Powell's name on the side of his No. 2 Ford Mustang. (Courtesy photo)
"Getting him recognized with what our story has become was just so special," Powell said. "The weekend was about him, and it was a chance to kind of explain to him, I know that you don't get the time with your grandparents and there's a lot of this life that (are tough), but there's a lot of cool things. (He) deserves that recognition. We haven't had to deal with a deployment with him, but he's still sacrificed a lot."
Powell asked the foundation if they could save the wrap of her son's name that was on Keselowski's car as a keepsake, but she was shocked when they had a bigger surprise for the family.
"Oh my gosh, this is the actual window," Powell said, recalling the family's reaction as they unwrapped a package from the foundation. "You can see where they cut it. That's been a cool part of it. It has marks in it from where, you know, it ran 400 laps at Richmond. It's a cool piece."
Every Officer Has Two Families
For over 90 years, MOAA has been working to get servicemembers and their families the benefits they deserve.