By Contributing Editor Blair Drake
Each year, MOAA chapters support the future generation of servicemembers by presenting awards and scholarships to Junior ROTC (JROTC) cadets in their communities. Because of the COVID-19 pandemic, many award ceremonies were postponed or canceled, but that didn't stop chapters from ensuring these worthy local students received the recognition they deserved.
The Greater Dallas and North Texas Chapter supports more than 50 JROTC units by presenting a MOAA medal and certificate to a deserving cadet chosen by his or her JROTC instructor. Typically, members of the chapter volunteer to put on their military uniform and perform a military award ceremony to present the medal and certificate to each student. But when schools closed because of the health crisis, chapter members Cmdr. Jim Bass, USN (Ret), and Capt. John Rahne, USAF (Ret), created a video the high schools could use at their virtual award ceremonies. In it, Bass extends his congratulations to the recipients on behalf of the chapter and provides a brief history of MOAA and its mission. (Watch the video at https://bit.ly/2NOWMPp.)
"The class of 2020 had some challenges with not having the traditional end-of-year school events," said Bass. "JROTC is a real stabilizing influence at many of the schools we support. It was important to still acknowledge these students and to put a face with the award."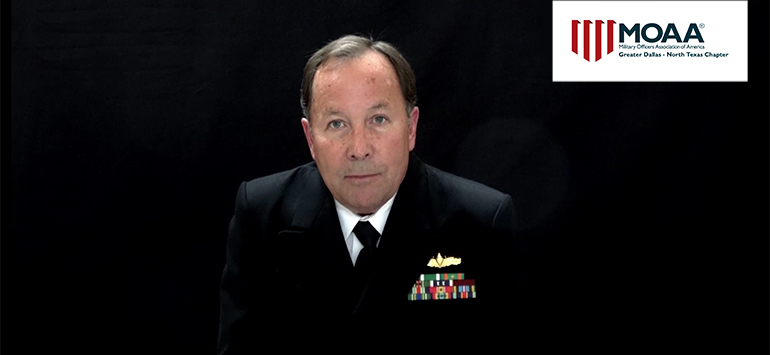 Cmdr. Jim Bass, USN (Ret), created a video high schools could use for their virtual award ceremonies in 2020. (screenshot)
In Arkansas, members of the Northeast Arkansas Chapter were able present in-person MOAA Achievement Awards to two outstanding JROTC cadets prior to state orders to close schools. chapter members were able to attend and present two of the awards. The chapter mailed the remaining 11 awards.
According to chapter President Former Army Capt. Richard Hartness, because the awards are given to cadets in their junior year, chapter members might be able to present some this fall if schools have award ceremonies at the beginning of the school year.
"To recognize these young men and women who show outstanding leadership achievement is important to those of us who are retired or former officers because we are interested in getting quality cadets to become future armed service officers," Hartness said. "Those JROTC cadets who show outstanding academics and leadership qualities are prime candidates for becoming part of that 1% of our nation."
Bass said his chapter, which also awarded seven scholarships to local cadets, feels similarly about the value of recognizing JROTC cadets.
"JROTC is important not only as a recruiting ground but also because these students gain key attributes," he said. "As military officers, one of our first duties is to take care of your people and make sure their needs are met. Even though the vast majority of our chapter is retired, we still feel that commitment, so we try to convey that we support the cadets and hope they go on to have successful military careers."
Blair Drake is a contributing editor for MOAA and lives in Souderton, Pa. She previously served on the editorial team of Military Officer magazine for nine years.
Support MOAA's COVID-19 Relief Fund
Donate to help The MOAA Foundation address emerging needs among currently serving and former uniformed servicemembers, retirees, and their families.