Thomas Throckmorton, a young and career-focused Army officer, did not want to miss combat in Vietnam. It was 1964, and he believed the war would soon be over. He sought an overseas assignment and served alongside paratroopers in the 5th Vietnamese Airborne Battalion. On this first trip to Vietnam, he survived a bullet to the stomach.
He healed, continued his career, and deployed again to Vietnam in 1969.
This time, small arms fire pierced a helicopter he was riding in. The helo crashed in a paddy field, and Throckmorton was thrown out the open door. His pelvis broke in 24 places, his hip was destroyed, and his prior bullet wound added numerous complications.
"Well that's the end of your Army career," a doctor quipped as Throckmorton arrived for surgery. Though Throckmorton was able to serve a few more years, the injuries did usher a premature end to the major's time in uniform.
[RELATED: MOAA Answers Your Questions About Concurrent Receipt]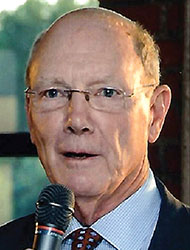 "I never forgot that. Of course, I was in it for the duration," said Throckmorton, pictured, a medically retired officer and Chapter 61 retiree whose retirement pay is offset by his VA disability pay.
After 13 years in, his career aspirations were cut short. The retirement pay has been short-changed for decades.
Because Throckmorton's injuries occurred in combat, he would be among those retirees to benefit from the Major Richard Star Act. Named for an Iraq and Afghanistan veteran, the beneficiaries of this law designed to reform an unjust process span generations.
Now age 81, Throckmorton had a long and successful civilian career as a lawyer in Virginia and North Carolina. He's hopeful concurrent receipt for all can become a reality -- not so much for personal gain, but for others in his situation now and in the future.
"I'm … at the end of my life, so it's not going to help me that much. But it will be nice for people to get it," said Throckmorton, a MOAA Premium Member.
And while Congress attempted a partial solution for combat vets with the Combat-Related Special Compensation (CRSC) program, it doesn't come close to fulfilling the offset, Throckmorton stressed.
"The thing that I never could quite understand is why, if they enacted Combat-Related Special Compensation, to replace the concurrent receipt … why not make it fairly similar?"
MOAA Knows Why You Serve
We understand the needs and concerns of military families – and we're here to help you meet life's challenges along the way. Join MOAA now and get the support you need.