L.K. Hingey spent a lot of her childhood with greasy hands, helping her father rebuild boats and tinker with busted engines.
Even in her teen years, she'd rather spend time turning wrenches rather than strolling the corridors at the mall. Her fascination with mechanics blossomed when she joined the Army as a helicopter mechanic and later a Blackhawk pilot.
"I really wanted to fly," she said. "That was the biggest drive for me once I started to work on the CH-47 Chinook helicopter. I just really fell in love with everything to do with aviation."
Courtesy of L.K. Hingey
But not long after she earned her commission, a fateful hard helicopter landing caused a spinal injury and ended her military career.
"The injury was too big," she said. "I had a lot of pent-up emotion, a lot of thoughts swirling around the whole injury and a couple years removed from it at this point. I decided to throw myself pretty heavily into a lot of other passions that I had."
So the girl who grew up mastering mechanics paved a new path. She channeled her energy to pursue dreams as a long-distance hiker, personal trainer, home renovator and inspector, and published novelist.
Her husband remained in the active duty Army, so Hingey focused on mobile careers and interests she could take with her when her husband's assignments forced them to move.
[RELATED: 7 Free Business Training Resources for Military Spouse Entrepreneurs]
She began by slowly hiking the Appalachian Trail from Maine to Tennessee with her husky while her husband was deployed. It took a little more than five months and gave her plenty of time decompress, rebuild her strength, and think about her next goal: becoming a personal trainer.
Hingey earned certification as a corrective exercise specialist, enabling her clients to understand their body movements to improve their fitness levels and overcome injuries. She often shared the story of her injury to help clients feel confident knowing they, too, can bounce back.
"It could be a very frustrating event in someone's life," she said. "A lot of people hit a wall that they perceived to be a complete roadblock when it doesn't have to be. It can be a bump, it can be a hurdle, but you can get over it."
Hingey put training to the side when her husband was assigned to Fort Drum, N.Y., and picked up home renovation and inspection. She spent two years transforming a 130-year-old house while working toward certification as an inspector.
"I'll call it an adventure," she said. "Just like personal training, I did my homework and got educated first, and then I just leaped headfirst into this."
The couple moved again — this time to Fort Rucker, Ala., for two years.
The move comes as Hingey prepares to release Kimber: Book One of the Elyrian Chronicles, the first fiction book in her series.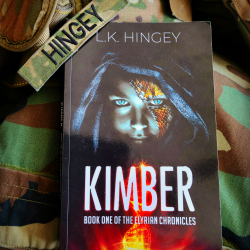 The book follows the journey of Kimber, a 23-year-old woman who becomes humanity's last hope in 2209 after World War III. She and her sisters search for evidence of inhumane genetic experimentation to free people from a life of servitude.
Hingey pulled from her experience in the Army as she crafted the fantasy world and adventures.
"I've never been one to shy away from challenges or pushing myself in whatever direction that I think would be cool to learn and grow and tackle," Hingey said. "Have faith in the experiences the military gave you, that you learned. Soldiers know that the day-in, day-out grind is very important. Never lose oomph for life. Don't lose that zeal. You know more than you think you do and can do more than you think you can."
MOAA Knows Why You Serve
We understand the needs and concerns of military families – and we're here to help you meet life's challenges along the way. Join MOAA now and get the support you need.