(This article originally appeared in the January 2020 issue of Military Officer, a magazine available to all MOAA Premium and Life members. Learn more about the magazine here; learn more about joining MOAA here.)
Adm. Brett Giroir, M.D., was sworn in as the 16th Assistant Secretary for Health (ASH) at the Department of Health and Human Services (HHS) on Feb. 15, 2018. In this role, he oversees the U.S. Public Health Service Commissioned Corps and the Office of the Surgeon General. He also serves as the Acting Commissioner of the FDA.
Military Officer spoke with Giroir about the promising future of the Commissioned Corps, the only uniformed public health service in the world. The following interview has been edited for length and clarity.
Q. What is your vision for the Commissioned Corps in the coming years, and how do you see its role evolving?
A. It's a combination of building on the traditional role of the Commissioned Corps and adding new aspects to it. … We are the "go anywhere at any time" public health force — nationally and globally.

No. 1, we need to be ready to deploy at any time. Deployments have increased 40% per year over the past five years. ... We see our role as a deployable force becoming more and more important — for situations like natural disasters or, God forbid, a kinetic military conflict with a lot of civilian casualties.

Second, we are going to supply health care to the underserved populations. That has been a traditional mission — and a very noble one that we really embrace.

Third, we really want to be an innovation engine for public health. … Together, [we]'ve got the depth and breadth of experience … and situational awareness that nobody else has. I think that is going to be really important going forward.

Q. What are the biggest public health challenges?
A. Our lack of ability to prevent [preventable] chronic diseases. We spend 90% of the nation's $3.5 trillion [in annual health care expenditures] on chronic health conditions, often when they're in very late stages and can't be changed. … We need to shift from a system of paying for services late in the course of a disease to everybody working together for prevention.
Q. How is the Public Health Service helping with that?
A. If you look across the board, we're positioned in an amazing way. No. 1, we provide leadership within the Public Health Service. … We really are arrayed across the public health infrastructure. Second, we deliver care in health settings that deal with millions of Americans, predominantly the ones who are the most underserved.

RAM [Remote Area Medical Volunteer Corps] is something we're supporting more. It's a private, nonprofit organization that provides care to underserved communities in the U.S. A couple times a year, we send Commissioned Corps there because they have the volunteers, the dental chairs, the professionals. Now [the Commissioned Corps] will be able to fund officers' transportation, room and board, and meals … to allow them to go to RAMs, so we were going to do several a year.
It's a real privilege to take care of people who need care. You [can provide] the medical and mental [health care], but you do so much more by caring for them and showing [them that they] deserve love and everything else.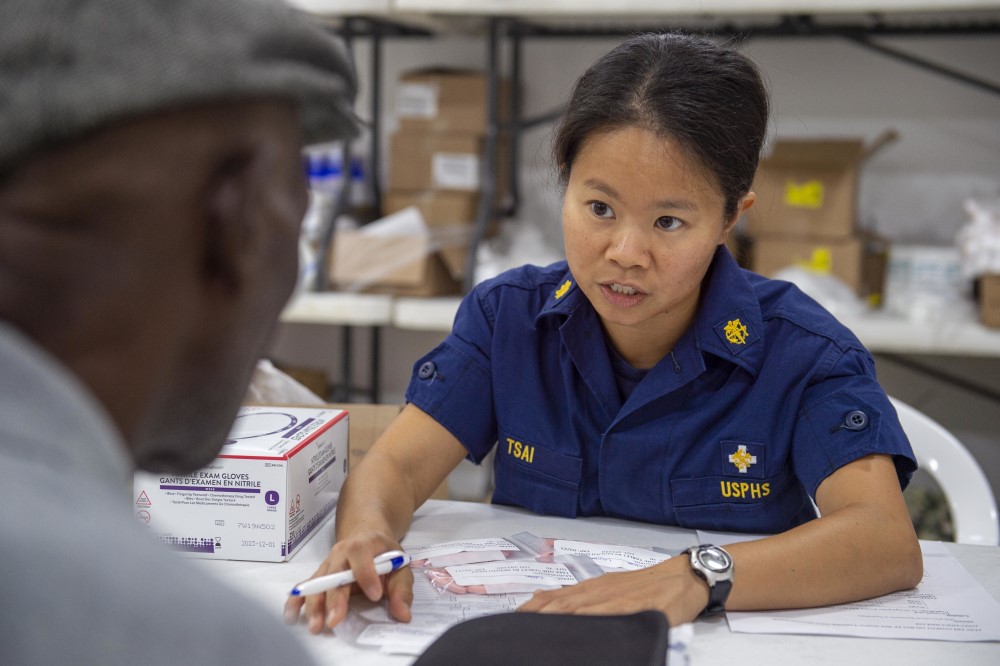 Lt. Cmdr. Yiying Tsai, USPHS, assigned to the hospital ship USNS Comfort (T-AH 20), consults a man about his pain medication at a land-based medical site in St. George's, Grenada, on Sept. 15, 2019. (Photo by Mass Communication Specialist Seaman Jordan R. Bair/Navy)
Q. Describe your involvement with the military services.
A. One thing I want to do is improve our capabilities and readiness. Part of that is working with the other uniformed services. … A lot of times when there's a disaster, we're working side by side anyway. If there is a military conflict in the future, it's very clear our mission is going to be supporting civilians. … As the military downsizes its medical footprint … they're not going to have the extra capability to take care of 100,000 civilians. We feel we're a sister uniformed service. … As the military downsizes its medical personnel, we'd love to have several thousand of them join us.
Q. The cuts to medical billets are coming out. Can you tell me about your hiring and recruiting efforts?
A. We have extraordinary support from the secretary, for me as the ASH. … There is a very good understanding that the Corps is absolutely vital and we need to grow. We're at about 6,100 officers right now. We hope to get to somewhere around 7,500-7,700 in the full-time Corps. There are multiple specialties, but clearly, we need medical doctors, advanced practice nurses, and other folks.
We're also hoping to get a reserve corps authorized. We hope to build that to about 2,500 just like the military reserve. First, as our deployment needs go up, having a reserve corps that is able to deploy to supplement us is really very important. Second, there are going to be specialties we cannot support day to day, but we would need them for certain types of deployments. … These are good opportunities for military and other uniformed services to come to us.

Q. What are you the most proud of when it comes to your tenure as ASH?
A. I'm the most proud of the restored optimism in the Commissioned Corps. ... There was a lack of support [from political leadership] and financially. … The Commissioned Corps understands its value, and we have a great future together.
From the ASH point of view, I'm most proud of being able to recruit outstanding people as my office directors. In a difficult environment, we have been able to recruit nonpolitical people who are at the top of their game, including some Commissioned Corps officers.
I know these people will really push the envelope for public health for years in the future.