Servicemembers, veterans and military spouses explored career options and made connections Sept. 19 at the Military Officers Association of America's largest networking and job hiring event.
MOAA's Military and Veterans Networking Hiring Event connected members of the military community directly to businesses, nonprofits and government agencies. The event, held at the Smithsonian's National Air and Space museum in Washington, D.C., included more than 900 registrants and 250 exhibitors.
"Even with the historically low unemployment rate, there is a need for networking," said Col. Brian Anderson, USAF (Ret), MOAA's senior director for transition and member services. "Whether it's transitioning servicemembers, veterans looking for career advancement or a military spouse, 75% of jobs are filled by networking. This is about making those connections that lead to potential career leads."
There were entrepreneurship exhibitors, government agencies, small business and large corporations eager to meet with transitioning servicemembers. Attendees spoke with hiring managers is an intimate, relaxed setting.
Keynote speaker Col. Ray Bingham, USA (Ret), a strategic communications principle for CACI International, recalled his own experience transitioning – it was unnerving and exciting.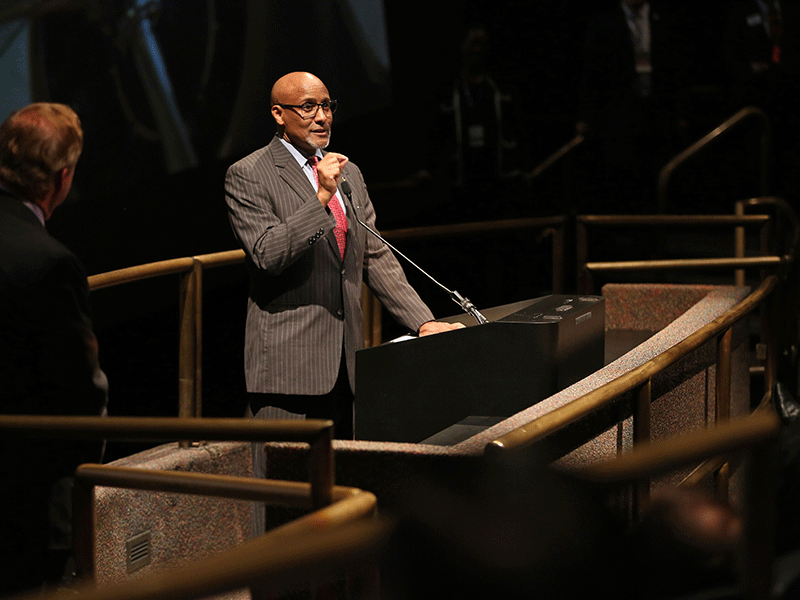 He told servicemembers to know their value and feel confident in the leadership skills learned from the military. He also said it's easy enough to make a smooth transition into a defense or national security job, but servicemembers should explore out-of-the-box ideas, such as start-ups or corporate headquarters in fields outside your expertise.
"Cast a wide net," Bingham said. "Look for companies that align with your skill set. Do not limit your search."




The annual event provides people with a chance to not only learn about available job opportunities, but also sharpen interviewing skills and develop personal pitches. Along with opportunities to meet hiring managers, the event featured panel discussions on job sectors and entrepreneurship.
Capt. Christina Mayo, a cyber operator for the 175th Maryland Air National Guard Wing at Fort Meade, attended the forum to see how her military skills could translate into a civilian career.
"I'm interested in career opportunities," she said. "I'm here for networking and building relationships. Hopefully, I get hired tonight."
Lt. Cmdr. Eric Gonzalez, who serves as a cryptologic intelligence officer for the Navy, waited in line for a professional headshot for his LinkedIn profile. He will be transitioning out of the Navy within the next few months.
"I want to see where I can apply my skill set to contracting companies," he said.
Amanda Dolasinski is MOAA's staff writer. She can be reached at amandad@moaa.org. Follow her on Twitter @AmandaMOAA.