(This article originally appeared in the January 2019 issue of Military Officer, a magazine available to all MOAA Premium and Life members. Learn more about the magazine here; learn more about joining MOAA here.)
Coast Guard members work across 361 ports on 20,000 miles of inland waterways and 95,000 miles of coastline, performing a range of missions including search and rescue, drug interdiction, and polar ice breaking.
"There's just a lot of excitement going on in the Coast Guard," says Adm. Karl Schultz, who became 26th commandant of the Coast Guard in June 2018. "I think Coast Guard men and women … [are] empowered, and their work is very relevant to the nation. There's a lot there for young people to want to subscribe to and be a part of."
Schultz graduated from the Coast Guard Academy in New London, Conn., in 1983. He served command tours aboard USCGC Venturous (WMEC-625), USCGC Acacia (WLB-406), and USCGC Farallon (WPB-1301) and also served as a congressional liaison to the House of Representatives and a liaison officer to the State Department. Schultz's flag assignments include commander, 11th Coast Guard District, Alameda, Calif.; director of operations, U.S. Southern Command, Doral, Fla.; and commander, Atlantic Area, from August 2016 to May 2018.
Schultz recently sat down with Military Officer to reflect on the service - and anticipate the needs of members and their families as they transition into the civilian workforce - since he took command in June.
Q. How did your previous job as the operational commander for the Atlantic Area prepare you for your new role?
I had established [a] battle rhythm for my predecessor. I would say our change of command denoted more of a continuity [of] command than a change of command, having been part of the leadership team before.
I had a good battle rhythm of what the work of the Coast Guard does, some of the budget realities here, [and a] chance to sit at the table for the perspective areas of shaping budgets, so I felt well-prepared coming into the job.
Q. Border security is part of the Coast Guard's mission. How have you evolved your mission on the border, specifically in the southern waters?
The majority of our efforts are pushing the border out, so that's a conversation that's 1,500 miles from our shore.
We get after the illicit narcotics that transnational criminals want to bring from the drug transit region ... Colombia, Peru, Bolivia. But those drugs are the destabilizing factor that goes into Central America, that go into the northern tier countries - Honduras, El Salvador, Guatemala. That's where the majority of migrants that are showing up at the border are coming from. We believe strongly that our ability to interdict large quantities of drugs at sea, where there's no violence associated with it, [has] a very strong impact on minimizing destabilization of legitimate governments in those countries, [and] reduces violence for the folks that live in those countries.
They're making difficult choices. They're parents like we're parents. It's a pretty tough decision, I'm sure, to send your teenage child out on that very difficult journey with a coyote - a smuggler - for a chance at a better life.
We like to think we're pushing that bit. When things are safer, there's more job opportunities, more economic prosperity. I think you start to affect people's desire to live there for a better life.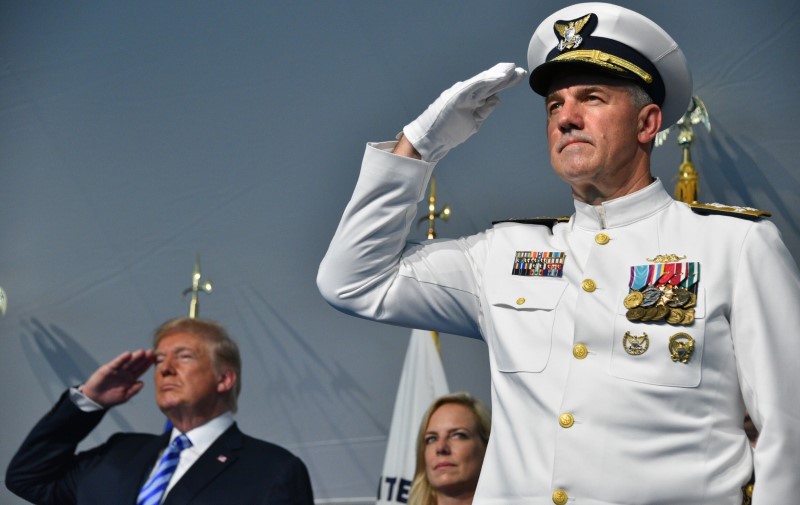 President Donald Trump, Department of Homeland Security Secretary Kirstjen Nielsen and Adm. Karl Schultz render honors during a change of command ceremony on June 1, 2018. (Photo by PO1 Patrick Kelley/Coast Guard)

Q. How would you describe diversity in the force, and what's your vision for changing that?
We've got a remarkably talented team of officers and enlisted members, civilians, reservists, and about 25,000 volunteers or auxiliaries.
That said, it's a competitive marketplace for ... the best and brightest talent across what I call our mission-ready total workforce.
If we look across numbers of women in the Coast Guard, in the officer ranks, it's about 20 percent. In the [Coast Guard Academy cadet corps], they have about 1,100, which is about 40 percent women.
We've got what we call a women's retention study underway. Results will be forthcoming.
I've created a readiness task force. They'll identify those findings, so we can understand women's decisions to stay or depart the service at an earlier junction than their male counterparts.
In the enlisted ranks, it's 15 percent women. I think, really, as we talk about diversity, … we need to shift the paradigm a bit and talk more about inclusivity. I want to recruit [and] retain the best and the brightest. I'd like the Coast Guard to be more representative of the nation in terms of diversity.
Q. Tell me about your goal for increasing nontraditional accessions.
Our missions are very complex, and we operate under many bilateral arrangements. We need the best and brightest in terms of lawyers.
Aviation: There's a domestic crisis in terms of pilots. It's a very competitive place for military pilots to be enticed to jump ship and go fly for the airlines.
We recruit some [of the] top pilots from the armed services that want to be part of the Coast Guard brand. Flying in the Coast Guard is very challenging, very dangerous. With that said, our deployment model is a bit different than our DoD counterparts. We're not deploying to far-off places for six to nine months. We stand duty, we deploy the ships, but there's a little more normal battle rhythm in terms of family life.
Q. The strategic plan calls for implementing policies to improve quality of life. What do you envision could be changed to improve quality of life?
There's a couple components.
We've had some success in getting after the availability of health care for our folks. We work closely with [the] Defense Health Agency [DHA]. The support of Congress, specifically Sen. [Maria] Cantwell from Washington state, was very helpful in helping us with DHA and getting after TRICARE Prime Remote, so that has been very beneficial for some [of] our folks in the Pacific Northwest.
We've looked at some policies that affect our colocated [families]. We've got a high percentage of officer or enlisted Coast-Guard-to-Coast-Guard families. We've looked at things like colocation for what I call the junior populations - lieutenant and below officers, and E-6 and below petty officers and non-rates. In the past, once an officer gets a set of four-year orders and the other spouse gets a two-year set of orders, that was just reality. Now, we're saying upfront we're going to align folks. Not saying they both get four years, not saying they both get two. We're saying we'll work with the assignment officer on what we can afford this couple in this location that's in their best interest [and] that's also fair to the rest of the Coast Guard.
On the dockside, we've got a vacancy of Public Health Service [USPHS] [doctors] - almost 25 to 30 percent - and we're doing some greater things with physician assistants, contractor doctors. We're bringing back a couple retired doctors.
Q. Is spouse unemployment an issue, and is the service doing anything new to help spouses find careers?
The Coast Guard tends to be in a lot of coastal communities that have a high cost [of] living, [because] they're places people want to live or vacation. So for us, dual incomes [are] a pretty important thing. We're trying to be part of those conversations to ensure our folks can live at an adequate quality of life.
We're working with LinkedIn on a project they have that we're trying to see if we can expand. Essentially, we're hoping that when members PCS - and also if members are separating - there's an ability for LinkedIn social media networking for job-type accessing ability to make that better available. And hopefully, we'll be able to do that at no cost to our members.
The National Governors Association, I think, is taking a look at reciprocity for certifications, and we're making sure we're part of that discussion and understand that.
The U.S. Chamber of Commerce made a commitment to hire 100,000 military spouses. Our spouses are aware of that, so some of that is just getting the word out, sharing information, and sharing best practices.
Amanda Dolasinski is MOAA's staff writer. She can be reached at amandad@moaa.org. Follow her on Twitter @AmandaMOAA.