By Kaitlin Lathrop
The Military Officers Association of America is proud to announce MOAA Board Member Col. Jeri Graham, USA (Ret), has been named an Outstanding Alumnus of the U.S. Army War College.
"This is such an honor and certainly deserving for someone who continues to serve and support our service members and their families," said MOAA CEO and President Lt. Gen. Dana T. Atkins, USAF (Ret).


To be considered for this distinction, granted by the Army War College Foundation, a graduate must make incredible contributions to our nation following his or her military retirement and "support the U.S. Army War College and its graduates in the preparation of outstanding senior leaders by enriching the academic environment, enhancing outreach and events, and encouraging alumni connections."
Graham, class of 1996, said she was "incredibly honored' to be named an Outstanding Alumnus.
"The culture of our military service really does emphasize looking out for those who come behind us, and MOAA has provided a good path to meet those goals," she added. "The Army War College education has a strong focus on developing strategic thinking skills, and we sure do have those opportunities being involved with MOAA."
Graham will be recognized in a Nov. 14 ceremony. A longtime advocate, Graham was selected for her phenomenal devotion to the veteran, retired military, and military family community. She has worked tirelessly in recent months in attempts to stave off potentially damaging medical billet cuts. Graham speaks regularly with her local and state legislators regarding this issue.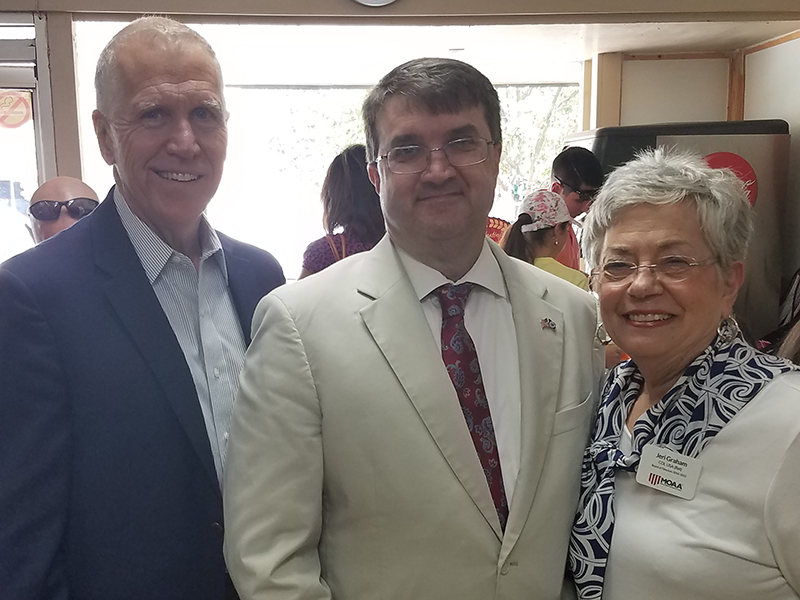 From left, Sen. Thom Tillis, R-N.C., VA Secretary Robert Wilkie, and MOAA Board Member Col. Jeri Graham, USA (Ret), take part in a veterans outreach event. (Courtesy photo)
As a founding member and current president of MOAA's Uniformed Services Nurse Advocates Virtual Chapter, she strives to bring the military nursing community together to collaborate on important military issues. She is also organizing the first MOAA Virtual Chapters cruise, where she plans to host trainings and invite the surgeon generals to speak.
Other honorees include MOAA Life members retired Brig. Gen. T. Patt Maney (Class of 1989) and retired Col. Clarence A. Miller, Jr. (Class of 1972). Lt. Gen. Thomas G. Rhame (Class of 1981) will also receive the award.