By Judy Christie
Col. Sam Boone, a retired Army chaplain, steps forward on a Friday afternoon at Fort Jackson National Cemetery in South Carolina to give heartfelt remarks for three deceased veterans.
Scores of guests, including members of the Aiken Chapter of MOAA, have gathered to pay their respects. An Honor Guard stands at attention. A volunteer plays the somber notes of taps on his trumpet, and a 21-gun salute echoes through the quiet. A bagpipe group performs "Amazing Grace" as those who mourn prepare to depart.
Yet no one present knows these dead.
The crowd pays tribute to honorably discharged veterans whose remains were not claimed or who have no one to honor them upon death. Although exact numbers are not known, estimates put these three veterans among tens of thousands nationwide who die alone and often are homeless. Unclaimed remains are cremated and might be left in storage for years.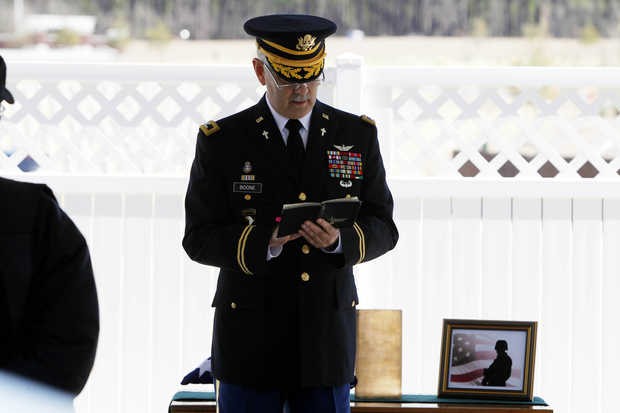 Chaplain (Lt. Col.) Sam Boone, USA (Ret), president of MOAA's Columbia, S.C., Chapter, speaks during funeral services for a veteran whose remains were unclaimed. (Courtesy of WIS-TV)
Boone, who is president of the Columbia Chapter of MOAA, wants to make sure that doesn't happen. He has found his heart captured by the need to provide these veterans honorable military burials. He and other South Carolina volunteers contact coroners' offices to learn veterans' identities, handle required paperwork, and then take custody of remains and prepare military funerals.
He sees this as living up to the Soldier's Creed never to leave behind a fallen comrade. "A burial with honor fulfills that promise," Boone says. "It's the right thing to do." He helps hold services quarterly, often for the cremated remains of three to five veterans.
Boone is working with Col. David B. Lobb, USA (Ret), president of MOAA's South Carolina Council of Chapters, to engage MOAA chapters across the country, starting with talks to MOAA chapters throughout South Carolina.
"MOAA chapters can work with a VA national cemetery in their area," Boone says, "and assist in identifying remains and doing paperwork required by local and state laws and honoring all who have served our nation."
Boone, a former AH-1G Cobra pilot, went to divinity school to become a chaplain and commits himself to helping veterans and their families in a variety of ways. He spreads the word about these funerals so community members can attend, and he writes eulogies that include details about the deceased veteran's military service.
"What makes these so special is how our community - both veterans and those who have never served in the military - turns out for someone most of us never knew," he says.


Ashes of an unclaimed veteran are escorted into a South Carolina cemetery by members of the Patriot Riders. (Photo courtesy of WIS-TV)

The program is done in partnership with other veterans' groups, including the Missing in America Project, and funeral homes that donate their services. State legislatures must pass a law allowing military organizations to claim these remains, something that is happening across the country.
Lobb praises Boone as a leader in this effort and many others and hopes other MOAA councils will embrace this cause.

"What shocks me is how many unclaimed remains there are," Lobb says. "This is something people need to know about - and not only in South Carolina. We need to do this. … If you're a veteran, you'll never be forgotten."
For more information on how to become involved in this project, email Lobb at davidl@dbl-inc.com or Boone at sjtboone@gmail.com.