Some of the Army's most talented soldiers soon will join a team unlike any other.
And so will the service's best constructors and outlanders. Also, ninjas.
Those four groups make up the types of playable characters found in Fortnite, an online video game that now boasts more than 200 million registered players and is making its way into the realm of esports - competitive clashes between teams of gamers seeking prizes and trophies, sometimes with coverage that rivals more traditional sporting events.
The Army hopes that its esports teams will allow the service, which recently missed its recruiting goal for the first time in 10 years, to connect with the American public and attract new troops.
At first, some soldiers didn't believe the Army was forming a team. Could playing esports games really be a job?
"The reaction from my 600-person unit - we didn't think this was a real thing," said Capt. Kaitlyn Davis, USAR, who is based at Fort Sam Houston, Texas. "I've never seen such excitement from younger, junior soldiers. Most Army recruiting programs are effective, but not exciting."
[Visit MOAA's Legislative Action Center]
Davis could be among the leaders overseeing the esports team, but that decision isn't expected until April, when the entire 20-person team is announced.
Davis said she wanted to be part of building the team because it's a new direction for the Army.
"I wanted to be involved because I thought it was the Army's most sincere effort to instill trust and connect Americans to our Army," Davis said. "I like that the Army is doing something different."
Tryouts for the team were held in early February. Members of the team will specialize in certain games, either as individual players or part of multiplayer squads.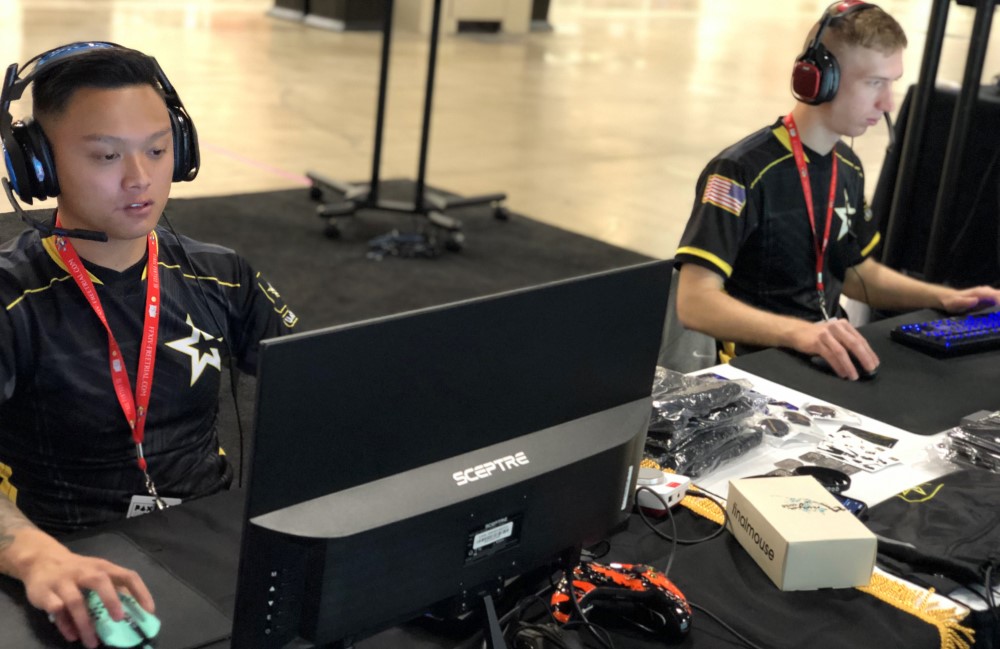 Soldiers competed at PAX South in San Antonio in January as a way to introduce Army esports to the greater gamer community. (Photo by Staff Sgt. Ryan Meaux/Army)

Discussions that led to the development of the esports team began in September. A recruiter in Louisiana noticed the growing popularity of online gaming and thought the Army could reach a bigger audience by getting online, too.
Sgt. 1st Class Christopher Jones, the noncommissioned officer in charge of the budding team, said the group will help civilians better understand the military - and debunk common misconceptions.
"They have a preconceived notion of what a soldier is like," Jones said. "A lot of that barrier is broken when you ask, 'What games do you play?' Now, we have something connecting to one another."
Esports drew 258 million unique viewers globally last year, according to research firm SuperData. That tops the 204 million unique viewers who tuned into NFL regular-season football games in 2016, according to reports based on Nielsen data.
The Army's initial callout for interested gamers attracted more than 7,500 candidates. Soldiers selected for the various teams will be assigned to the Marketing and Engagement Brigade at Fort Knox, Ky., where they will train to compete in esports tournaments, take part in recruiting engagements, and interact with the public on a daily basis.
They aren't technically recruiters since they don't complete the full Army Recruiter Course, but team members will serve as liaisons between the public and recruiters. The Army's most junior members are eligible because the Army wants to the most talented players, regardless of rank.
While the soldiers and officers compete, they will be encouraged to share their personal stories and experience with other competitors. The goal is to connect with people enough to lead to further discussions with recruiters.
First Lt. Jonathan French, who is based at Fort Jackson, S.C., has been tapped to lead one of the esports teams. He said he wasn't surprised to see more than 7,000 people had applied to join a team.
"The young population that I work with are super excited," he said. "All levels of command team support this effort."
Members of the esports team should begin competitive play this summer.
"If we are going to be successful in recruiting, then we need to be where young people are - and they are operating in the digital world," said Maj. Gen. Frank Muth, commanding general for U.S. Army Recruiting Command. "There are already thousands of current soldiers who are competitive online gamers. Now we are giving them a chance to use their talents to help us relate to and connect with other young gamers. They will have the ability to start a dialogue about what it is like to serve in our Army and see if they are interested in joining."
Amanda Dolasinski is MOAA's staff writer. She can be reached at amandad@moaa.org. Follow her on Twitter @AmandaMOAA.