Lt. Col. Charles Kettles, USA (Ret), who received the Medal of Honor after returning his helicopter four times to a Vietnam battlefield under intense enemy fire to evacuate more than 40 American troops, died on Monday. He was 89.
Kettles, a MOAA member for 20 years, was an Iroquois helicopter pilot for the 176th Assault Helicopter Company in Vietnam when he learned an airborne infantry unit had suffered casualties during a firefight with the enemy. Kettles, a major at the time, volunteered to lead a flight of six helicopters to carry reinforcements to the embattled force near Duc Pho, Vietnam, and evacuate wounded troops.
Matt McGuire, who served in Vietnam with Kettles, said he was proud to serve with such a professional officer.
"None of us expected to survive that day and Chuck Kettles performed as a beacon in the sky putting his life on the line to save all the trapped soldiers," McGuire said in a Facebook post. "His award of the Medal of Honor for actions on that day did not adequately signify his bravery and commitment to saving lives with multiple examples of performance above and beyond the call of duty. He was an inspiration and mentor and the most professional combat pilot I have known."
In July 2016, then-President Barack Obama presented Kettles with the Medal of Honor during a ceremony at the White House.
"Forty-four men came home because Chuck Kettles believed that we leave no man behind," Obama said during the ceremony. "That's America at our best."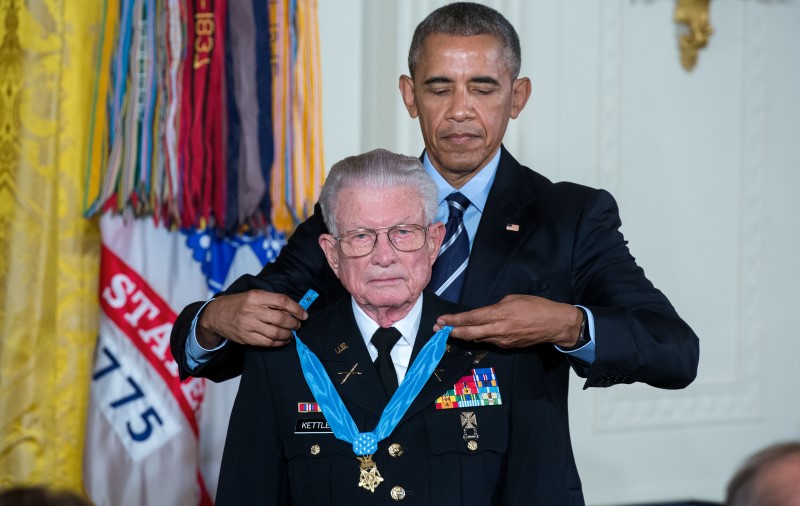 Then-President Barack Obama presents the Medal of Honor to Lt. Col. Charles Kettles, USA (Ret),in the East Room of the White House on July 18, 2016. (White House photo by Chuck Kennedy)

Flying Into Danger
The helicopters came under intense fire near Duc Pho as the enemy sprayed small arms, automatic weapons, and mortar fire on the landing zone, according to Kettles' Medal of Honor citation.
Kettles was undeterred. He refused to leave until all six helicopters were loaded to capacity. Kettles returned to the battlefield to bring more reinforcements, despite knowing the enemy was waiting.
Blasts seriously wounded his gunner and severely damaged his aircraft. Even as he flew back to base, Kettles received a report from another helicopter crew that fuel had been streaming out of his damaged aircraft.
Later that day, the infantry battalion commander requested immediate, emergency extraction of the remaining 40 troops, including four members of Kettles' unit who had been stranded when their helicopter was destroyed by enemy fire. Kettles volunteered to return to the battlefield a third time, leading a flight of six evacuation helicopters.
Wounded troops were loaded onto the helicopters. Once airborne, Kettles learned eight troops had been unable to reach the helicopters because of intense enemy fire. Kettles passed the lead to another helicopter and, again, returned to the landing zone to rescue the remaining troops.
Then-Maj. Charles Kettles stands in front of a UH-1H helicopter, during his second tour of duty in Vietnam in 1969. (Courtesy photo via Defense Department)

The enemy targeted all its firepower on the lone aircraft. Kettles' helicopter was damaged by a mortar round that shattered both front windshields and the chin bubble, yet he maintained control and was able to secure the eight troops on board.
Kettles guided his damaged aircraft back to base.
"Without his courageous actions and superior flying skills, the last group of soldiers and his crew would never have made it off the battlefield," according to the citation. "Major Kettles' selfless acts of repeated valor and determination are in keeping with the highest traditions of military service and reflect great credit upon himself and the United States Army."
Amanda Dolasinski is MOAA's staff writer. She can be reached at amandad@moaa.org. Follow her on Twitter @AmandaMOAA.