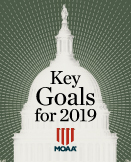 MOAA's top legislative goals for 2019 will be featured in an upcoming edition of Military Officer magazine, which is available to MOAA Life and Premium members. Here's a preview of one key issue; see the links below for the rest, including ways you can make your voice heard.
The Goal: Protect military and veteran family support programs and policies.
Background: Congress and DoD recognize military and veteran family quality of life is critical to recruiting and retaining the all-volunteer force. Often, support programs for military and veteran families are the first to be cut when government funds become tight.
MOAA's Stance: It is necessary to update family support programs and policies to reflect the needs of today's military families. Spouse employment, children's education, special needs, commissaries and exchanges, and morale, welfare, and recreation (MWR) programs are essential today. Adequate, affordable, and safe housing remains a concern for all military families, especially those in high-cost areas where options are limited.
Actions: Educate members of Congress and their staffers on the importance of military family readiness and issues affecting military and veteran families. Protect programming and subsidies essential to MWR and family readiness. Eliminate health and safety hazards in military base housing. Decrease military spouse unemployment and underemployment. Ensure quality of life and health of military and veteran families.
[TAKE ACTION: Be Cautious with Compensation Reform]
More key goals: