For years now, the capacity issue at Arlington National Cemetery (ANC) has been a hot topic. MOAA members voiced their opinions a couple of years ago, and have consistently shown a desire to keep burial eligibility as close to its current standards as possible.
But the latest survey conducted by the Advisory Committee on Arlington National Cemetery casts doubt on MOAA's initial conclusions. Let's take a closer look at where MOAA members stand compared with the broader population, as indicated by the survey results.
Both surveys were open to the general public, and most respondents to both surveys were retirees. The results yielded some interesting takeaways: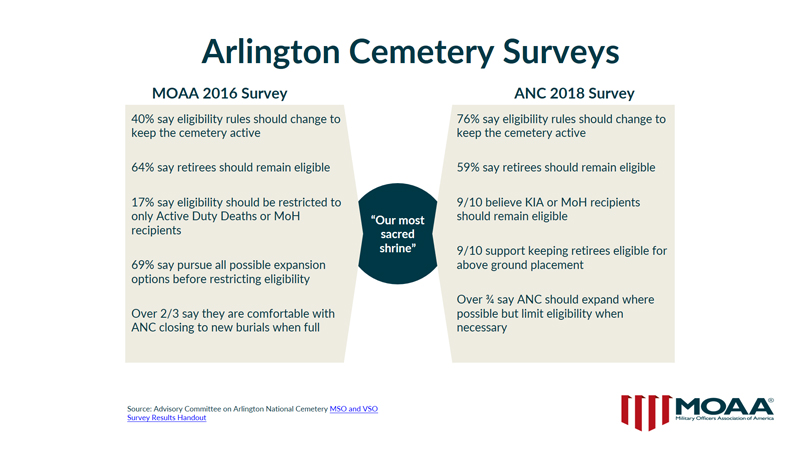 If you follow MOAA, you've likely kept up with the ANC capacity discussion as it has developed. Our push to keep retirees eligible in some fashion is showing some success, but eligibility is going to change due largely to the fiscal 2019 National Defense Authorization Act.
With only a few opportunities remaining to convey MOAA's members' interest in the remaining plots at ANC, your opinion matters. Email us at legis@moaa.org with your latest thoughts on the subject in light of the similarities and differences in opinions shown by the survey results.