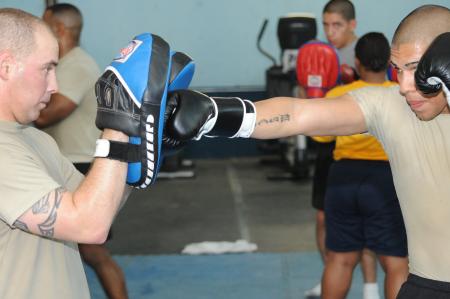 Our friends at the Real Warriors Campaign shared a great resource for veterans, servicemembers and their families to learn to cope with stress and boost resilience at the same time in their monthly newsletter. So whether you're a high intensity kind of person, or more laid back and relaxed, it looks like there's an option for you in the field of martial arts!
Using Martial Arts to Cope With Stress and Boost Resilience
While it may seem counterintuitive to address stress with combat training, certain types of traditional martial arts, such as tai chi and qi gong, are designed to do just that. Martial arts can be used to improve your physical condition and strength as well as increase a sense of calm. Read this article to learn about how training in martial arts can help you cope with stress and boost resilience.
Also check out the articles, Breathing, Meditation, Relaxation Techniques and Boosting Resilience Through Spirituality for alternative ways to cope with difficult situations and enhance wellbeing.
Photo: U.S. Army Spc. Robert Ruoho (left) from Daltona, Fla., blocks a punch from Spc. Eric Alicea (right) from Houston,Texas, both Soldiers are of Foxtrot Company, 2nd Battalion, 30th Infantry Regiment, 4th Brigade Combat Team,10th Mountain Division, attending martial arts training at Forward Operating Base Loyalty, Beladiyat, eastern Baghdad, on Nov. 11, 2008. Image courtesy of DVIDS photo service.