Michael Strahan, Sunny Anderson, and Renée Montagne have something in common - their fathers all were military officers. Strahan would go on to have a legendary career in the NFL. Anderson landed a gig on Food Network - after her own time in uniform. Montagne served as the longtime host of NPR's Morning Edition and has received journalism awards for her overseas reporting. Though their career paths vary, all three credit their success to things they learned as military "brats" (a term of endearment embraced by most military families). Here's a look at how their often unpredictable childhoods set them on a path to success.
NFL legend Michael Strahan on Army officer dad: He's my life coach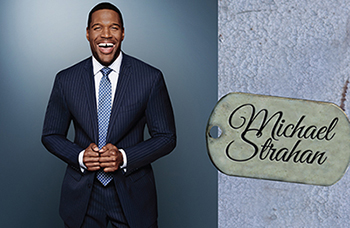 Before Michael Strahan was competing in Super Bowls and getting inducted into the Pro Football Hall of Fame, he was crashing soldiers' physical training sessions.
"As a 7-year-old kid, I remember running with my dad's platoon as they did their morning training," Strahan says. "…The military culture definitely played a role in my career and athleticism."
Strahan, a former defensive end who played 15 seasons with the New York Giants, spent his childhood on Army bases in places like Mannheim, Germany, and Fort Bragg, N.C. His father, Gene, is a retired major and former boxer who Strahan says takes pride in his family and his Army career.
"My dad is the hardest working man I know and he never complains," Strahan says. "He instilled in me at an early age the power of a strong work ethic. He taught me that I could achieve anything I set my mind to."
Strahan, who co-hosts ABC's Good Morning America and appears as an analyst on Fox NFL Sunday, shared how growing up in a military family helped shape his personality and career. Excerpts of that interview, edited for clarity, follow:
Q. What should people know about your father and his commitment to service?
A. My dad is my biggest role model. I admire the way he raised my siblings and I to understand the importance of hard work and perseverance. He never let us give up on anything growing up.
I remember when I first started playing football as a kid, I hated it, but my dad always reminded me that when I signed up to play, I was committing to my team - something bigger than myself. If I quit, I wouldn't only be letting myself down, but my team, too. He taught me that respect, responsibility, and loyalty are earned through actions rather than words.
I believe this mentality has truly helped shape me into the person I am today and for that, I will always be grateful.
Q. Can you recall a specific lesson he taught you that still resonates today?
A. When I was growing up, I really wanted a BMX bike. The bike cost over $1,000 and instead of buying it for me, my dad made a deal with me that if I could make half the money, he'd pay for the other half.
I spent the summer mowing lawns, walking dogs, and babysitting until I earned enough money to pay for half the bike. I still have the bike and to this day, it is one of my most prized possessions.
Q. What similarities do you see between the military and football communities?
A. Growing up, my father was my life coach. I looked at him for guidance and leadership, much the same way I looked at my coaches in the NFL. Both my father and my coaches helped me - and continue to help me - navigate my life.
Both [are] communities that operate like a family. The military base I grew up on in Germany was very tight-knit. My friends' parents were like my second parents. I would never try to get away with stuff growing up because I felt like I had eyes on me everywhere I went!
Looking back, it was a blessing to be cared for and loved by such a great community. It was very similar in the NFL when I played. My teammates were my brothers. We not only looked out for each other on the field, but off the field as well.
Q. How has your dad influenced your parenting style?
A. In a lot of different ways. Everything he ever taught us or did for us was rooted in love. I want to make sure my kids always feel loved the same way my father continues to make me feel [loved].
He also taught me that success is earned instead of delivered. I am incredibly proud of all of my kids and the incredible young people they are. I'm continually amazed by their achievements, but more importantly, I am inspired by the way they treat others and the way they carry themselves.
Q. Did your dad's career as a boxer and a soldier contribute to your own athleticism?
A. It did. I spent a lot of time in the gym watching my father train and push my older brothers. Having three older brothers also helped because it made me try to keep up.
The military culture and lifestyle is very active and that is a great thing for helping someone develop into an athlete.
Q. Are people surprised to learn you grew up in a military family?
A. I think people are surprised to find out that I was raised on a base in Germany because they expect to hear that I grew up playing football and that I was always on the path to play in the NFL. In reality, outside of community leagues, I didn't play football until I was a senior in high school!
Q. How did your background help prepare the switch from professional sports to broadcasting?
A. Growing up in a military family taught me the most important lesson of all, which is adapting to changing environments. I learned to live and do whatever was necessary to thrive in whatever environment I found myself. Hard work, teamwork, and the importance of serving others are other characteristics that I've tried to carry with me in my career.
Q. Do you still find that you connect with other people who were raised in military families?
A. It's always really cool when I meet other people who also grew up in a military family, and we can compare stories of growing up on bases around the world. Once you meet someone who grew up in a situation similar to yours, it seems like you're in a fraternity and can immediately relate.
Q. What did you love most about being in a military family? Was there anything you disliked?
A. I loved the sense of community that existed growing up in a military family. By growing up on a military base in Germany, I was able to meet a lot of amazing people from all over, and it gave me a better sense of the world.
Growing up abroad also gave me the confidence to not fear traveling the world and exploring. I didn't hate anything about being in a military family, but there is no other country like the U.S.
Q. What advice do you have for today's generation of military kids?
A. Enjoy and embrace changes even though it isn't easy to move and switch environments, schools, and friends. Adapt and always consider the positive. Work extremely hard to become whatever you want to be in life, because if I can create my life coming from a military base in Germany, you can do better!
Military life gave Food Network's Sunny Anderson a taste for cooking
When Sunny Anderson ordered a grilled cheese sandwich in Europe as a kid, she wasn't expecting to be served melted white Gouda on fancy bread.
"It blew my mind," she says. "… I know it was a turning point because I can't even remember ever eating anything before that."
Anderson, now a host on Food Network's The Kitchen, is the daughter of a retired Army colonel. As her family moved between places like Germany, Texas, and Georgia, Anderson says she realized "food has no real boundaries."
That inspired Anderson to start a catering company, which eventually landed her on Food Network. But first, she carried on what she calls "the family business" by enlisting in the Air Force.
"I know I work really hard as an adult and am happy with my work as an adult because of seeing my dad come home and always being excited and inspired by his job," she says.
The former senior airman credits the broadcast chops she picked up in the Air Force - along with the values she picked up from her military family - with helping launch her career. Excerpts of that interview, edited for clarity, follow:
Q. What kind of values do you think you picked up as a kid from seeing your dad serve in the Army?
A. So much. No matter what my dad's rank was, he called his soldiers his coworkers. He was very civilian-like in that [respect], which I found really neat because the military has this outward connotation of being so hard and stringent. It was so neat to be within it and just see a really nice guy. That really opened my eyes to understanding that the job is what you make it - that it's not always what people think it is from the outside.
I also learned a lot from watching my mom support a military member. He would go to the field, and she would hold down the fort at home.
Q. Did that influence your decision to join the Air Force?
A. It was really all I knew. Growing up overseas, sometimes one of the only connection we had to the States was Armed Forces Network. I remember depending on it to feel connected and not so alone.
When I figured out in high school that working in communications was something I wanted to do, I had plans to go to college. But I really didn't want to spend years waiting to get into my specific career field, so my dad suggested I join the Air Force. The beauty of the military was, for this career, I knew I would go through a faster training period, and that I could begin doing what I loved immediately.
Q. How did your training help prepare you for your role on Food Network?
A. It did everything. I just don't know what I would do without it.
Defense Information School taught me about editing, writing, appearing on-camera, producing, and public affairs. Even though it was back in the analog age, I still retain and use that training to this day. I'm just so happy that I have that foundation.
Q. And what about cooking? What did moving around teach you about food?
A. Food is exciting, because when you order something and you think you know what you're going to get, you really don't. It's all up to the interpretation of the person making it.
One of the things I loved about the military as a kid and an adult is that I got to get off base and explore. I could go out, try new things, and meet new people. And when it comes to food, I think being willing to try something new culinary-wise makes you a more open person.
Q. What was your favorite place to live?
A. I think as a kid, it was Germany. My parents loved to travel, so we went everywhere. It sounds so lofty and fancy to say that you got to travel around Europe, but it's so not. We were stuck, so what are you going to do? You just go explore.
When I was in the service, I loved South Korea I think for the same reasons I loved Germany: I got to get off base and explore.
Q. What do you think you learned from moving around all the time?
A. I think the more you travel, the more compassionate you become. And I think military kids really understand the role of the military overseas.
Many people never think about the military - it's not a fault, it's just reality. But I think when you grew up in it, and then you end up joining it, you really get to see what it's all about.
Q. How did those experiences influence your decision to become a chef?
A. I started my catering company because my friends wouldn't let me not cook. [laughs] I really didn't want to cook, so I started charging my friends, because I thought that if I started putting a price on it, they'd stop asking. I'd tell them, 'I don't have time to be making you mac and cheese all the time.' When that didn't work, I figured I'd just make it into a business.
I think cooks just want to make everyone happy. It's easy to figure people out with food - everyone likes to eat. And I just want to share what I love, which is food and traveling, so hopefully I inspire people to get out there and cook, travel, and try new foods.
Q. You've had some book stops at military bases. What do you hear from military members about your work?
A. I hear from a lot of moms and dads who are surprised cooking can be so easy. I feel really good about my pantry, because I cook with ingredients that aren't hard to find, but can still be used to make international flavors. You can make jagerschnitzel without going to a German market.
Another thing that's really cool about going to military bases is that people know that I'm a veteran and a brat, and they're just so happy to see someone who "made it." I'm really proud of that, especially because the military helped train me for what I'm still doing today.
Q. The military has played a big role of your life. What is your advice for today's military families?
A. I'd tell the kids it's OK if they feel like they don't belong. Just when I'd get comfortable in a new place, we'd move, and I'd be the new kid again. Because of that, though, as an adult, there isn't a room that I walk into where I can't talk to everyone.
And if they get to travel, I would also tell them to soak it up. It's something they'll get to brag about later in life.
I would tell the parents to go easy on their kids. If you think it's difficult to move, realize that it's difficult for your kids as well. One of the best things my parents did was as soon as my dad got his orders, they'd sit down and say, 'this is where we're going,' and they'd have information about the area and local customs. Involve your kids in that process.
I'd also tell military parents that when you move, please stop throwing your kids toys out just to make weight. [laughs]
Renée Montagne's military officer dad survived the attack on Pearl Harbor. Here's what he taught her.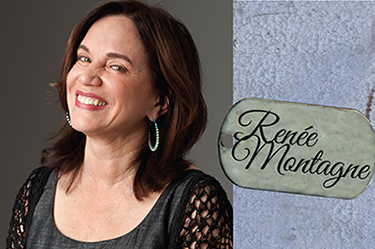 Renée Montagne was the new kid in school 13 times, so she has some practice walking into the unknown.
"As a journalist, that's enormously helpful," she says. "I would walk in as an outsider, so I came in objectively, and I could look around at all 30 kids … with new eyes."
Before she was the longtime cohost of NPR's Morning Edition, Montagne moved from one Marine Corps base to another. Her dad, Arthur "Bud" Montagne, was a retired Marine major and prior-enlisted sailor. Then-Radioman 2nd Class Montagne was aboard battleship USS California (BB-44) in Hawaii Dec. 7, 1941, when a pair of torpedoes ripped through the port side of his ship.
He survived the attack. His best friend did not.
Bud Montagne later served in the Korean War where he earned a Bronze Star before becoming a Marine Corps officer and engineer, taking his family to Hawaii, California, Arizona, and Virginia. He died in 2011 at the age of 90.
Having grown up around Marine Corps officers, Montagne says she was glad when journalists began embedding with troops in Iraq and Afghanistan, so they could see what the military's officer corps was all about.
"They have this vast range of knowledge and were asked to do this vast range of contradictory things: Be diplomats but also be fighters. Be builders and destroyers," she says. "In many cases, it was extremely impressive - but it didn't surprise me."
Here's what she learned from her dad and other Marine Corps officers. Excerpts of that interview, edited for clarity, follow:
Q. Your dad survived Pearl Harbor before you were born. Did he talk about that much?
A. He did, but for this reason: He met my mother at a dance two nights before he shipped out. He fell in love at first sight, and when he saw her one more time before he left, it was just long enough to ask her to marry him. My mother said, "of course," and he took it quite seriously.
He and his best friend, Joe, nearly missed getting on the USS California. They shipped out in October, and they arrived in Hawaii just before the attack. When he got to Hawaii, he bought my mom a ring and shipped it to her. It finally made it there five months later, but they lost touch. He later tracked her down and traveled all the way to Virginia to visit her - of course now he's not a young sailor anymore, he's a 25-year-old Marine in uniform. My mother, who was wearing that ring when he got there, would laugh and say that he looked much better - that he was much improved. [laughs] So that was the story we used to hear.
Q. You later interviewed him about his experiences and looked through some letters he had sent home from the Pacific. What was that like?
A. It was a beautiful experience. I wish everyone could do with their family. My father didn't ever talk much about the attack itself or any pain associated with it. He didn't look back. He always had his eye on the future.
In 2001, the movie Pearl Harbor was about to come out, and I joked with the staff at NPR that my parents had a much better story. So I interviewed my father, and for three hours, and he told me details about the attack that I had never heard before. Some were too horrible to air.
My father was on the admiral's deck, which is why he survived and the other radiomen below died. They were the last people off the ship, but in the meantime, they were seeing people being pulled up from below. Once they left the ship, he had to swim through deep water under flaming oil. I don't think people knew how much fire there was. In the days that followed, he went looking for his friend Joe through all these burn units, but he had died.
Q. Did you ever go back to Pearl Harbor with your dad?
A. We did. We went on Dec. 7, 2001, so it was just a couple months after the 9/11 attacks. The hotels along Waikiki Beach in Honolulu had offered free hotel rooms to first responders and other New Yorkers affected by the attacks as a way of giving them some relief.
So instead of being filled with 80-year-old men in their veteran's caps, Honolulu was filled with survivors and family members of Sept. 11 victims. We had just had this other attack, and it was just so touching and relevant.
Q. Since he served in both sea services, which did you father identify with most?
A. He was a Marine to the end. He was supposed to be commissioned in the Navy, but had been so impressed by the Marines in World War II that he made the switch.
Q. What kind of values did you pick up from him and other Marines in your life?
A. Definitely honesty, valor, and a strong sense of duty to the country. In the officer corps especially, they embrace those values. I grew up knowing that you do anything for fellow Marines, and that you care for each other. Once Marines join your unit, they belong to you. You might have been strangers before, but now they are your Marines, and you'd do anything for them.
Q. How do you think your upbringing influenced your reporting style?
A. I really think moving around a lot fully set me up to do what I do.
I developed a permanent interest in the outside world early on. Even as a small child, I was continually injected into new situations where I had to get the lay of the land. Moving from school to school where I didn't know any of the kids going in gave me a certain ability to walk into different situations and see the different points of view. As a journalist, that's all very helpful, since a lot of things are thrown at me that I basically just found out about that day.
Q. How did growing up around Marines help inform your reporting on the military?
A. I probably had a personal comfort level around military leaders that I might not have if I didn't have a family feel for it. I've always been proud of my military family background and include it on my résumé. Some leaders would find out about that and acknowledge it. When I would interview Gen. John Kelly, USMC (Ret), in Afghanistan, he would ask, "How is your Marine dad?" and I would say, "Oh, fine - how are your Marine sons?" It was our "hello," because we had that connection.
In fact, General Kelly once sent my dad a flag that had flown over Fallujah, Iraq, along with a beautiful letter. He thought to do that, I certainly didn't ask him to. But my father had the flag framed with the letter underneath it, and it became one of his most precious possessions.
Q. What's your impression of today's generation of military kids as they watch their parents deploy to combat zones?
A. I feel for them. These are unique experiences for military families with these two long wars. This generation of military kids really grew up with continuous combat deployments. When I was growing up, we didn't have all of these wars. My dad served in Korea before I was born, he didn't deploy to Vietnam, and now we're seeing women deploy and leave their children behind, too.
Kids now have so much of a sacrifice to make. Some of them have two parents in the military who are deploying, and they're being asked to be brave as they watch this. They throw back their shoulders and stand up tall even though they don't get to see their mom or dad for months on end. Some are also seeing their parents change because of the wars. I think my experience was a much less fraught experience than these kids have.