Rear Adm. Michael Silah is director of the Office of Marine and Aviation Operations, the operational arm of NOAA. He also directs NOAA's Commissioned Corps of 321 aviators and mariners, supported by 700 civilian mariners and aircrew members.
Silah, 47, became NOAA's top officer in September 2017 and already possessed an unusual depth of knowledge for the job, having served as chief of staff to the three previous OMAO directors. Silah was a Navy P-3 Orion pilot for more than nine years before joining NOAA in 2002, where he trained to fly the same type of aircraft, with a different set of sensors, into hurricanes. He has flown into almost 150 of the storms.
Silah has a degree in economics from Duke University and a master's in public administration from the John F. Kennedy School of Government at Harvard University. His service awards include the NOAA Corps Meritorious Service Medal. He is a member of the prestigious Explorers Club, which promotes scientific exploration.
In the following interview, Silah discusses how NOAA's specialized fleet of nine aircraft and 16 ships provides the nation with weather data and environmental intelligence to protect lives and property and provide critical support to American commerce. He characterizes NOAA's overall mission as "environmental security through intelligence and stewardship," adding it has never been more important.
What's it like to penetrate a hurricane in a P-3?
Sometimes it's violent. Sometimes benign. Hurricane Katrina in 2005 was my last. There were flights that included turbulence unlike anything I felt before. The mission has to get done; sometimes that means you're going to get tossed around.
Pilots fly a WP-3D Orion into a hurricane. (NOAA photo)
How long are hurricane flights?
Usually eight to 10 hours, depending on how long it takes to reach the storm.
And the purpose?
It's twofold. One is hurricane reconnaissance, which requires an airplane inside the storm every three hours if it will make landfall in the United States or a U.S. territory. We measure maximum speed, take pressure readings, and determine the exact location of the storm's center. Data goes to the National Hurricane Center and is instrumental in their forecasting. The other mission is research for forecast improvements. Since Katrina, we have been able to shrink the tracking cone for storms of similar size by several hundred miles at the three-to-five-day mark.
'Shrink the cone?'
Forecasters have a predicted track for a hurricane, but there's uncertainty in it. So instead of a line, they use a cone to depict possibility of a strike.
NOAA hurricane forecasts go out five days. Usually in the three-to-five-day range, emergency managers have to start making decisions. If we can make the cone smaller - and improve the accuracy of our forecast - fewer communities have to evacuate. It saves governments money.
Also, if people have greater confidence in the forecast, they are more likely to evacuate when ordered. For every linear mile we reduce the cone, savings to local, state, and federal governments climb by about $1 million on preparation and evacuation costs.
How busy are your aircrews during hurricane season?
It's feast or famine. Last year, we were as busy as we could be with flights into hurricanes Harvey, Irma, and Maria. Besides P-3s, NOAA conducts response missions with our [Gulfstream IV-SP] G-IV and [Beechcraft] King Air aircraft. All of these crews flew for the better part of a month last year. The previous few years, however, were pretty slow.
How have career experiences of NOAA pilots changed in recent years?
Technology has gotten better, and that's been a challenge - one shared across all of aviation. With automation increasing, piloting skills can atrophy. So, we send our crews through recovery training to better prepare us for the storm environment. This also helps with pilot retention. If you give them tools to be better pilots, they are more likely to stay in service.
You get most of your P-3 pilots from the Navy. Do they require hurricane training?
Yes. The environment is different. I came in as a fully qualified aircraft commander with a couple thousand hours in the P-3. It took me an additional two years to qualify to lead hurricane missions. Gaining experience is the difficult part. Two hurricane seasons is about as quickly as you can qualify. With the Navy getting out of the P-3 business, we have a deeper partnership to train P-3 pilots now with [U.S. Customs and Border Protection].
Has there ever been an aircraft casualty in a hurricane?
No. We have had mishaps, but our safety record - particularly hurricane safety - is exceptional.
Last year, Congress passed a law whose short title is the Weather Act. What impact will it have on the operational arm of NOAA?
The Weather Act requires us to have aircraft redundancy to support the hurricane mission. We have that with two P-3s. We do not have redundancy with the G-IV Gulfstream. It's more than 20 years old with diminishing reliability.
The new law requires we have a backup. Airplanes are expensive. A new high-altitude jet would cost $126 million, four times our annual flight operations budget. So, we are looking to lease another Gulfstream business jet and modify it to match the full capability of our current aircraft. It's a more economical and more timely solution, although I'm not sure we can implement it before this year's hurricane season.
How old are NOAA's nine aircraft?
The average age is 24 years. But the oldest are not necessarily ones that need to be replaced immediately. Our P-3s will be almost new with new wings, tails, and engines. They can fly at least until 2030, when we'll have challenges with maintenance. The most immediate aircraft facing retirement is our jet prop, a small twin-engine that supports, for example, soil moisture surveys to better predict flooding. It flies up to 700 hours a year, anywhere with snowpack.
You also have a maritime fleet recapitalization plan.
Yes. Funding for maritime fleet recapitalization has been $75-80 million a year since FY 2016. Our plan gives us a chance to move forward with two ships, both Auxiliary General Oceanographic Research variants of Ocean-class vessels, similar to what the Navy built for the National Science Foundation.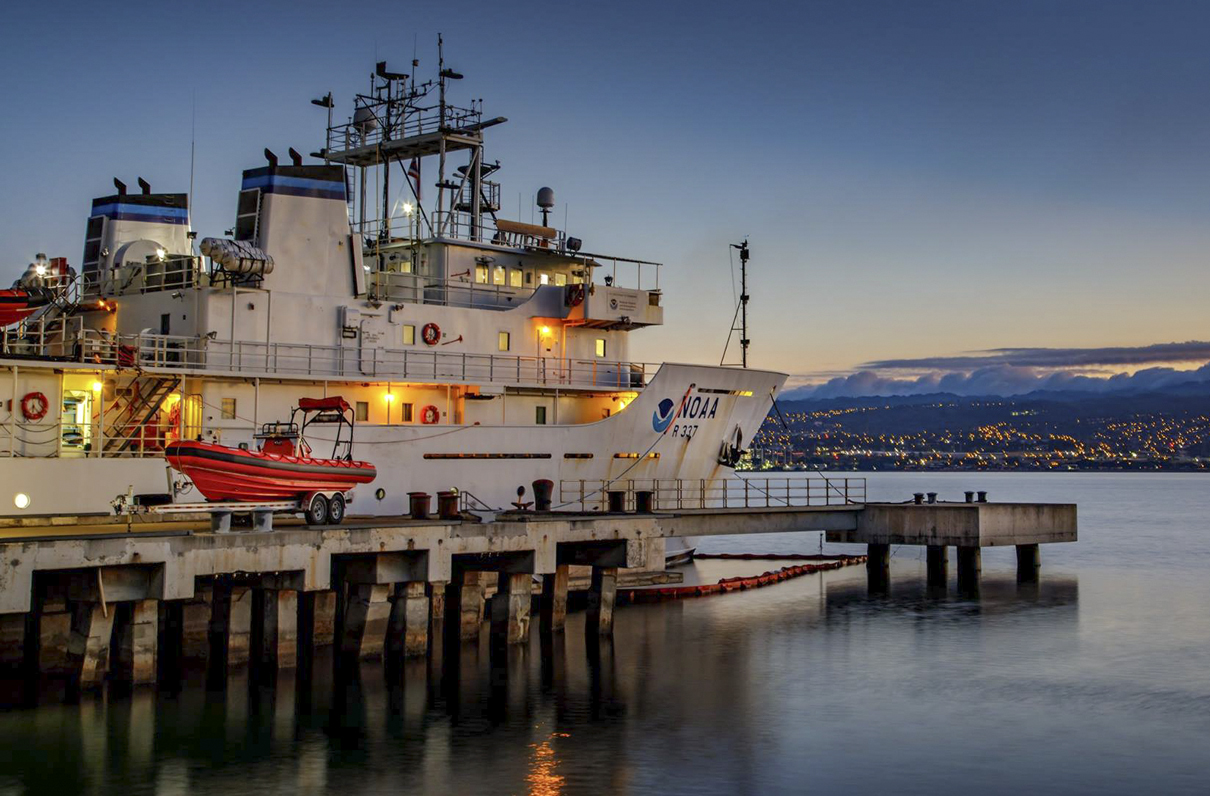 Is that all you need?
Yes. We will have to better maintain our ships because their average age is 26 years. One turned 50 last year; two more will next year. Great to celebrate, but I hope we don't have to very much longer.
Beside coastal mapping, how does NOAA use its ships?
The missions are as diverse as for our aircraft. Several support hydrographic surveys, critically important to maritime transportation. Several support fisheries with surveys to ensure responsible hauls by commercial fisheries and sustainability of stocks over time.
We also have NOAASOkeanos Explorer (R-337), the nation's only ship devoted to ocean exploration, another growth industry. It's shocking how little we know about the ocean. So, missions are extremely diverse for our 16 ships, and they operate at capacity.
How many months a year are your ships deployed?
It varies. We support about 3,000 days at sea a year with our 16 ships. The maximum would be 235 days at sea per ship, but that depends on maintenance to keep them sailing.
Can satellites alone someday do some of your missions?
We certainly have thought about it, especially on the aviation side. Every sensor we fly with eventually will migrate to satellite. We fly a variety of unmanned aerial systems now to support NOAA missions. In hurricane missions, the Coyote, an unmanned aerial vehicle, is used to take boundary layer samples between the water surface and about 1,200 feet. It's a critical phase for measuring heat transfer that powers the hurricane. We had flown airplanes down that low, but it's decidedly uncomfortable, so we won't do that again.
On fisheries, the technology is not quite there yet. It will be an evolutionary process. There will always be a place for the way we survey today, taking samples. But the next step in that evolution is remote technology. Using autonomous underwater vehicles will allow us to get a broader sample. Other technologies - like underwater vehicles to gliders to surface vehicles - are largely autonomous. We think we can use these to host sensors to gather more data more efficiently.
While we sail about 3,000 days a year, we think NOAA's priority one requirements are for about 8,000 days at sea. Using autonomous or satellite technologies will allow us to meet more of that 8,000-day requirement.
After a hurricane, do you track how water depths have changed?
Yes. In a hurricane, channels shift. No vessel operator wants to be first through a channel impacted by a hurricane. We provide reassurances that channels are clear to move commerce in and out of affected areas. With Hurricane Maria last fall, we put the Thomas Jefferson (S-222) to sea even before the storm dissipated. She sailed to Puerto Rico and delivered food to affected communities and also people to support the recovery effort. Then she surveyed 11 ports around the island. On her way back, she recovered an oceanic research buoy.
After Hurricane Sandy in 2012, the same ship immediately cleared approaches to New York City so fuel barges had safe routes in. That helped to stave off what could have been a crisis if the city had gone more than a couple days without fuel.
Are storms more violent these days? If so, has that impacted your workload?
Each season is a little different. As someone who doesn't have a background in climatology, it's difficult for me to say storms globally are more intense. I'd like to know.
We've spent too much time debating the merits of climate change and dividing ourselves. I'm more interested in the people who want to better understand things like hurricane activity, or whether the Arctic is shrinking or whether tornadoes are becoming more frequent. Fortunately, I work for an organization that sends ships, airplanes, and officers to study those things.
Polar ice in the Artic has changed?
It's changed a lot.
The polar ice cap is smaller.
No doubt.
Is that impacting America's shorelines?
A lot of the impact is localized and varied. Shrinking ice caps are part of that. Sea-level rise is part of that, an increase in the flooding. If you look, for example, at Norfolk, Virginia, and the flooding, there, that's only going to get more significant. We want to measure that so decisions can be made on data. It's the cornerstone of our mission.
Have NOAA priorities changed with the Trump administration?
Of course. This administration, and NOAA leadership, articulated three priorities: minimizing the impact of severe weather, maintaining best-in-world observation and modeling capabilities, and taking advantage of economic opportunities.
We think there's real economic opportunity in the blue economy. The Weather Service - and things enabled by weather data - have become a multibillion industry. Private-sector industries have grown out of government weather data, including The Weather Channel and AccuWeather. There's tremendous opportunity, too, in the Exclusive Economic Zone, from better managing fisheries to maximizing the economic impact of hydrographic surveys to increasing commerce in and out of ports. Those are missions we've always supported, but this administration has articulated them as a primary objective.
Is NOAA looking to enhance such services?
We're always looking for better ways to provide data to stakeholders, whether it be emergency managers or the private sector. During last year's hurricane season, for example, we took 65,000 images of affected coastlines and posted those on the internet, almost in real time. People could see how their homes were affected without having to reenter areas.
More broadly, our data fed into decision makers. Hydrographic survey data is a good example. If ships can maximize loads they can carry in and out of seaports, that's more commerce flowing to and from America. On a typical day, NOAA even is involved in space weather and how solar activity potentially impacts airliners flying over the North Pole or how it interrupts power grids. This is all data NOAA collects, manages, and archives. It is used widely and is part of the broader infrastructure that makes the American economy go.
Often times, the public doesn't see NOAA as the data source. But I guarantee you the underpinnings of that infrastructure - that data - come in large part from the work of NOAA.