Recent news from The MOAA Newsletter. View previous editions of Council and Chapter News here. Send updates about your affiliate's activities to chapters@moaa.org for possible inclusion in future editions.
Extended Deadline for Surviving Spouse Liaison and Legislative Chair/Liaison Awards
The deadline to submit nominations for the Surviving Spouse Liaison Excellence Award and Col. Steve Strobridge Legislative Chair/Liaison Award is now June 16.
Surviving Spouse Liaison: Councils and chapter leaders are asked to submit nominations for the 2023 Surviving Spouse Liaison Excellence Award. The award is presented annually to a surviving spouse liaison who is a member of MOAA and who has made outstanding contributions to a MOAA council or chapter in support of surviving spouses. Download the nomination form in PDF or Microsoft Word format.
Legislative Chair/Liaison: The Colonel Steve Strobridge Legislative Chair/Liaison Award recognizes one MOAA council or chapter legislative chair/liaison who has demonstrated superior service in support of the national and/or state legislative agenda. Download the full award criteria and nomination form at this link. Submit the completed nomination form and recommendation letter by June 16 to chapters@moaa.org.
2023 Community Outreach Grant Recipients
The MOAA Foundation has selected 42 MOAA affiliates to receive funds from its Community Outreach Grant Program.
The MOAA Foundation is awarding $90,076 in grants to 42 MOAA affiliates through its Community Outreach Grant program. To date, the Community Outreach Grant program has awarded nearly 200 grants totaling more than $550,000 through its seven annual cycles. To learn more about The MOAA Foundation and its programs and how you can donate, visit charities.moaa.org.
Find the list of 2023 grant recipients here.
We Want to Highlight Your Chapter in Military Officer
The October issue of Military Officer will include expanded coverage of MOAA council and chapter activities. Email high-resolution photos as .jpg attachments with caption information and short articles about your affiliate's activities — community-service projects, advocacy efforts, fundraisers, award ceremonies, etc. — so we can showcase your hard work. Send submissions by July 1 to editor@moaa.org with "From the Field" in the subject line.
Surviving Spouse Corner: A Day as a Lobbyist
Members of the Surviving Spouse Advisory Council participated in MOAA's Advocacy in Action day on the Hill.
By Gail Joyce, member of MOAA's board of directors and chair of the Surviving Spouse Advisory Council
All eight members of the Surviving Spouse Advisory Council (SSAC) were among the nearly 200 MOAA members, leaders, and staff who participated in the association's annual Advocacy in Action event April 26 to meet with legislators about several important issues. (Learn more about these issues at MOAA.org/aia.)
By the time the day was over, SSAC members visited with about 60 legislators and/or their staffs from seven states. Each came away feeling the message was well received and the experience was positive.
SSAC member Dr. Vivianne Wersel said the event gave her the opportunity to cultivate relationships with members and staffers from North Carolina as well as with other MOAA members.
Barb Smith, of Virginia, thought it was a great experience and, because this was her second time participating, she felt more confident and involved.
Capt. Kathy Thorp, USN (Ret), a MOAA board member and surviving spouse, summed up her experience: "Every time I visit the Hill, there is an underlining thrill of excitement. To walk the halls and witness the everyday rhythm of our democracy in action is something everyone should do in their lifetime. To witness MOAA in full force, with chapter and council presidents, surviving spouses, board members, and MOAA staff advocating for our military and their families, surviving spouses, and our veterans, always brings me overwhelming pride to be able to volunteer my time and energy for this organization."
SSAC members already are looking forward to 2024 when they can once again be "lobbyists for a day."
All MOAA members can add their voice to the effort by sending a message to their legislators.
Read past Surviving Spouse Corners.
Upcoming Events
Northeast Leadership Training Workshop: June 2-3, Providence, R.I.
Monthly Chapter Leader Virtual Roundtable: Join us June 29 at 7 p.m. Eastern time for a discussion about compliance/legal topics. Join here at the time of the meeting. (ID: 225 479 257 406; Passcode: gVGhFN).
Find a complete list of Council and Chapter Affairs events online.
Did You Know?
Dues and Donations Tool: MOAA's Council and Chapter Affairs Department has an online platform that allows your chapter members to pay their dues and make donations of up to $500. To take advantage of this free service, contact chapters@moaa.org.


Chapter Dues Program: Chapter treasurers can generate reports on all dues payments made by members. The report provides a snapshot of the name and date of each payment made through the chapter dues system for that chapter. For the treasurer (administrator), it also has an option for six-month proration so members who join your chapter mid-year won't be charged the full yearly amount.



Take Legislative Action:

It's easy to support MOAA's mission and key advocacy efforts through our Legislative Action Center. Visit this link for details.


White Label Newsletter Template: If you have a spouse or surviving spouse group, your chapter can consider starting a newsletter to include topics of interest specifically for this energetic group of spouses and survivors. To get started on building your newsletter, take a look at MOAA's White Label Newsletter Template.
From the Field
MOAA chapters give back to their communities through fundraising efforts, community-service projects, scholarship programs, and other initiatives. Here are some recent activities.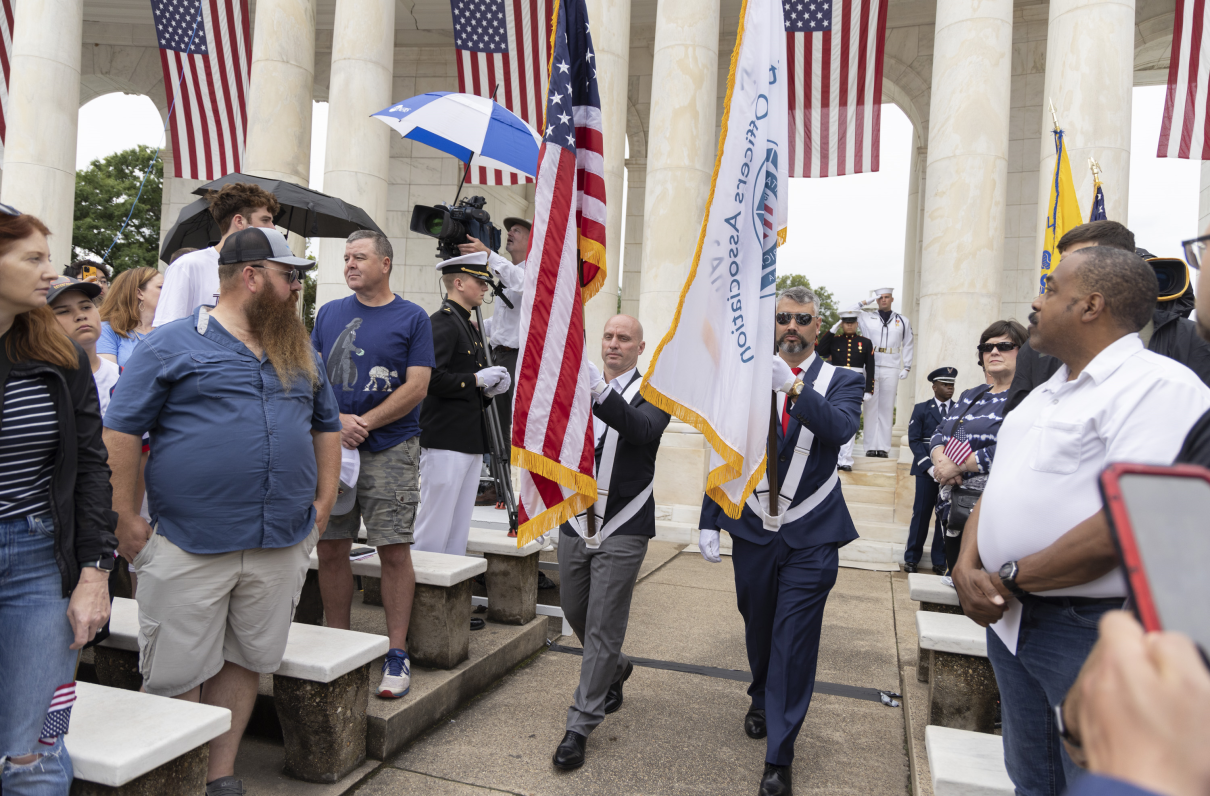 MOAA Upper Potomac Chapter President Lt. Col. Mike Bowers, USMC, (left) and chapter member CW3 Cole Barnhart, USMC (Ret), participate in the parade of colors during the Memorial Day commemoration at Arlington National Cemetery's Memorial Amphitheater on May 29. (Photo by Libby Michael/MOAA)
Nine members of the Lee Coast (Fla.) Chapter were among 24 veterans from Shell Point Retirement Community who had the exhilarating experience of flying in a Boeing Stearman biplane in late April as part of a two-day event with Dream Flights, a nonprofit organization devoted to honoring military veterans and seniors with the adventure of a lifetime. Darryl Fisher, founder of Dream Flights, also invited Lee Coast Chapter Vice President Capt. Doug Eubanks, USNR (Ret), and Past President Lt. Col. Fred Bondurant, USAF (Ret), to participate in this year's event.
The

Falcons Landing (Va.) Chapter

recently helped purchase a new service dog for a local veteran through Loudoun Veterans and Family Support (LVFS), a partnership between the chapter and Community Lutheran Church. LVFS donated $10,000 to help purchase and train the service dog.
The Charter Oak (Conn.) Chapter is working together with the World Affairs Council of Connecticut to host the Global Security Forum in New Haven, Conn., Sept. 21-22. The event will bring together "generals, experts, policymakers, and foreign leaders" to discuss critical issues. Chapter members get a discount to attend the forum, which is free to active duty military personnel. Find details at https://ctwac.org/event/global-security-forum-2023.
National MOAA Travel Schedule
Here are the councils and chapters MOAA leaders will be visiting over the next few months.
Contact the associated chapter if you would like to attend any of the following scheduled visits:
June 8, Southern Oklahoma MOAA, Burneyville, Col. Theodore J. Janosko, USA (Ret), BoD
June 10, El Paso (Texas) Chapter, El Paso, Gail Joyce, board of directors (BoD)
June 10, Genesee Valley (N.Y.) Chapter, Rochester, Col. Myles B. Caggins III, USA (Ret), BoD
June 10, Missouri Council of Chapters, Columbia, Capt. Frank J. Michael, USN (Ret), Council and Chapter Affairs (CCA)
June 14, Whidbey Island Chapter, MOAA, Oak Harbor (Wash.), Lt. Gen. Brian T. Kelly, USAF (Ret) and Maj. Gen. Joseph Lynch, USAF (Ret)
June 16, San Pedro/South Bay Chapter MOAA, Torrance (Calif.), Lt. Cmdr. E. Fred Green Jr., USN (Ret)
June 16, Southern Maine Chapter, South Portland, Capt. Frank J. Michael, USN (Ret), CCA
June 21, MOAA Uniformed Services Nurse Advocates Virtual Chapter, Virtual, Cmdr. René Campos, USN (Ret)
July 12, MOAA Uniformed Services Nurse Advocates Virtual Chapter, virtual, Capt. Frank J. Michael, USN (Ret), CCA
July 19, Olympic Peninsula (Wash.) Chapter, Sequim, Capt. Frank J. Michael, USN (Ret), CCA
Support MOAA Charities
Donate to the MOAA Scholarship Fund and The MOAA Foundation at the link below.