Tours and Trips
By Maryann Hammers
Group tours make travel easy. All the research is done for you, so all you have to do is enjoy the trip. Even better, you can flash your military ID for some serious savings. We've rounded up these offers, from three-hour walks to weeklong excursions.
Peru and Patagonia
The small-group luxury tour companyParagon Expeditions offers military members a 15-percent discount on all Peru and Patagonia itineraries. Or consider the company's best and most popular tour, the Inca Trail to Machu Picchu, which includes a day hike to Machu Picchu with a National Geographic author, three nights at a top-rated lodge and spa, and cultural experiences in the Sacred Valley and beyond. The regular price is $4,298, but active duty, former, and retired servicemembers get the tour for $3,000 — about a 30-percent discount. The offer is valid throughout 2015, but Paragon founder and CEO Ryan Weaver points out, "Inca Trail to Machu Picchu is without a doubt our most popular tour and spots fill up quickly." To learn more or book the trip, contact Paragon Expeditions at 
info@paragonexpeditions.com or call (888) 996-3558.

Rome
All roads lead here, so what's stopping you? The Roman Guy, a tour company, offers active duty servicemembers a 10-percent discount, including admissions, taxes, and fees, on small-group and private tours in Rome, Florence, Venice, and Pompeii. Regular prices for small-group tours start at around 74€; private tours start at over 230€. "We have a huge following in bases around Europe, and a lot of American military families come through Rome with their families," says owner Sean Finelli. "We are an American company, run by Americans, so [our customers] don't have to worry about language barriers, though most of our guides are Italian. We pride ourselves on our customer service and native English. We love American military so we offer this discount on a long-term basis [no expiration date]."
Venice, Calif.
If Italy isn't in your travel plans this year, how about Venice, Calif? Jonathan Kaplan offers a three-hour "Reel to Real" walking tour of Venice Beach (a neighborhood once known as the "Coney Island of the Pacific") that focuses on historic spots featured in movies and historic events. "I walk folks to the filming spots of long-gone piers, canals, and roller coasters. [I show people movie clips that] feature Charlie Chaplin, Mary Pickford, Jim Morrison, Peter Fonda, Jack Tripper, and more, [and we return to the sites] right where they stood and walked," says Kaplan. Highlights of the tour include the site of the Eagles' very first performance in 1972, Charlie Chaplin's first appearance as the Little Tramp in 1914, the location of the world's first surfing exhibitions, and a Manson family murder site. You'll also explore the oceanfront boardwalk, Muscle Beach, the bike path and skate park, murals, and the graffiti pit. The regular price is around $40, but servicemembers get a 10-percent discount if you reserve by phone at (424) 999-8687, by email at vintagevenicetours@gmail.com, or through Zerve.com. (Just pick a date and click "Buy Tickets" to see the military discount option.)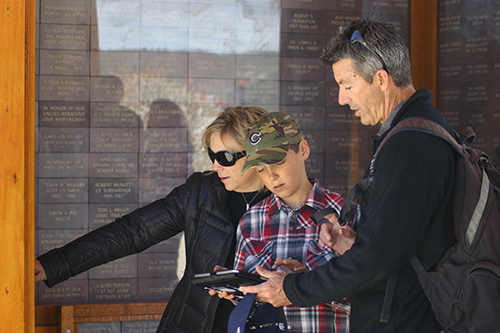 Photo courtesy of Urban Adventure Quest.
Nationwide
Urban Adventure Quest is a scavenger hunt, game, and guided adventure tour in more than 30 cities throughout the country. Along with your team and using a smart phone, you see the city's famous sites and hidden gems during a walking tour that you take on your own schedule, while you solve clues and complete challenges. Price is regularly $49 a team, but servicemembers get a 25-percent discount. To get your discount or more information, call (805)-603-5620.
For more military deals on tours and other adventures, see "A Really Big Adventure."