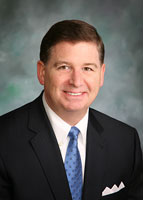 Col. Mike Barron, USA (Ret), is the Director of Currently Serving and Retired Affairs for MOAA's Government Relations department.
Barron retired from the Army in 2010 after a 30-year career as an airborne-ranger infantry officer and military strategist. During his professional military career, he served in leadership positions at all levels, from tactical through strategic. He is a decorated combat veteran of operations Desert Storm and Iraqi Freedom. Barron's last active duty assignment was as special assistant to the secretary of the Army.
After retiring from active duty, he was an executive with the Boeing Co., working in its Washington, D.C., government operations office, first as director of Government Affairs and then as director of International Operations and Policy.
He joined MOAA's Government Relations Department in April 2013 and specializes in defense policy, active duty compensation, and retirement issues.
Read full biography here.