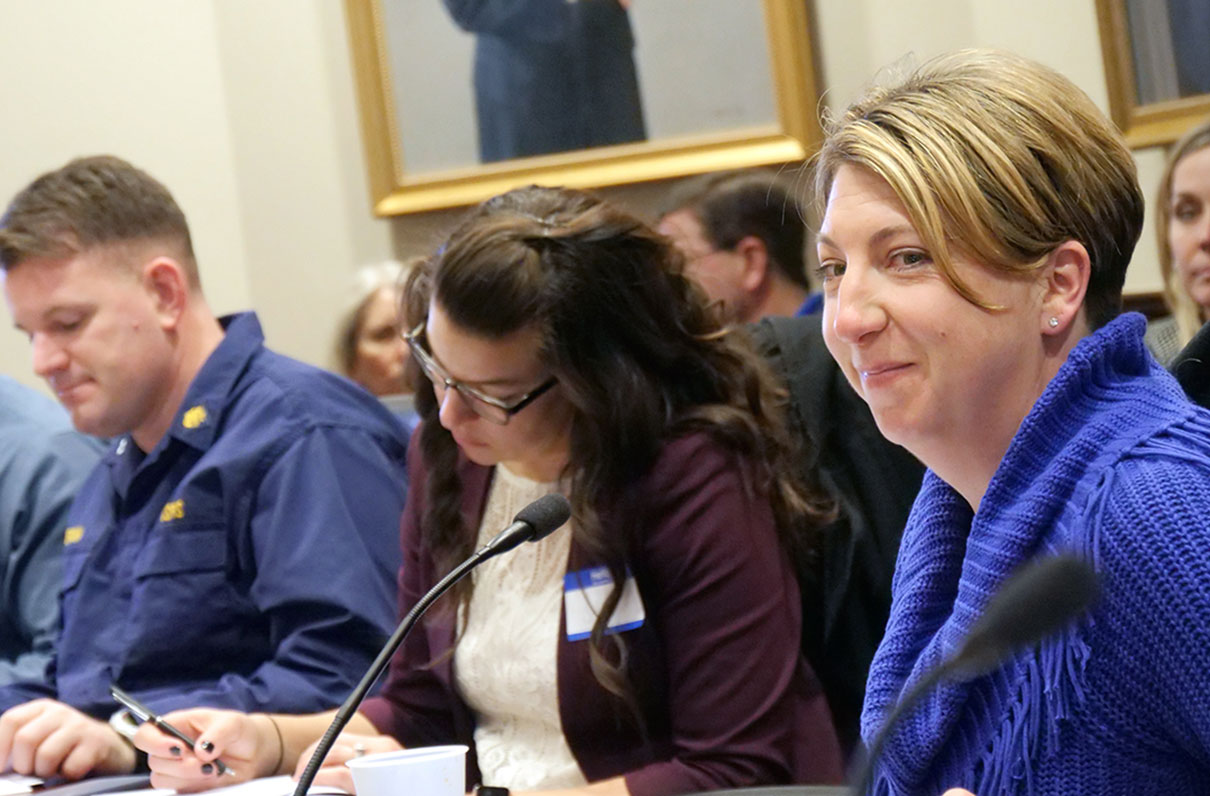 The new class of the currently serving and spouse advisory councils met with the full membership for the first time on Dec. 11. (Photo by Robert Lennox/Staff)

MOAA's Currently Serving Spouse Advisory Council (CSSAC) is a diverse group of MOAA spouses representing the Army, Marine Corps, Navy, Air Force, Coast Guard, United States Public Health Service and National Oceanic and Atmospheric Administration.

CSSAC members commit their time, share their perspectives as currently serving spouses (active duty, Reserve, and National Guard), and advise the MOAA president on a variety of issues. Their contributions are vital to the long-term success of our member-driven organization.

What Issues Does the CSSAC Address?

MOAA's strategic plan will direct the topic areas of the Council's overall agenda. Key areas within MOAA's strategic plan include advocacy, membership, member engagement, and chapters and councils. The specific issues within these categories will vary based the legislative environment and immediate needs of the Association.

Past councils have provided input on readiness, family matters, retirements and healthcare; messaging for nationwide advertising campaigns, Storming the Hill efforts, the introduction of a new tagline – Never Stop Serving, new logo development, the re-design of Military Officer, and more.

What Is Expected of CSSAC Members?
A strong commitment to the organization evidenced by support through servicemember membership. Although military spouses are not eligible for MOAA membership, we encourage your servicemember spouse to be a member. Military spouses can take advantage of all MOAA member benefits their servicemember is offered. Membership is not required to apply, but paid membership by servicemember spouse is required to serve on the council
Availability to participate in meetings on a quarterly basis (teleconference options are available). Meetings are typically held in the evenings from approximately 6:30–9 p.m. Eastern Time, but can vary. CSSAC members are also invited to participate in MOAA's annual Storming the Hill activities on Capitol Hill as well as periodic legislative meetings.
Willingness to express your opinions as well as those of your fellow military spouses.
Willingness to serve as ambassador for MOAA, share MOAA's value and activities with fellow officers and urge them to join the organization.
How Do I Apply?
Check back in August 2020 for information on how to apply for the 2020-2022 Council.
Questions?
Contact Eryn Wagnon at moaaspouse@moaa.org, or 703-838-8141.

About the CSSAC
MOAA's Spouse Advisory Council is a diverse group of active duty, National Guard and Reserve component spouses who represent the Army, Navy, Air Force, Marine Corps, Coast Guard, United States Public Health Service and National Oceanic and Atmospheric Administration. Each year MOAA invites a new council class to provide feedback on our programs and policy efforts.
Our Council members have served in a wide variety of roles including educators, entrepreneurs, writers, health care professionals, news reporters, lawyers, government employees, congressional staff members, nonprofit representatives, volunteers, and dual military spouses, just to name a few. We welcome all currently serving officer spouses and their diverse experiences. Council members will be expected to participate virtually in training sessions and physically attend meetings with Congressional offices or executive leadership.


Members of the 2017-2019 Spouse Advisory Council are: Catherine Chalkley, Maggie Casteleyn, Cynthia Giesecke, Josh Green, Sandy Law, Thea Lawton, Meghan Moretti, Victoria O'Casio, Courtney Power, Robin Rosenberger, Rollande Sampson, Desiray Tuinstra, Heather Walrath.
Members of the 2018-2020 Spouse Advisory Council are: Beth Conlin, Christopher Cosgrove, Rochelle Crockett, Nicole Gebhardt, Sidra Montgomery, Tara Nypaver.