DO NOT RAISE TRICARE FEES
Access our Legislative Action Center to check your legislators' positions on key issues, contact your elected officials and view details on all the legislation affecting you and your family as well as information on how to contact your elected official to make a change.
Make sure you're always in the know about Capitol Hill by signing up for MOAA's Legislative Update.
The August 2019 CPI is 250.112, 1.5 percent above the FY 2019 COLA baseline.


The Consumer Price Index for September is scheduled to be released Oct. 10. The CPI baseline for FY 2019 is 246.352.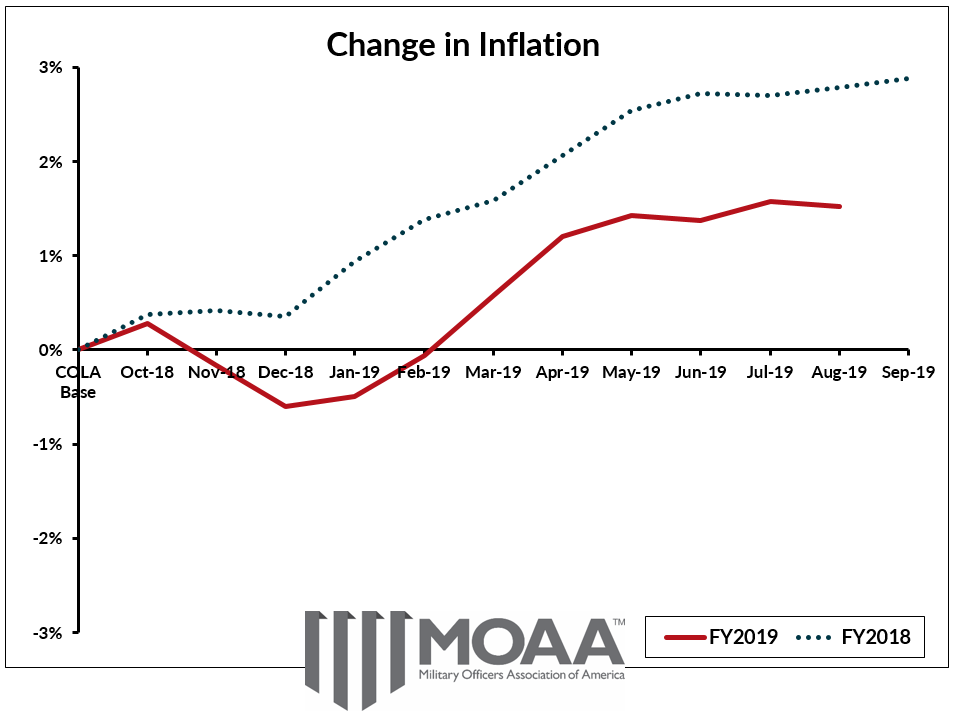 The calculation is made by comparing the average CPI from July through September of the current fiscal year to the average for the same months of the year prior. Remember, active duty pay raises are calculated differently.
This information is calculated from the non-seasonally adjusted Consumer Price Index for Urban Wage Earners and Clerical Workers (CPI-W). Calculation for monthly COLA change: (Monthly CPI-Yearly baseline CPI)/Yearly baseline CPI.
Learn more about CPI on the BLS web page.
Related content - Retired Pay vs Active Duty Pay Adjustments


Join Today
---
Not a member of MOAA? When you join MOAA, you become part of the strongest advocate for our military's personnel and their families.
Already a MOAA member? MOAA has more than 400 chapters around the country. Get involved in your community by finding the one closest to you and joining today!