Still on the Fence about BRS? Last-Minute Tips Before the Deadline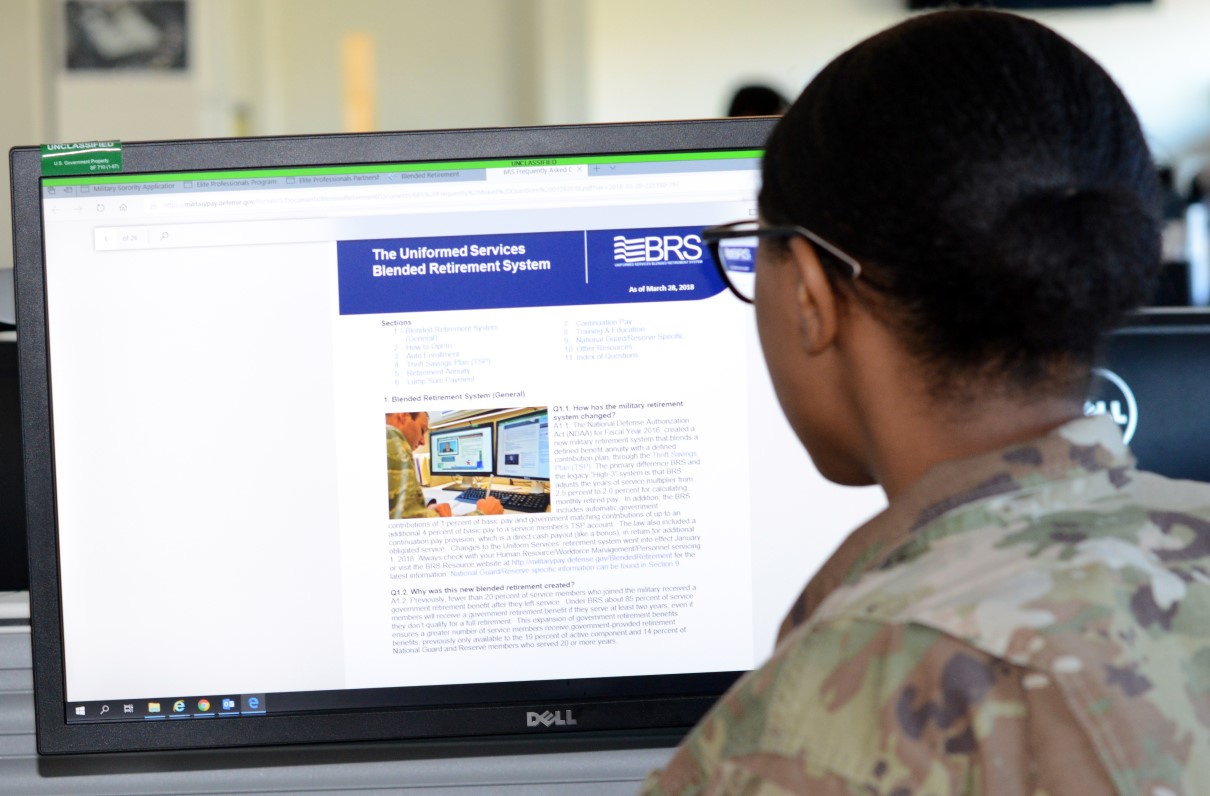 Gary Sheftick / Army
[MOAA Premium and Life members are eligible for personal financial planning services. Learn more here; join here.]
Servicemembers eligible to opt into the Blended Retirement System (BRS) have just weeks to make their decision - one that will shape their financial future.
"You have an obligation to educate yourself" on the BRS and legacy systems, MOAA President and CEO Lt. Gen. Dana T. Atkins said. "You need to understand all the modalities of both of those programs."
DoD has provided multiple education resources, including a calculator that will help estimate earnings under both systems. MOAA's BRS guide, which was first published in the member-exclusive Military Officer magazine, is available here.
The deadline to choose is Dec. 31. Not sure where to begin? Lt. Col. Shane Ostrom, USAF (Ret), CFP, program director for finance and benefits information at MOAA, offered some basic guidance for those still on the fence.
"If you know beyond a shadow of a doubt you will separate, take the BRS," he said. "If there is any chance you may stay until retirement, stick with the traditional retirement program."
[Made Your Decision? Take MOAA's BRS Survey]
Servicemembers who joined the military after Jan. 1, 2018, were automatically enrolled into BRS, which will replace the 20-year-benchmark legacy pensions with a smaller pension, a Thrift Savings Plan match up to 5 percent, and continuation pay eligibility. Servicemembers with fewer than 12 years of service or less than 4,320 reserve retirement points before Dec. 31, 2017, are eligible to switch to BRS.
About 1.6 million servicemembers are eligible to switch from the traditional system to BRS. Only about 306,000 servicemembers - or about 19 percent - have selected BRS, according to reports. That leaves about 81 percent staying in the legacy system, even though less than 1 in 5 servicemembers will serve long enough to earn retirement pay under that system.
As of October, the Marine Corps had the highest opt-in rate at 36.6 percent, followed by the Navy at 20.5 percent, the Air Force at 16.9 percent and the Army at 10.5 percent, according to Military Times.
Ostrom encouraged servicemembers to discuss their investment and retirement plans with a professional.
"It requires professional-level knowledge, a proven strategy, discipline to stick with a strategy when everything is trying to make you change and the ability to control your greed and fear emotions," he said. "If your future will rest on your investments, get real help."
Amanda Dolasinski is MOAA's staff writer. She can be reached at amandad@moaa.org. Follow her on Twitter @AmandaMOAA.