(This article originally appeared in Military Officer, a magazine available to all MOAA Premium and Life members. Learn more about the magazine here; learn more about joining MOAA here.)
DOVER AIR FORCE BASE, Del. - Caring for the fallen is a heavy mission, and troops who serve here aren't likely to leave without carrying a piece of it with them.
Servicemembers with Air Force Mortuary Affairs Operations have cared for 2,022 fallen troops and more than 10,000 family members since April 2009. Members of this command sometimes see far more intense trauma than what civilian morticians see, making resilience a vital part of the mission here.
"This is not for everyone," says Col. Dawn Lancaster, AFMAO's commander. "But people aren't going to deploy if they think that they or their family won't be taken care of if they're not to come back."
In honor of Memorial Day, Military Officer interviewed servicemembers and civilians here who care for the fallen. Here's a look at what they call their "no-fail mission."
Staff Sgt. Giuseppe Francioni
NCO-in-charge of the Joint-Services Uniform Section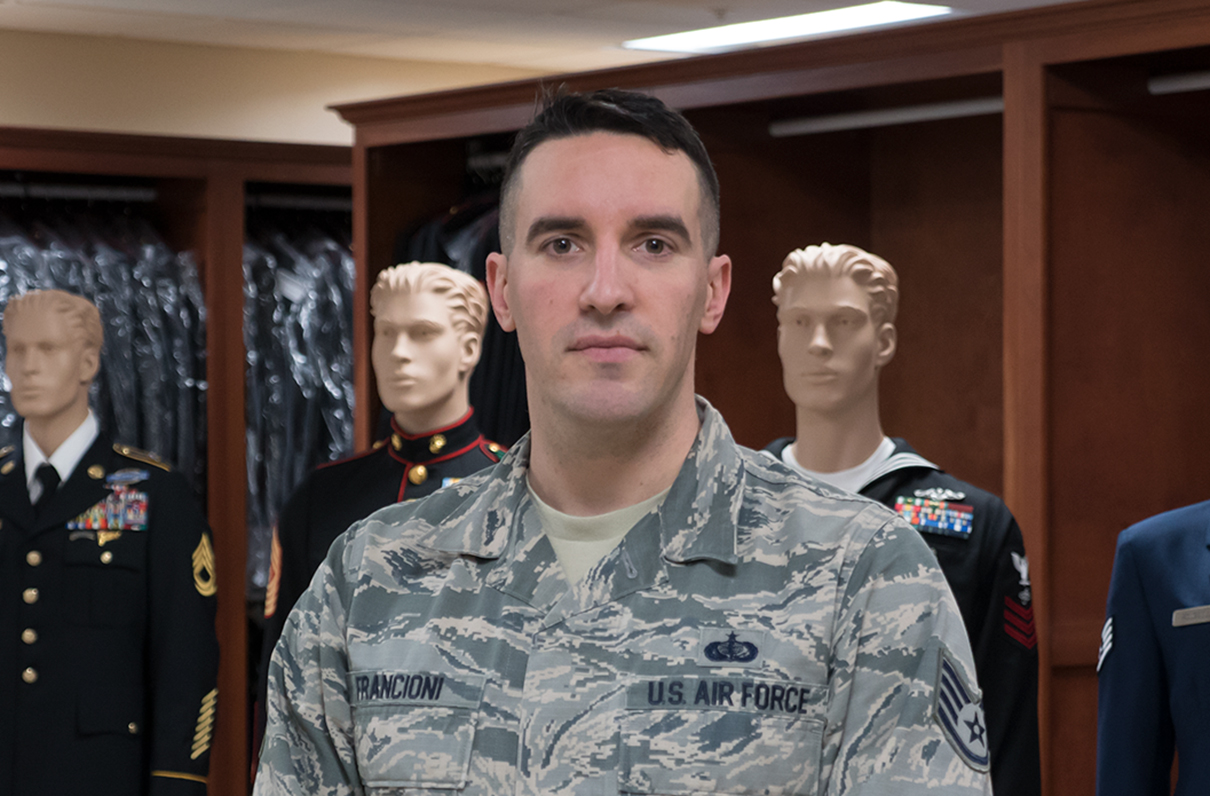 Francioni (Robert Lennox/MOAA)
When a servicemember dies on duty, a board here at the AFMAO building alerts the troops on hand. Francioni's worst fear is looking up and seeing the name of someone he knows.
"I have several other friends in the military and always [worry] that I'm going to look on that board and see my best friend's brother or one of my friends on that board," he says. "Really, though, you don't ever want to see anyone's name on that board."
Once there's a report of a casualty, Francioni and his team begin pulling the servicemember's rank insignia and building their ribbon rack. They engrave the Purple Heart and dog tags and can provide a nameplate for an urn if the family opts for cremation.
Once that person's remains arrive at Dover, Francioni and his team take careful measurements for a dress uniform or civilian suit, depending on the family's wishes. Troops also can be dressed in personal clothes. Francioni has helped dress the fallen in Hawaiian shirts, fishing gear, and sports jerseys.
"Nothing can really prepare you for this job," he says.
Rank doesn't matter in this building, Francioni says. Every servicemember, whether an E-1 or O-10, will always receive the same care, service, and support. They deserve nothing less, he says.
"Each case - it all weighs on you," says Francioni, who's worked in multiple sections here and is soon moving on to an officer-commissioning program. "Every person who comes through here, no matter what happened to that individual, you're trying to make them look the best they can.
"This is the best job I've ever had."
Senior Airman Emmanuel Yeboah
Dress and restoration specialist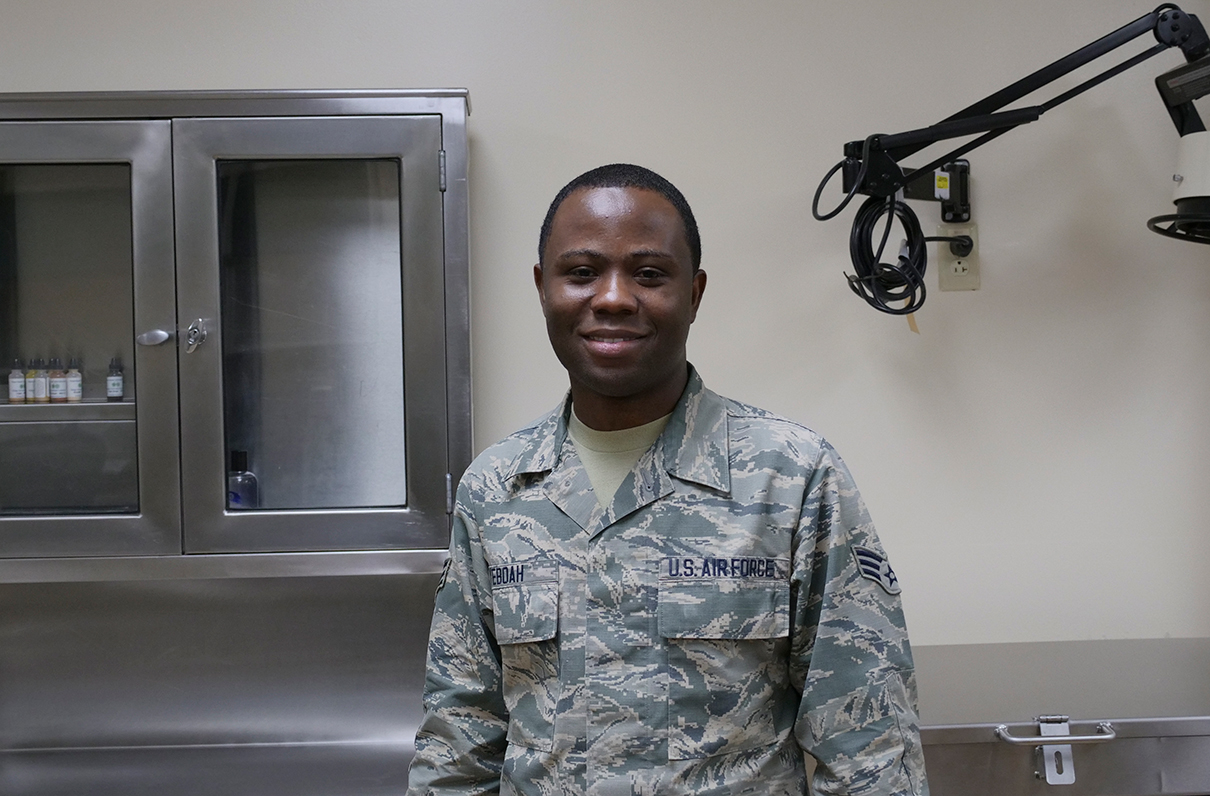 Yeboah (Robert Lennox/MOAA)
Until he arrived here at Dover, Yeboah never thought he'd be able to handle dealing with remains. After he got here, though, Yeboah says he saw it as the ultimate way to pay respect.
"This job humbles you," he says. "It gives you a whole different perspective on life. You know that you are doing something for a family in grief or despair - you're trying to provide them with the support they need."
As a dress and restoration specialist, Yeboah prepares servicemembers' remains for family viewings. It's all done to treat the family and servicemember with total dignity, honor, and respect.
It's not an easy job. Yeboah says he leans on his spirituality to get him through hard days, but what he sees sometimes leaves him grappling with some tough questions about life. That's why he says it's essential the people in this small command look out for one another.
"Even though you're working on remains, you might be surprised to know that somebody's looking at you to make sure you're in good shape," he says. "We know everybody's comfort zone."
Capt. Jesse Gilbert
Dignified transfer officer in charge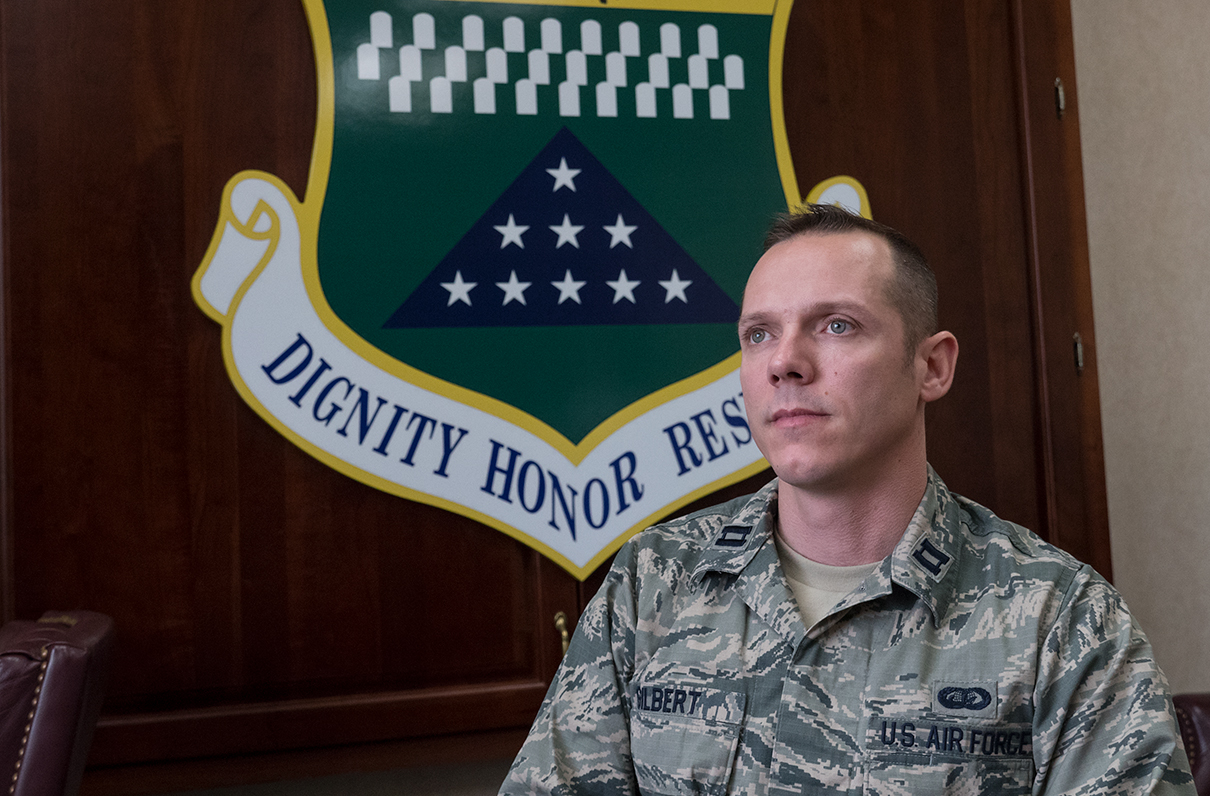 Gilbert (Robert Lennox/MOAA)
Dignified transfers are one of Dover's most high-profile events. The somber ceremony on the flight line serves as a fallen servicemember's final return to U.S. soil.
Gilbert, an Air Force Reserve officer, helps orchestrate the important moment, which has been open to media coverage since 2009. As the dignified transfer officer in charge, Gilbert communicates with the operations command overseas to get an estimated timeline on a fallen servicemember's arrival. He then tracks their return, briefs commanders on the details, and trains the carry teams.
"In our own way, with as little time as we have with that fallen member during that transfer, we want to make it as professional and respectful as possible," Gilbert says.
Knowing families likely will always remember the moment they see their loved one on the flight line makes Gilbert put his all into every mission, he says. Each detail is carefully planned, from the placement of the flag to carry teams' movements and how the transfer case will be removed from the aircraft.
"This is a very important time - families just got notification 24 to 48 hours ago," Gilbert says.
Gilbert says his team reviews feedback from Gold Star families to ensure the dignified-transfer process is as easy on families as possible. Removing transfer cases from certain aircraft requires a lift, for example. When some families found it difficult to see the case lowered on the lift, Gilbert and his team added a black curtain. The No. 1 goal, he says, is to honor the fallen and their loved ones.
"Even when families are not there, we do our job with the highest respect," he says.
Col. Dawn Lancaster
Commander of Air Force Mortuary Affairs Operations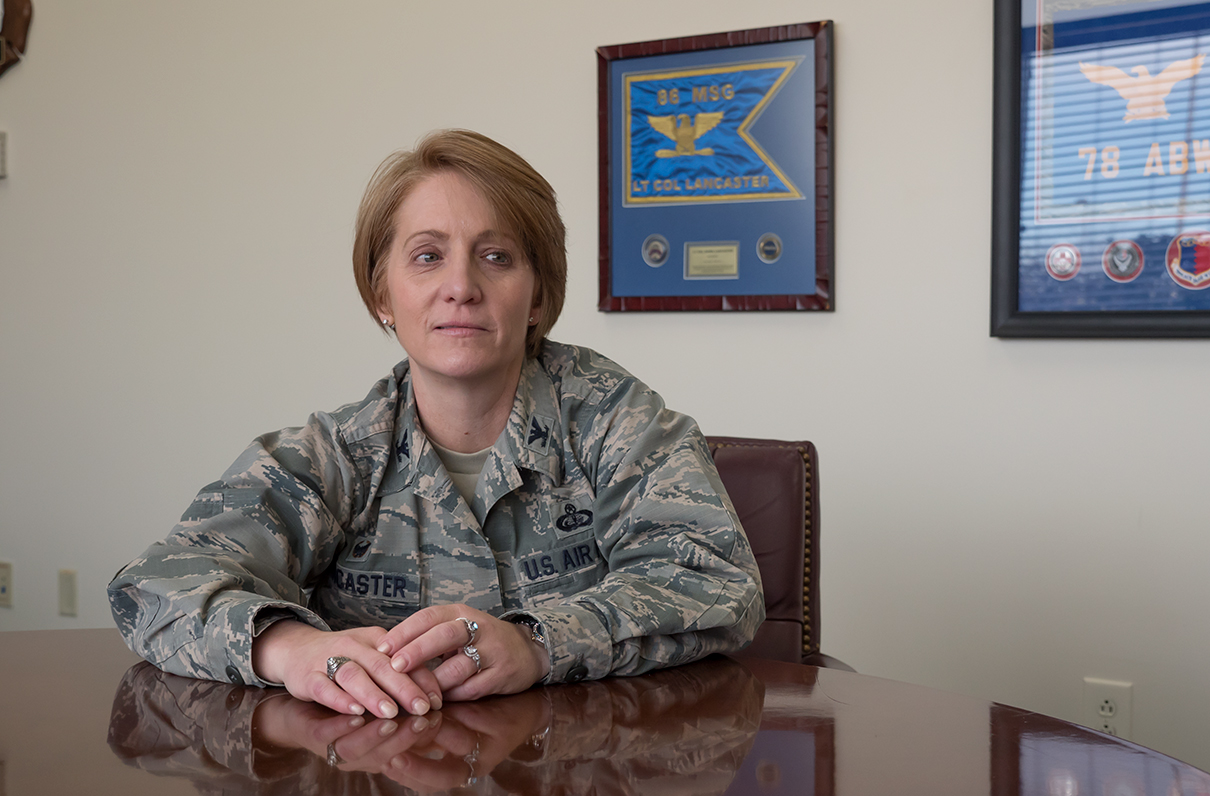 Lancaster (Robert Lennox/MOAA)
Lancaster understands the importance of resilience.
As a young mortuary officer, Lancaster worked her first case after the child of one of her staff sergeants died. Shortly after, Lancaster handled the case of a young airman who'd been killed in a car accident.
"Those were the first two of unfortunately way too many in my career," she says. "After 20 years of doing this, I still remember the faces of the parents that I've briefed. I understand the lasting effect this can have on you."
Lancaster, a Purple Heart recipient who survived the 1996 Khobar Towers bombing in Saudi Arabia, is candid with her troops here. Some of the things they'll see working in mortuary affairs or throughout other points in their careers won't ever leave them.
"It's OK to hurt and to remember," she says. "But they have to know how to deal with it because if you don't deal with it right, the things you see and the things you remember will take a toll on you."
When she survived the 1996 bombing, no one talked to her about post-traumatic stress. Lancaster wants troops here to know it's OK to speak up if they're struggling.
"I would hear thunder, and I would start crying," she says. "I thought I was crazy, so I didn't talk about it. It took me seven years to stop crying at thunder."
Today, airmen have so many more mental-health resources, and Lancaster encourages them to use them - even when they don't think they need them. Troops here attend resilience classes nearly every day. Sometimes it involves physical training. Other times, they talk about music. (Lancaster says she never learned as much about her airmen as she did after they listened to Tupac Shakur together.)
Airmen who move through Dover are always welcome to reach back out and talk to someone who understands what they saw. And despite the somber mission, she thinks it's important to have a little bit of fun on duty, too.
"I've been known to do cartwheels in these halls," she says. "There's also 'high-five Friday.' No one sees me on a Friday without getting a high five."
Former Army Spc. Danielle Wilk
Mortuary specialist
Wilk (Robert Lennox/MOAA)
Wilk has known she wanted to be a funeral director since she was a child. As a veteran, there's nowhere she'd rather practice her profession.
"I chose this profession - it is a calling, and the impact is so much greater being here," she said. "The heaviness, if you will, is completely outweighed by my service back to the families."
Wilk, who's been a licensed funeral director and embalmer since 2002, restores servicemembers' remains when they arrive here. The goal is always to send a servicemember home in the most dignified manner possible and give families the opportunity to see as much of their loved one as they can.
"What may be a difficult, trying case, knowing what that person has done for me, for our country, it's very easy to keep it in perspective," she says.
Wilk says she was just 9 or 10 years old when she told her mom she wanted to be a mortician. When she left the Army, she used her GI Bill to get the training and education she needed to work as a funeral director. When she learned about the mission here, she saw it as a chance to continue serving her country.
Since she's worked in the field for several years, Wilk helps mentor people like Yeboah. They get new teams every six months, and she watches them closely during training with mannequins to spot changes in behavior or limitations. She suggests that anyone taking on this duty remember the bigger picture.
"Sending our fallen home to their families is key," she says. "As long as we can keep that in mind and remember why we're all here, I think that's the best resiliency."
Gina Harkins can be reached at ginah@moaa.org. Follow her on Twitter: @ginaaharkins