Frances Standefer wanted to fly, and she was willing to do whatever it took to make that dream come true.
In 1942, while working as a secretary at the Department of Transportation in Washington, D.C., Standefer was approached by Jacqueline Cochran regarding a nascent organization of female pilots established to assist the war effort. But there was a catch: You had to have a civilian pilot's license to join.
"With every spare nickel she could save, mom traveled from Washington to Maryland every weekend to take flying lessons," recalls Standefer's son, retired Air Force Col. John Acker of Henderson, Nev. "She was bound and determined to be one of 'Jackie's Girls.'"
An estimated 25,000 women applied to the Women Airforce Service Pilots (WASP), but only 1,074 made the grade - including Standefer, who served from 1943-45. On May 26, the National WASP WWII Museum at Avenger Field in Sweetwater, Texas, will celebrate the 75th anniversary of the first graduating class of pilots, with special activities and featured guests, including some of the surviving WASPs, all of whom are in their mid-90s or older now.
"It's important to honor the legacy of these women and provide them the remembrance because they were such pioneers, not only in aviation but in the military," says Ann Hobing, the museum's president and CEO. "While these World War II veterans are still with us, before they take their final flight, we want to provide the honors that they are due."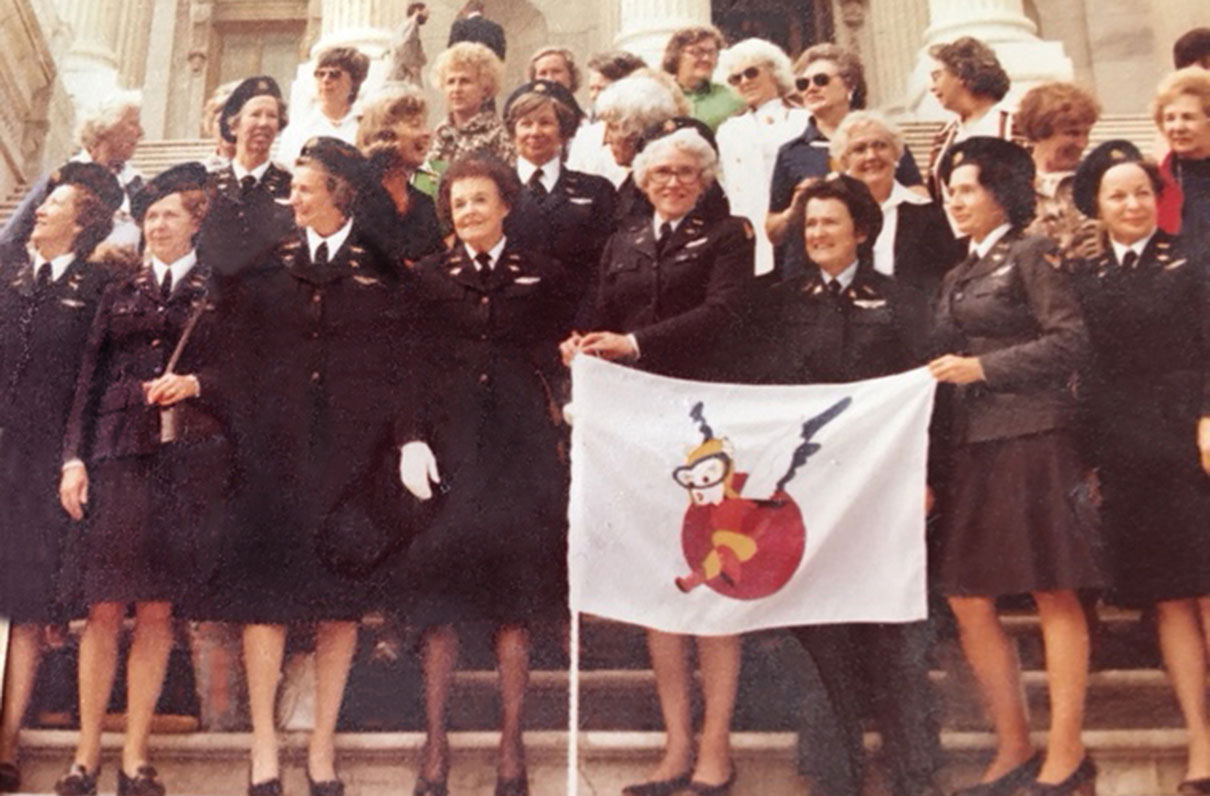 Members of the Women Airforce Service Pilots celebrate on the capitol steps in 1977 after the Senate voted on their military benefits. Frances Standefer is in the second row, just left of center. (Courtesy of retired Air Force Col. John Acker)
The museum will be open to the public during the homecoming celebration, Hobing says. Authors who have written about WASPs will be signing books, and the Liberty Jump Team will perform a World War II paratrooper reenactment. Air Force Col. Andrea Themely, commander of the 80th Flying Training Wing at Sheppard AFB, Texas, will give the luncheon keynote at Texas State Technical College West Texas campus.
WASPs began training in 1942 and were disbanded in December 1944, though pilots continued to serve through 1945. Logging more than 16 million miles across the U.S., their contributions were extremely important to the war effort. WASPs ferried planes from base to base, transported cargo, trained pilots from other nations, pulled targets during pursuit pilot training, and performed many other duties. Thirty-eight pilots died in service, Hobing says.
Standefer, who died in 1987, helped train pilots from the Republic of China and pulled cloth targets so fighter pilots could hone their aerial gunnery skills, Acker says. It was potentially hazardous duty, he reports, noting: "Mom said there were days when she would come back with as many holes in the tail of her aircraft as the banner had in it."
Unsurprisingly, the WASP program was controversial. Many male pilots felt threatened by their female colleagues and refused to support them. The women banded together out of necessity, doing everything they could to support their fellow pilots. When one of their own perished, the others would pass the hat to raise enough money to transport the body back home.
Though the WASP performed an exceptionally important service during World War II and bravely faced many of the same challenges as their male counterparts, Congress refused Army Air Forces Commanding General Henry "Hap" Arnold's request to officially designate WASPs as members of the U.S. military. A protracted fight ensued, and it wasn't until 1977 that official status finally was granted, thanks to a law signed by President Jimmy Carter.
"Women Airforce Service Pilots did some pretty remarkable things when it came to advancing the war effort," Hobing says. "For example, the Boeing B-29 Superfortress would not have ended the war as soon as it did without the WASP."
Lt. Col. Paul Tibbets needed someone to demonstrate to pilots in the Army Air Force that the newest plane in their arsenal was safe and dependable because engine fires early on had made many pilots wary. Tibbets trained two female pilots - Dora Dougherty and Dorothea Moorman - to put the B-29 through its paces and bring it home safely. "Without the WASPs, the Enola Gay might not have been able to serve its mission," Hobing says.
Acker acknowledges his mother's military service inspired him to become an Air Force pilot in the late 1960s. During his junior year in college, he says, his mother hosted a WASP reunion at their home in Vacaville, Calif. "We lived next door to a restaurant called The Nut Tree that had its own airstrip, so several of the WASP who had their own planes flew in. When the ladies found out I was working on my pilot's license, they took me up in their private planes, and I heard a lot of war stories. That solidified that I was on the right track."
Acker will be attending the 75th anniversary celebration with his three sisters and will be donating more items from their mother's war-era collection. Sadly, a flood in 1948 destroyed 95 percent of Standefer's military memorabilia, but her dress blues survived and already are part of the museum's permanent collection. Still to come are war-era issues of Life magazine featuring WASPs on the cover and related ephemera.
"It's all a little overwhelming," Acker says. "I know my mother would be standing proud and trying to get to the reunion if she was still alive. I'm really looking forward to seeing if any of the attending pilots were classmates of my mother's. Just to meet them will be a huge honor for myself and my sisters."