MOAA encourages all members with a genuine interest in serving the military community as a member of MOAA's board of directors to submit an application, which can be found below. Once you submit your candidate information on the application form, you will receive instructions by email from the MOAA staff on how to access a secure document sharing portal where you will upload the required documentation described below. Click a link below for more details on the process:
[APPLY HERE: 2022 Board Application Form]
Required Documentation
You will be asked to describe your general and special skill qualifications, as well as your in-uniform and post-military professional experience. This will help enable the nominating committee determine the 12 nominees who, collectively as a board class, have the best background and experience needed to support the board and its committee structure.
General qualifications (see No. 1 below) are of upmost importance and will be considered first: All officers on the board need to have the general qualifications described in item 1. below. Special skills (see No. 2 below) are desired in only a few of the nominees; nominees are not required to have
any of these special skills.
All members who have strengths in the general qualifications area are encouraged to apply.
The documentation will include:
1. General qualifications: (Maximum of two pages for all three items below) Describe your overall qualifications to serve as a member of our board by separately addressing the three general qualifications:
An understanding of MOAA's mission and a strong desire to support that mission through being on the board. You should clearly articulate why you want to be on MOAA's board and how your capabilities, experiences, and accomplishments will help MOAA accomplish our mission.
An understanding of the needs of our members, the uniformed services (active, Guard/Reserve, retired), and surviving spouses and how Congress works to meet those needs.
An understanding of the role and responsibilities of a nonprofit corporate board of directors, including working knowledge and understanding of financial, budgeting, and financial reporting of business operations and ability to use and evaluate corporate information reporting systems to evaluate organizational performance.
2. Special skills, knowledge, and experience: (one page maximum) Identify whether you have any of the special skills shown below and if so, briefly describe that skill experience. Again, these skills are not required to be considered for the board.
Leadership experience in military personnel policy at the service or DoD levels in such areas as pay, allowances, compensation, retirement, manpower, recruiting, and retention. An understanding of how Congress works (House and Senate, bills, committees and subcommittees, the administration, etcetera).
Leadership experience in the Military Health Care System, Defense Health Agency, and/or Veteran Health Administration. An understanding of the health care commitment to our uniformed service members (active and retired) and their families.
Experience serving on the board of directors or as an officer of a for profit and/or nonprofit corporation.
Experience in a leadership role in one or more MOAA local chapters or state councils.
Experience in finance, accounting, and/or endowment investments.
Experience in philanthropic or charitable fundraising and giving on behalf of a nonprofit corporate or similar entity.

3. A one-page résumé of your uniformed service and post-service professional experience, as well as your civilian and uniformed service education. For surviving spouses, include your professional experience and volunteer activities.
4. A recent head-and-shoulders digital photograph in civilian clothes that is suitable for publication. A high-quality 5-by-7 photo at 300 dpi (dots per inch), which is about 1.5MBs in JPG or PNG format; and
5. Confirmation of military status: For active duty and active status officers, a copy of a recent Leave and Earnings statement; for retired officers and former officers, a copy of your DD Form 214, Certificate of Release, or Discharge from Active Duty; for reserve and National Guard retirees, a copy of your retired pay order or letter of transfer to retired reserve status; for surviving spouse members, a description of your late spouse's military service.
6. As part of the application process, every applicant will be asked to submit to a background check and a review of their public online communications, such as Facebook and other social media sites. Once we receive your application, you will be contacted by Crimcheck, MOAA's background check vendor, to request your consent to the background check. Completing the background check process is required.
The three letters of recommendation (exclusive of the MOAA staff) should be addressed to the attention of the Board Nominating Committee, signed, and sent or emailed directly to the applicant. The completed application package including no less than three letters of recommendation must be uploaded to your secure SharePoint folder by March 31, 2022.
Board Nominating Committee
Applications are evaluated by a Board Nominating Committee, appointed by the board, to select the 12 nominees to be voted on by MOAA's membership. Neither currently serving directors nor association staff members may serve on the committee.


Bylaw Requirements
There are 36 directors on the board of the association. MOAA's bylaws require the following minimum numbers of directors from each service: eight Army, eight Navy, eight Air Force, three Marine Corps, two Coast Guard, one Public Health Service, one NOAA, and five at-large (without regard to service affiliation).
To maintain the required service representation, the incoming class of directors must consist of at least two Army, three Air Force, two Navy, and two Coast Guard officers. The Marine Corps, Public Health Service, and NOAA have no specific vacancies, but officers from those services may apply and be selected for the three at-large seats.

Regional Vacancies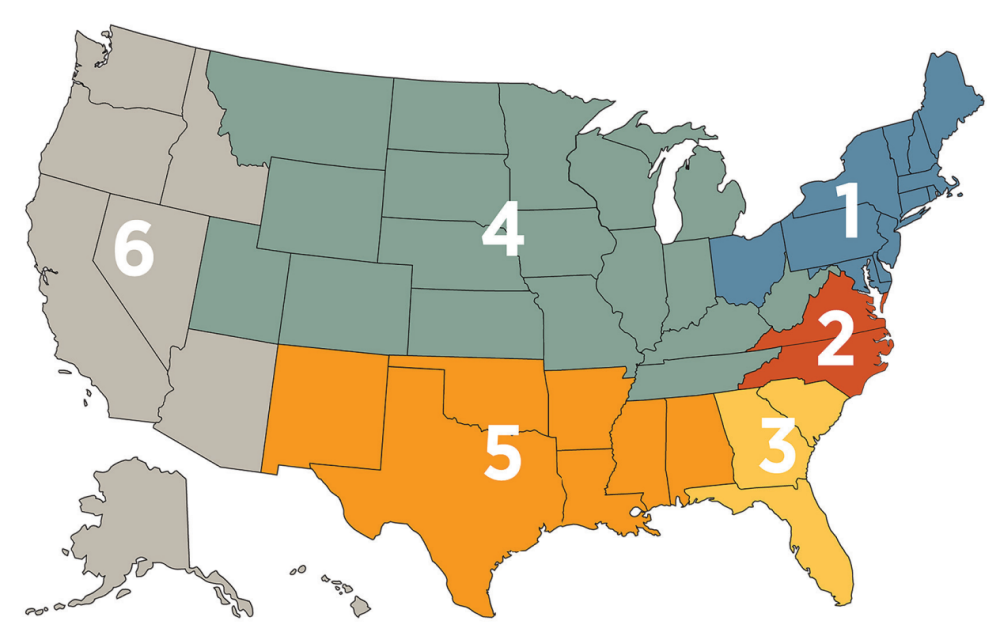 To be sure the board reflects the geographic distribution of the voting membership, at least four directors must come from each of six regions, shown above, in which reside approximately equal numbers of voting MOAA members.
To maintain the required regional representation, the 12 selectees must have at least one director from Region 4 and at least two directors from Region 6. The other nine vacancies may be filled from any region.
Other Important Information
Directors must be active duty, Reserve, National Guard, retired, or former uniformed service officers, or surviving spouses of such officers, and members of the association.
Directors hold office for six years.
Each director represents the total association and not a regional or service constituency.
The board directs and controls the business management and aff airs of the association and has the authority to approve contracts, incur liabilities, expend funds, and attend to other association matters.
There are no grade or other limitations on the number of officers who may serve as directors at any one time. The overall objective of the board member selection process is to obtain the best-qualified members from within the membership of the association.
Service on the Board
Directors discharge their governance responsibilities primarily by participating in the three board meetings convened each year. Each board meeting includes meetings of the various standing committees (conducted virtually before the full board meeting) and an in-person meeting that requires about two to three days, not including travel.
A director should be able to devote a total of three to four weeks each year to MOAA matters, including travel, board and committee meetings, and participation in other events such as the annual Council Presidents' Seminar, council and chapter leadership workshops, and individual visits to councils and chapters.
A director must refrain from activities that could reasonably be viewed as conflicting with or possibly influencing the director's judgment regarding his or her responsibilities to MOAA.
Directors receive no compensation, but they are reimbursed for MOAA-related travel, lodging, and meals. Directors serve one (1) six-year term and must be a member of MOAA.