MOAA capped off a highly successful 2022 by being named to The Hill's list of top lobbyists for the 16th consecutive year.
The Hill, one of the nation's top Washington-focused news organizations, honors "the most impactful advocates at K Street firms, companies, trade associations and grassroots advocacy groups." MOAA was honored in the Grassroots section along with veterans groups Burn Pits 360 and Veterans of Foreign Wars (VFW).
"This award is truly the result of a collective effort from both our national office and the chapter members across the country," said Lt. Gen. Dana T. Atkins, USAF (Ret), MOAA's president and CEO. "Everyone on our team – from our Member Service Center reps working the phones, to our Council and Chapter leaders rallying the troops, to our Government Relations team testifying before Congress – joins forces to advocate for servicemembers, veterans, retirees, families and survivors. We are thrilled with the recognition that The Hill has given us."
After seven years serving as MOAA's president, Atkins will retire in early January. His leadership proved instrumental to MOAA's advocacy success during this period, said Gen. Gary L. North, chairman of MOAA's MOAA Board of Directors.
"It takes a lot of work and expertise to maintain this level of influence over an extended period as the voice for the uniformed services community and their families and survivors," North said. "It all starts with our President and CEO, Lt. Gen. Dana Atkins, who led us to this prestigious recognition every year during his tenure."
[REGISTER TODAY: MOAA's Legislative Action Center]
MOAA members and staffers contacted every one of the 535 congressional offices during the annual Advocacy in Action lobbying campaign, conducting 250 virtual and in-person meetings, and sending over 10,000 messages to Capitol Hill. The campaign focused on military pay raises, eliminating the dollar-for-dollar offset in concurrent receipt for medically retired veterans, and reducing TRICARE mental health copays.
MOAA also lobbied successfully for the Sergeant First Class Heath Robinson Honoring our Promise to Address Comprehensive Toxics (PACT) Act, benefitting servicemembers impacted by burn pits and other toxic substances. Lobbying efforts included magazine and newsletter articles, and a letter-writing campaign.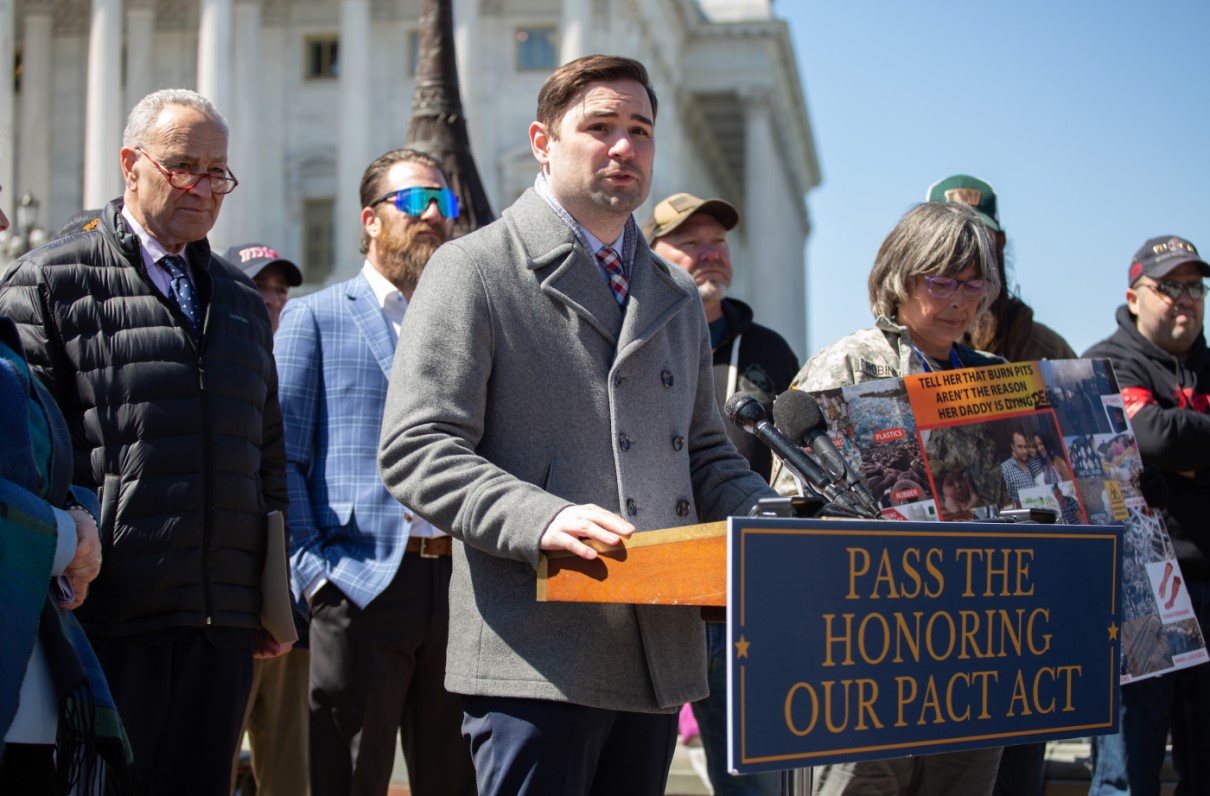 MOAA Director of Government Relations for Veteran Benefits and Guard/Reserve Affairs Cory Titus speaks at a March 29 press conference on Capitol Hill in Washington, D.C., in support of the Honoring Our PACT Act. (Photo by Mike Morones/MOAA)
In addition to the PACT Act, MOAA successfully pushed for additional legislative and policy provisions supporting servicemembers, veterans and their families to include requiring DoD to create an appeal process for Tier 4/non-covered prescription drugs and increased respite care hours for medically complex family members enrolled in TRICARE's Extended Care Health Option (ECHO). It also supported the passage of S. 2533, which improves screening and treatment of mammography services in the VA, just to name a few.
MOAA will champion a number of measures in 2023, including full 2023 cost-of-living adjustment (COLA) payments for military retires, disabled veterans, Social Security beneficiaries, and others receiving federal compensation. In addition, MOAA will be leading efforts to protect the TRICARE pharmacy benefit in the face of cuts to the retail network.
[TAKE ACTION: Ask Your Lawmaker to Help Reverse TRICARE Pharmacy Cuts]
"MOAA's advocacy efforts will remain strong as 2022 comes to a close and the new Congress begins its deliberations," said Col. Dan Merry, USAF (Ret), MOAA's vice president of Government Relations. "Our core mission is to 'Never Stop Serving' our uniformed services and veteran communities, and we will continue to do so in the years ahead."
MOAA Fights for You
Get involved and make sure your interests are addressed.