Reilly McGinnis, a soccer standout from a small town in Pennsylvania, has joined a small, elite group of women who have earned the rank of first captain at the U.S. Military Academy – just six in the academy's 218-year history.
"Thinking back as a plebe, I never would have thought this would happen," McGinnis told MOAA. "Getting to lead in this position is definitely humbling."
The first captain is the highest position in the cadet chain of command. She's responsible for the performance of the 4,400-member Corps of Cadets and acts as a liaison between the corps and the administration.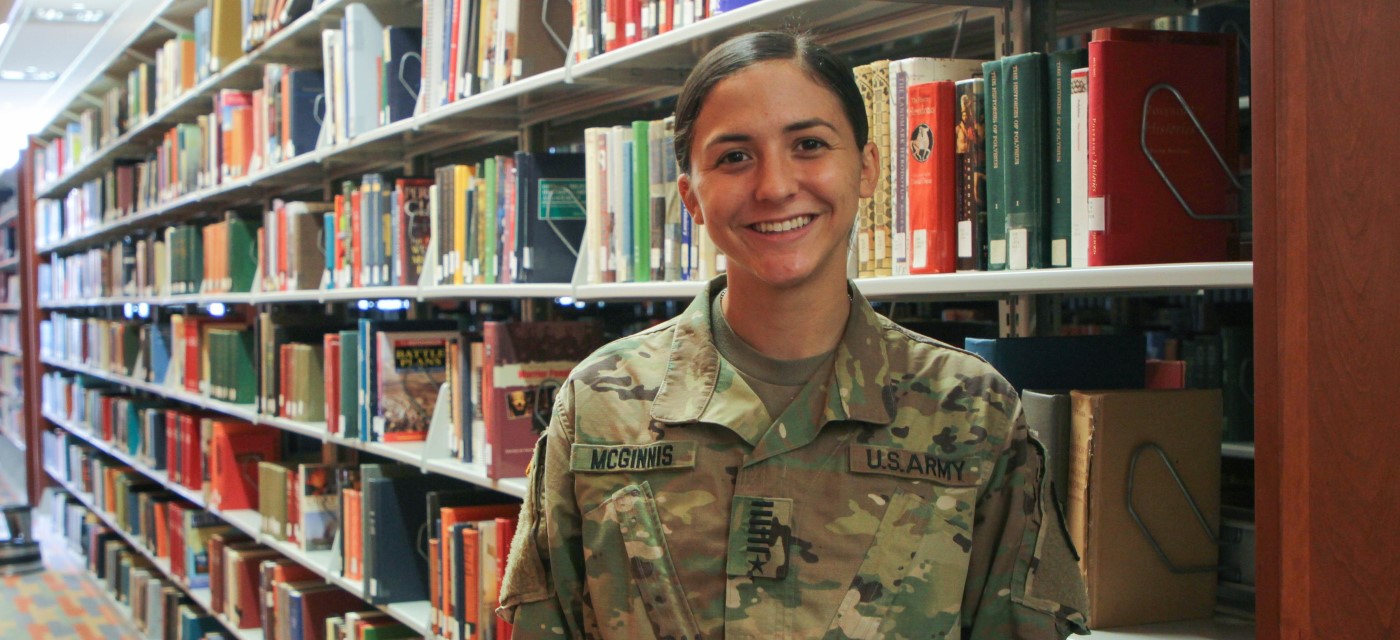 "I've felt nothing but included the whole time I've been here," First Captain Reilly McGinnis told MOAA of her time at West Point. (Photo by Jorge Garcia via Army)
It's been a whirlwind of a journey for the "firstie," who learned about the academy only when a recruiter spotted her at a soccer clinic during her high school years. The native of Macungie, Pa. – about a 2½-hour drive from West Point – didn't know much about the military before stepping onto campus for a tour, but instantly felt that was where she belonged.
"After that visit, I couldn't see myself going anywhere else," she said.
McGinnis grew up leading her teammates on the soccer field, so leading comrades during training at the academy was a seamless shift. When an injury sidelined her, McGinnis decided to put all of her energy into more military activities.
As a rising senior, she applied for a position on a summer training session. She was thrilled when she learned she was selected as the commander of the Cadet Leader Development Training, but disappointed when it was canceled because of the COVID-19 pandemic.
The pandemic, which could have dismantled the prime leadership opportunity, presented McGinnis with a new one. She was tasked with leading a detail to plan how to safely get cadets back to the academy, undergo COVID-19 testing and make the most of the two-week quarantine.
"It was a blank slate that I was given to work with," McGinnis said. "My team and I took it and ran what we thought would be most effective for the corps."
[DONATE NOW: MOAA's COVID-19 Relief Fund]
At the end of the detail, Brig. Gen. Curtis Buzzard, West Point's commandant, stopped McGinnis during a walk through campus. He casually let her know she'd been selected for first captain.
"It definitely caught me off guard," McGinnis said. "I was very, very excited. I started out as a recruited athlete, had an injury last year and stepped away to focus on getting healthy, but that injury ended up being a blessing in disguise. It showed me different ways to have an impact at this school outside of the soccer field. The detail set me up very well to know how to think through these complex problems and how to look out for the people around me."
The honor has been shared by just five women before McGinnis. Yet, McGinnis said she has always felt supported and empowered at the academy.
"Forty years ago from this past graduation was the first time females graduated," McGinnis said. "We've come such a long way since then. I've felt nothing but included the whole time I've been here. Nobody has ever looked at me differently or thought I couldn't do it. The result of that is, I never had hesitations to pursue something."
MOAA Knows Why You Serve
We understand the needs and concerns of military families – and we're here to help you meet life's challenges along the way. Join MOAA now and get the support you need.