With the fiscal year coming to a close, we will soon know the final Cost of Living Adjustment (COLA) for retired pay and social security benefits. Our prediction for the final COLA is 2.8 percent.
In other words, starting Jan. 1, 2019, you would see an increase of roughly $28 for every $1,000 of retired pay you receive. (Active duty pay is calculated differently)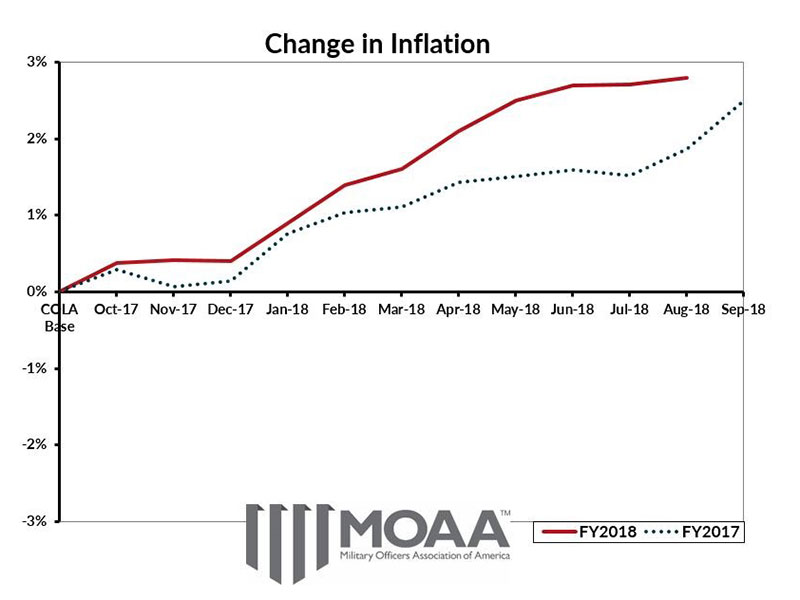 The August 2018 CPI is 246.336, 2.8 percent above the FY 2018 COLA baseline.

The CPI for September 2018 (the final month of the fiscal year) is scheduled to be released on Oct. 11, at which point we can confirm the final COLA.
Consumer Price Index (CPI) growth has slowed in the past couple of months, but has still shown the highest year-over-year growth in years. The largest contributing factors to this year's growth have been energy commodities, shelter (housing), and transportation services. Food prices, particularly away from homes, had a modest impact on CPI as well.
[RELATED: How the Cost of Coke Determines COLA]
The weighting of each consumer category is calculated in accordance with a two-year-long survey that looked at family purchasing data through approximately 24,000 weekly diaries and 48,000 quarterly interviews.
Measured price changes on food products, clothing, housings costs, medical services, and other groupings determine the annual COLA. The calculation is made by comparing the average CPI from July through September of the current year to the average for the same months of the year prior.
[RELATED: Follow MOAA's COLA Watch for Monthly Updates]