MOAA wants to know about your experience with military health care and the TRICARE program. We need all beneficiaries to take an important survey . As with previous surveys, MOAA will use the data to assess trends and help shape legislation to directly improve access and quality of care for you and your loved ones.
[Bottom Line Up Front: Take our survey here and pass it along to your networks!]
A recap from the past year indicates military beneficiaries have experienced unexpected increases in many of their TRICARE fees.
MOAA's previous two surveys reveal beneficiaries preferences across an array of measures as indicated in the chart below: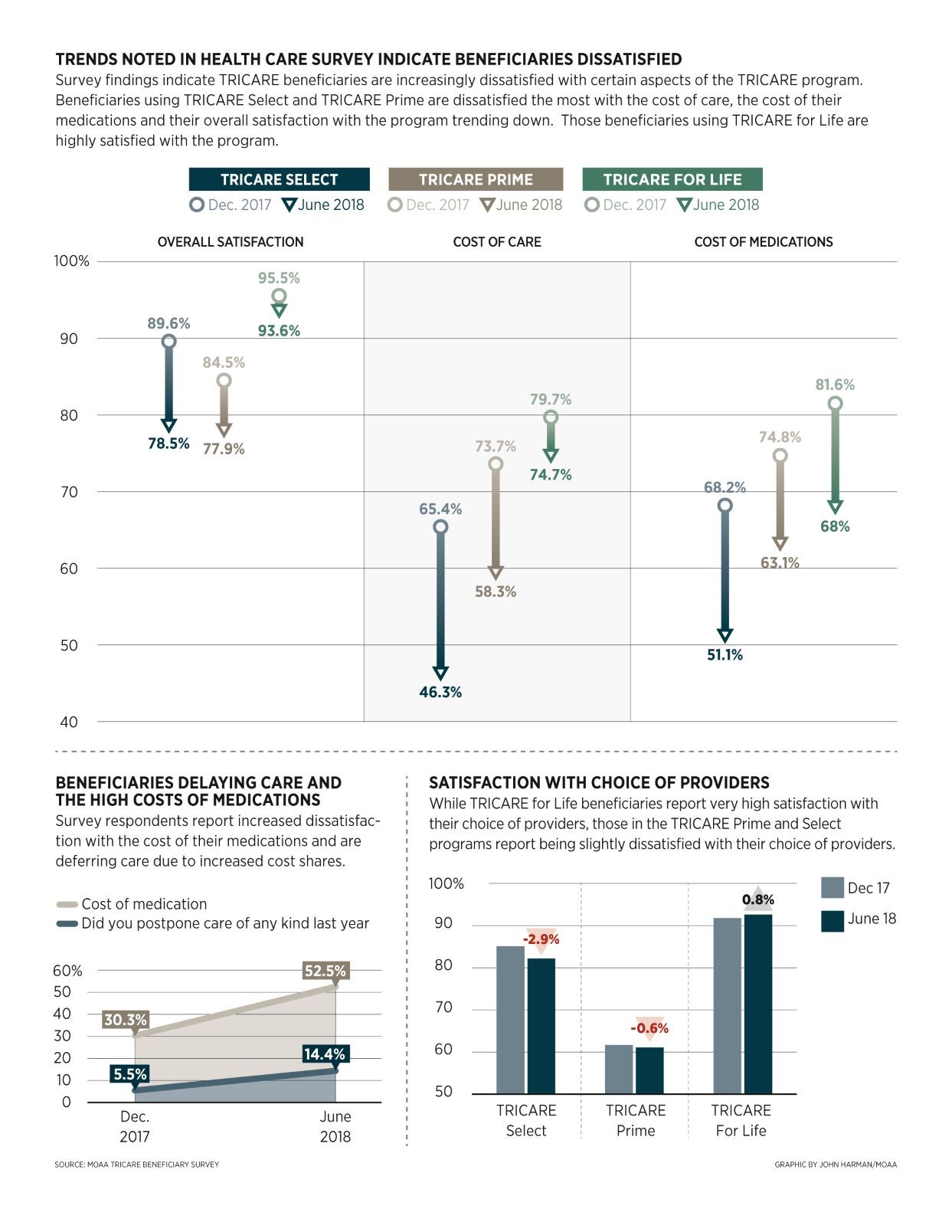 You may recall one year ago, DoD unilaterally decided to change its TRICARE Select (formerly Standard) fee schedules from a percent-of-cost model to flat-rate fees. These structural fee changes disregarded the intention of the 2017 NDAA to grandfather current military members, veterans, and families of both and insulate them from health care cost-share increases. Key changes included the following points:
Retiree TRICARE Prime copayments: Copayments range from 67 percent to 173 percent higher than 2017 Prime retiree copayments in select categories.
Active duty family and retiree TRICARE Select copayments: DoD used a provision in the policy to restructure the former TRICARE Standard/Extra cost shares, into what it described as an improved flat-rate copayment structure, touted as being more predictable for beneficiaries. The result is increased out-of-pocket costs, which are inconsistent with private-sector PPOs and have been detrimental to many military families and retirees who rely on TRICARE Select for coverage.
Mental health visits considered specialty care: This change generates significantly higher out-of-pocket costs than under the previous TRICARE Extra - higher than many civilian plans. These TRICARE Select costs create barriers to mental health care access.
TRICARE pharmacy copayments: The copayments have doubled and tripled. For some, a $7 increase from $0 for a generic prescription can be tolerated; however, for those on a fixed income and receiving several generics and other specialty medications, it is costly - and costs will increase at rates beyond the COLA in the future as the attached chart shows.
The effects of cost-share increases: Many beneficiaries have become overburdened quickly under these new copayments. While an occasional copayment of $30 or $40 for a specialty visit is not a financial strain for many, an active duty family with one or more special needs children or adults with multiple medical issues requiring many more appointments per week will see an overwhelming increase in costs. Hitting catastrophic caps will become more of a norm than an exception.