In the few months the National Guard has been serving on the U.S. border with Mexico, Customs and Border Protection (CBP) in Arizona has credited them with the seizure of over 11,000 pounds of marijuana, cocaine and heroin, and with over 11,000 apprehensions thanks to their identifications made by aircraft and camera. It was clear during a hearing last week that both Customs and Border Patrol and the National Guard are both very satisfied with the arrangement of having the National Guard remain at the border for the foreseeable future.
The mission now has a name, Operation Guardian Support, and the exact parameters are for the National Guard to provide temporary air support in the form of light and medium lift helicopters, infrastructure support, such as road maintenance and vegetation clearing, operational support, such as fleet maintenance and repair, law enforcement communications assistance, and surveillance support such as surveillance camera operations. CBP has characterized the National Guard's assistance as a significant force multiplier.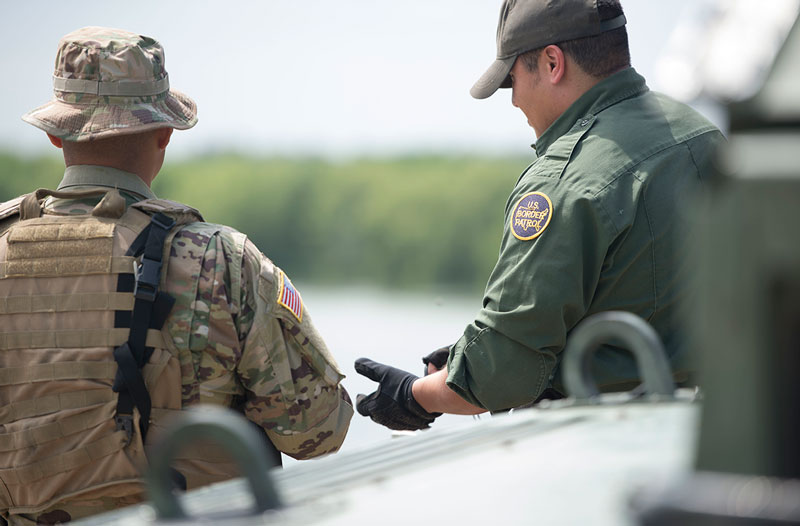 Texas Military Department / Sgt. Mark Otte
One of the reasons may be because the CBP is currently understaffed by over 1,000 employees and agents. The agency has experienced a hiring and retention problem for years resulting in the agents they do have being overtasked with administrative and logistical duties that take them away from their mission of interdiction and apprehension. One example provided by CBP of the impact the National Guard presence has had was:
National Guard personnel provided vehicle mechanics to help complete an inspection of a station's fleet. During the inspection, the National Guard mechanics identified and repaired more than 80 vehicles with suspension issues that could have led to significant safety hazards for Border Patrol Agents patrolling in isolated areas. As the Fleet Garage said, "Logistically speaking, an issue like this could have caused a major nightmare for our garage staff. But with National Guard members helping, it did not affect our fleet readiness. National Guard personnel helped us complete the inspections and repairs within two days. Without the Guard, it would have taken weeks to resolve the problems."
The National Guard's support to the CBP's primary mission has also yielded other tangible benefits. Another example provided by Border Patrol during last week's hearing was:
Border Patrol Agents received an Amber Alert issued by the state of Coahuila, Mexico. The Amber Alert noted that a three-year-old boy had been taken by his non-custodial father and was possibly in danger. Approximately two hours later, a member of the Texas National Guard was monitoring transmissions from camera towers near the Eagle Pass port of entry when he spotted a man and a child who had crossed the Rio Grande River. Border Patrol Agents took both into custody and, after processing, determined that the boy was the child identified in the Amber Alert. The boy was turned over to the Mexican Consulate and reunited with his mother.

Texas Military Department / Sgt. Mark Otte
When questioned by Congress regarding the duration of the National Guard's support on the border, CBP said the Guard is funded through the end of this fiscal year and they expect ongoing support thereafter. The National Guard similarly seemed to be willing to continue to support the mission.
The National Guard testified to Congress they are very pleased with the ability of Guard members to hone their skills in a real-world environment instead of simulated training exercises. This allows them to expand their capabilities and experience. They state they have received no negative feedback from their guardsmen and 75% of those who were involuntary mobilized thus far wish to extend. Those Guard units who have not been involuntary mobilized for this mission are using regular drill and annual training periods while maintaining their civilian jobs.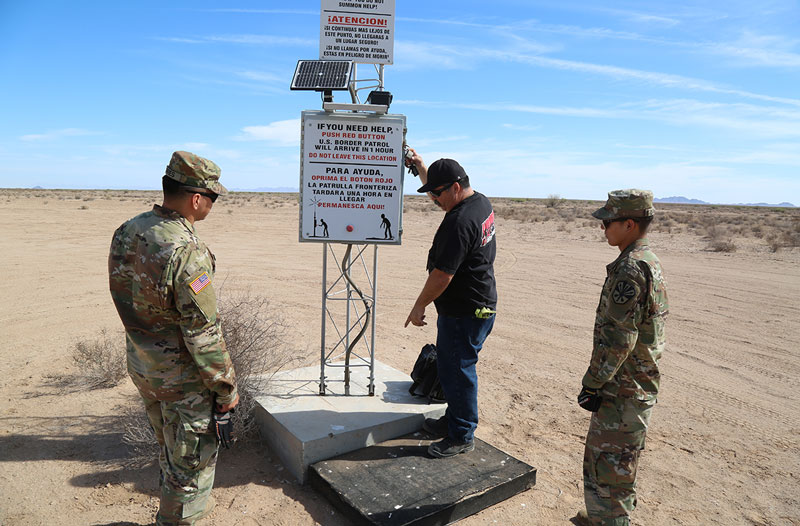 U.S. Customs and Border Protection Office of Public Affairs - Visual Communications Division

While the Guard explained, thus far, there has been no impact on their states' National Guard to support overseas missions they are otherwise tasked to support, this may change in the future. For example, Major General John F. Nichols, Adjutant General of the Texas National Guard, noted he currently has 20 percent of this members activated with 2,000 deployed guardsmen in places like Africa, Sanai, Afghanistan, Iraq, and Kuwait. Texas currently has 1,200 guardsmen on the border. Eventually, other states beyond those on the border will be required to contribute to Operation Guardian Support to sustain the mission. In Texas, other states have already committed aviation assets including Mississippi, Alabama, Georgia, South Carolina, Oklahoma and Florida.
While, for now, both agencies seem very satisfied with the working arrangement, as the demands on the Guard continue into the foreseeable future the strain on these units and individual guardsmen with begin to compound. Employment challenges, family separations, and disruptions in education plans are more than likely already on the verge of occurring. CBP, in the meantime, continues to struggle with recruiting and retention challenges. Specifically, CBP has cited the fact that they do not have geographically diverse and desirable duty locations as one major reason for retention issues, and the slow and inefficient hiring process as a recruiting issue. Those problems need to be fixed before the National Guard can begin removing itself from the border.