Event Content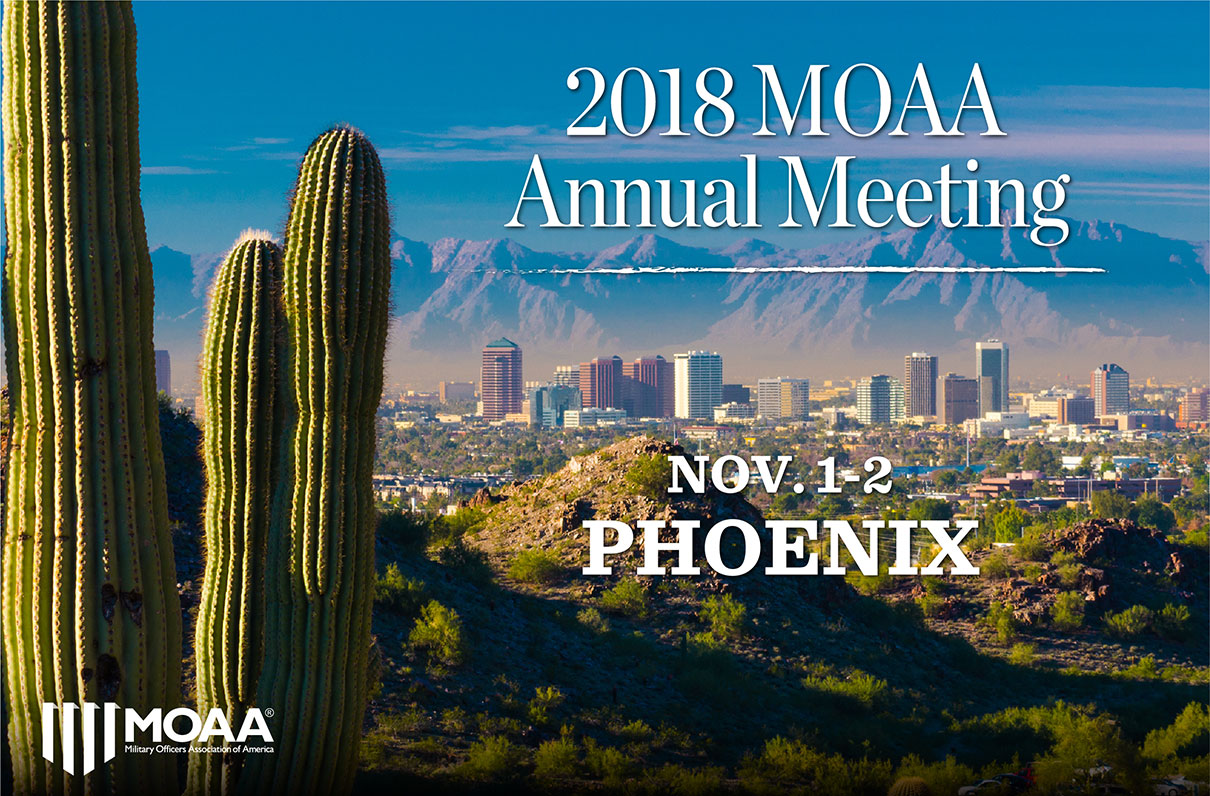 Date: Nov 1, 2018 to Nov 2, 2018
Venue
Arizona Grand Resort and Spa
8000 S Arizona Grand Parkway
Phoenix, AZ, 85044
REGISTRATION EXTENDED TO OCT. 29, 2018. You may register for the 2018 MOAA Annual Meeting until noon on Monday, Oct. 29. On-site registrations will not be accepted.
If you have any immediate questions, please call Suzanne Walker at 703-838-8162 or e-mail suzannew@moaa.org. Thanks for your interest in attending MOAA's fall events at the Arizona Grand Resort & Spa in Phoenix, Arizona.
Check out this list of things to do in Phoenix, AZ!
MOAA Schedule of Events
Event Time
Description
Speakers
Thursday, Nov 1

1:00 PM - 5:00 PM

Registration Desk Open

5:30 PM - 6:30 PM

MOAA Distinguished Contributor Reception

MOAA Distinguished Contributors are: Never Stop Serving Leadership Circle Members: MOAA Heritage Society Members; MOAA Scholarship Society Members; Distinguished Contributors.

*For more information about membership criteria, contact MOAA's Development Office (703) 838-8115

Attire: Business

6:30 PM - 9:00 PM

Levels of Excellence Awards Dinner

Attire: Business

Friday, Nov 2

Attire: Business

6:00 AM - 12:00 PM

REGISTRATION

MOAA Partner Displays

6:00 AM - 8:00 AM

Continental Breakfast

All attendees

8:30 AM - 9:30 AM

MOAA Annual Meeting of the Membership

9:45 AM - 11:50 AM

MOAA Informational Workshops

9:45 AM - 10:45 AM

Chapter Roundtable: Receive additional training on the Chapter Committee Module and Community Grants



9:45 AM - 10:45 AM

Seven Critical Issues You Must Consider Before Retiring from the Service: That light at the end of the tunnel will either be a train coming your way or the path to enlightenment. It's your choice. Here's what you'll need to be prepared for as you get ready to retire from military service.



10:50 AM - 11:50 AM

Open Line Friday - A Financial Town Hall with MOAA's Financial and Benefits Expert: Let Lt. Col. Shane Ostrom, USAF (Ret), CFP®, know what's on your mind in this lively discussion session. The blended retirement system, retirement accounts, investments, benefits, and financial issues are all on the table.

12:00 PM - 1:30 PM

Chairman's Luncheon - Keynote Speaker: Gen Norton Schwartz, USAF (Ret) Former Chief of Staff of the Air Force

2:00 PM - 3:00 PM

Special Break Out Session


Something New: A Benefits Open Season
Find out what's new in dental and vision plans for retirees. How does it all work? What are your options?