Survivor Advocacy Issues
SBP/DIC
Repeal the SBP/DIC Offset for Surviving Spouses
Issue: Current law unfairly makes military surviving spouses forfeit part or all of their military Survivor Benefit Plan (SBP) annuity when military service causes the member's death.
Background: SBP allows uniformed services retirees to elect to provide continuing financial support for an eligible survivor. SBP provides the survivor 55% of the servicemember's selected military retired pay. Enrollment is elected at the time of retirement, and the retired member pays 6.5% of retired pay as a premium. Automatic coverage is extended to survivors of servicemembers who die on duty Post-9/11.
Dependency and Indemnity Compensation is a VA program providing a modest annuity of $1,258 per month ($15,095 per year) for survivors of veterans whose death is determined to have been caused by military service.
Under current law, survivors who are eligible for both SBP and DIC must forfeit a dollar of their SBP annuity for every dollar of DIC received from the VA. Often, the offset wipes out the SBP annuity the military retiree paid for. In such cases, the survivor receives a proportional refund of SBP premiums – with no interest on what often has been many years of premium payments.
The October 2007 report of the Veterans Disability Benefits Commission urged elimination of the offset for all SBP-DIC widows, asserting that when military service causes the member's death, the indemnity compensation from the VA should be paid in addition to SBP coverage, not subtracted from it.
In multiple Congresses, a majority of House and Senate members acknowledged the inequity and cosponsored corrective legislation to recognize SBP and DIC are paid for different reasons. SBP is a servicemember-purchased annuity, whereas DIC is an indemnity payment when military service caused the member's death. Further, service-disabled retirees have limited opportunities to purchase additional life insurance, and policies that are available impose exorbitant premiums.
In 2008, Congress acknowledged the inequity in law, authorizing a modest Special Survivor Indemnity Allowance (SSIA) for SBP-DIC widows to begin phasing out the offset. In June 2009, Congress took the next step, increasing SSIA monthly payments to $200 beginning in FY 2015 and rising to $310 in FY 2017. Barring an additional law change, SSIA authority will expire May 1, 2018. The accompanying House Armed Services Committee press release stated, "This legislation (SSIA) is latest step in our continuing effort to eliminate the so-called 'widow's tax', which has long denied surviving family members the full payment of their Survivor Benefit Plan benefits… this bill does not completely end the offset … the House Committee …will continue to explore every opportunity to pursue legislation that brings us closer to eliminating the 'widow's tax'.
In the ultimate irony, a separate law, validated by the courts, terminates the SBP-DIC offset who remarry at age 57 or later. So current law punishes survivors who remarry before age 55 by ending their SBP and DIC eligibility – and punishes survivors age 57 or older who don't remarry by imposing the SBP-DIC offset.
No other federal surviving spouse is required to forfeit his or her federal annuity because military service caused their sponsor's death. Further, the offset does not apply to surviving military children – only to the spouse. And no other federal survivor is required to remarry to avoid a reduction in his or her survivor annuity eligibility.
Earlier this year, House Armed Services Committee Chair Mac Thornberry (R-Texas) included a provision in this year's House version of the National Defense Authorization Act expressing a sense of Congress about the financial penalties faced by military survivors.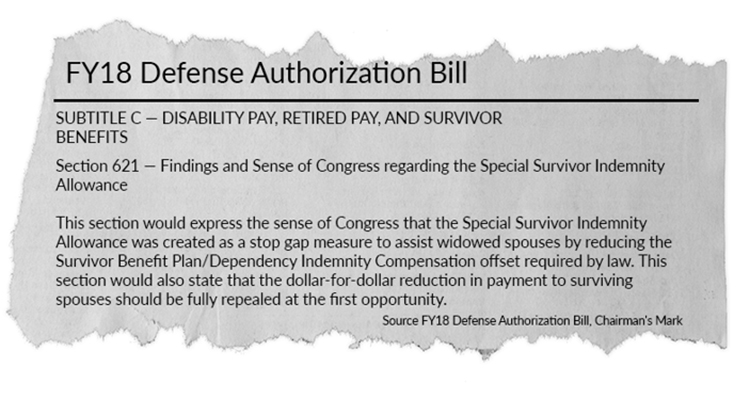 Rep. Thornberry also sent a letter to the House Budget Committee earlier this year asking for more money to eliminate the offset. MOAA applauds him for his hard work.
MOAA Position: End the SBP-DIC offset. Even in a budget-constrained environment, fair treatment for survivors of servicemembers who gave their lives for their country must not be a low funding priority.
Special Survivor Indemnity Allowances (SSIA)
A provision of the FY 2018 National Defense Authorization Act established a Special Survivor Indemnity Allowance (SSIA) for surviving spouses who are the beneficiary of the Survivor Benefit Plan (SBP) annuity and their SBP annuity is partially or fully offset by Dependency and Indemnity Compensation (DIC). This allowance was an attempt to improve survivor benefits in hopes of eliminating the SBP-DIC Offset. MOAA was instrumental in persuading Congress to implement this survivor benefit.
SSIA also applies to the surviving spouses of members who died on active duty whose SBP annuity is partially or fully offset by their DIC. Surviving spouses whose SBP annuity is suspended due to remarriage prior to age 55 are not eligible for SSIA during the suspension. If the surviving spouse regains eligibility for SBP and DIC, they will also regain eligibility for SSIA. The SBP annuity for children is not offset by DIC, so child SBP beneficiaries are not authorized SSIA. Surviving spouses who transfer their SBP to their child/children are not eligible for SSIA because they receive DIC and their child/children receive SBP. In this case, there is no offset.
Surviving spouses whose SBP annuity is fully or partially offset by DIC are not required to apply for SSIA. The Defense Finance and Accounting Service (DFAS) will automatically pay SSIA to surviving spouses whose SBP accounts show a DIC offset of their spouse SBP annuity for months starting in October. However, if you never applied for the SBP annuity, DFAS will not have an account to identify you as an SBP beneficiary eligible for payment of SSIA. If you need to apply for SBP, contact your Retirement Services Office or DFAS.
Surviving spouses, whose SBP annuity is completely offset by DIC, need to ensure DFAS has valid direct deposit account information or mailing address. Without valid account information or check address, DFAS will not be able to pay the SSIA. You can update your account information or check address by contacting DFAS at 1-800-321-1080.
SSIA started at $50 a month, increasing by $10 a month until it reached $90 in 2013, capping at $310 in 2017. SSIA will terminate in May 2018 if not extended.

During deliberations on the House version of the annual defense bill, Rep. Susan Davis (D-Calif.) introduced, and later withdrew, an amendment to continue the Special Survivor Indemnity Allowance (SSIA). The well-intentioned, but misguided, proposal would extend SSIA beyond its current expiration in May 2018 by increasing pharmacy fees for all beneficiaries.
Rep. Thornberry offered Davis assurances the committee would address the issue in conference negotiations with the Senate.

The Senate version of the defense bill contains a similar provision to fund an extension of the allowance.

MOAA believes this is the wrong approach, as it penalizes all TRICARE beneficiaries and forces survivors to pay for their own earned benefit.
Allowing SSIA to expire would mean 63,000 offset surviving spouses would see a $310 PAY CUT per month. MOAA recommends that SSIA not only be extended if the SBP-DIC offset is not eliminated, but that SSIA also be increased over a period of time until the offset is eliminated completely.