NOTE: The 2020 application process is closed.
MOAA encourages all members with a genuine interest in serving the military community as a member of MOAA's board of directors to submit an application.
Members can download an application packet as a fillable PDF, which includes full instructions and answers to many frequently asked questions, here. Get more details on the process here.
In addition to the form, applicants must submit the following:
A summary of your qualifications to serve on the board, not to exceed two pages. This summary should highlight those aspects of your background and experience that demonstrate:

Your understanding of the role and responsibilities of a corporate board of directors;
How you will contribute to achieving the goals and objectives of MOAA's five-year strategic plan;
A working knowledge and understanding of financial, budgeting, and financial reporting of business operations;
A record of success and accomplishments in organizational leadership positions; and
The ability to communicate effectively and concisely in written and oral communications, including digital communications and social media.

A one-page résumé of your service in the military, including civilian and military education; for surviving spouses, your professional experience and volunteer activities.
A recent head and shoulders photograph (at least 2"x3") in civilian clothes that is suitable for publication.
Confirmation of military status:

For active-duty and active status officers, a copy of a recent Leave and Earnings statement.
For retired officers and former officers, a copy of your Form DD-214, Certificate of Release or Discharge from Active Duty.
For reserve and National Guard retirees, a copy of your retired pay order or letter of transfer to retired reserve status.
For surviving spouse members, a description of your late spouse's military service.
Your application package must be in looseleaf form. Please do not bind the application package together, and do not staple multipage documents (use only paper clips). Completed applications and three letters of reference (to be completed and mailed directly to MOAA by your endorsers) should be mailed to:
Board Nominating Committee
Military Officers Association of America
201 N. Washington St., Alexandria, VA 22314.


Applications and all letters of reference must be received by April 14, 2020. Questions? Email boardapps@moaa.org or call (800) 234-MOAA (6622), ext. 167. If you call after hours, leave a voicemail message that includes the spelling of your first and last name, your phone number, and your MOAA member number (if known).
The Process
Applications are evaluated by a Board Nominating Committee, appointed by the board, to select the 12 nominees to be voted on by MOAA's membership. Neither incumbent directors nor association staff members may serve on the committee.
The committee's slate of nominees for board positions will be presented to the voting membership by mail. Printed ballots will be furnished with the August 2020 issue of Military Officer, and online voting again will be offered. Newly elected directors will be installed after the annual meeting in Kansas City, Oct. 24, 2020.
Bylaw Requirements
[Read MOAA's Bylaws here]
There are 36 directors on the board of the association: eight Army, eight Navy, eight Air Force, three Marine Corps, two Coast Guard, one Public
Health Service, one NOAA, and five at-large (without regard to service affiliation). In order to maintain the required service representation,
the incoming class of directors must consist of at least one Army, two Air Force, three Navy, one Public Health Service, and one surviving spouse.
The Coast Guard, Marine Corps, and NOAA have no specific vacancies, but officers from those services may apply for the five at-large seats. In addition:
Directors must be active duty, Reserve, National Guard, retired, or former uniformed service officers, or surviving spouses of such officers, and members of the association.
Directors hold office for six years.
Each director represents the total association and not a regional or service constituency.
The board directs and controls the business management and affairs of the association and has the authority to approve contracts, incur liabilities, expend funds, and attend to other association matters.
There are no grade or other limitations on the number of officers who may serve as directors at any one time. Efforts are made to obtain the best-qualified members from within the membership of the association.
Service on the Board
Directors discharge their governance responsibilities primarily by participating in the three board meetings convened each year. Each board meeting includes meetings of the various standing committees and requires about two to three days, not including travel.
A director should be able to devote two to three weeks each year to MOAA matters, including travel, board and committee meetings, and participation in other events such as the annual Council Presidents' Seminar, council and chapter leadership workshops, and individual visits to councils and chapters.
A director must refrain from activities that could reasonably be viewed as conflicting with or possibly influencing the director's judgment regarding his or her responsibilities to MOAA.
Directors receive no compensation, but they are reimbursed for MOAA-related travel, lodging, and meals.
Directors serve a (1) six-year term and must be a member of MOAA.
Regional Vacancies
To be sure the board reflects the geographic distribution of the voting membership, at least four directors must come from each of six regions, in
which reside approximately equal numbers of voting MOAA members.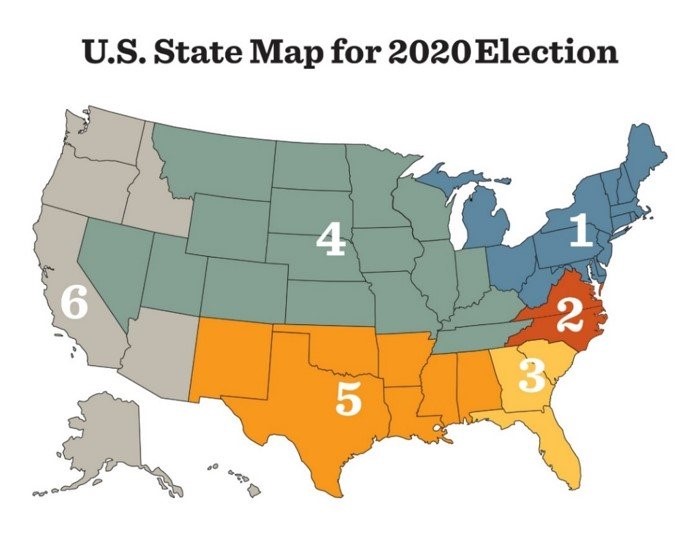 Region 5 requires at least two directors.
Regions 3 and 4 require at least one director.
The other eight vacancies may be filled from any region.