Military Officer Magazine Advertising
Advertising Rate Card-- Reach the best of the growing mature market!
You can now view the
Military Officer
magazine
Media Kit
online. (Effective with the January 2018 edition)
About Our Magazine and Our Audience
As the official publication of the Military Officers Association of America (MOAA), Military Officer is a wide-interest monthly magazine dedicated to serving the needs of its members. Targeted to active, affluent military officers and their families - both retired and active duty - the magazine includes topics such as national defense, retirement lifestyles, second careers, health and wellness, family life, travel and leisure, current events, and military history.
Reader Profile and Research Results
EVERY MONTH YOU CAN REACH HUNDREDS OF THOUSANDS OF AFFLUENT AND EDUCATED AMERICANS WITH BUYING POWER.
The readers of Military Officer magazine, published by the Military Officers Association of America, are former and active duty military officers who represent one of the healthiest and most influential and affluent groups of mature consumers in our country.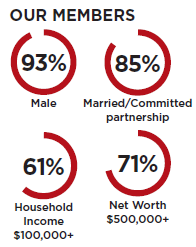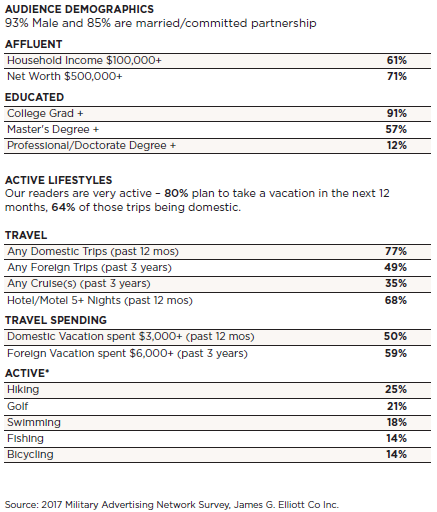 Here's How you Can Connect With Our Readers
CONTACT YOUR SALES REP
James G. Elliott Co. Inc.
New York: (917) 421-9055/ (917) 421-9043
Chicago: (312) 348-1201
Los Angeles: (213) 596-7215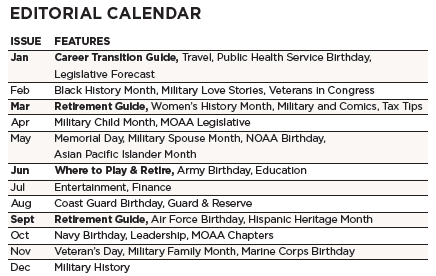 Special Issues
JAN: Career Transition Guide
MAR & SEP: Retirement Guide
JUN: Where to Play & Retire
Note: All editorial is subject to change
Department Highlights
Money Talk: financial column
Set Your Course: career development and leadership content
R&R: travel, entertainment, and family articles
Healthy Living: food, fitness, and health content
Gear Locker: featured products that are relevant to the content
Never Stop Serving: MOAA-centered content. This section will have its own cover inside the magazine
Closing Dates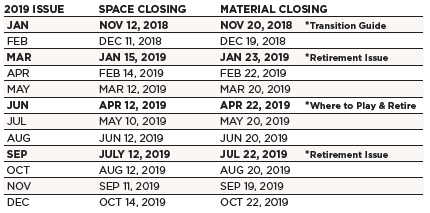 Points of Contact
PUBLISHER: The Military Officers Association of America
For all advertising sale inquiries please contact:

James G. Elliott., Inc.

East Coast Sales
Ilyssa Somer (917) 421-9055 i.somer@jamesgelliott.com
or
Pam Pagan (917) 421-9043 p.pagan@jamesgelliott.com

Mid West Sales
Kristene Richardson (312) 348-1206 k.richardson@jamesgelliott.com

West Coast Sales
Kim McGraw (213) 596-7215 k.mcgraw@jamesgelliott.com