MOAA Outlines VA Priorities to Lawmakers at Joint Veteran's Affairs Hearing
Cmdr. Rene Campos, USN (Ret), speaks at a joint Veterans Affairs hearing March 12 on Capitol Hill. Campos represented MOAA at the hearing, which gathered viewpoints from multiple veterans service organizations. (photo by Jennifer Milbrett)
MOAA's advocacy mission took center stage on Capitol Hill on Tuesday as one of seven veterans groups that offered their advice and priorities to House and Senate members during a joint Veterans Affairs Committee session.
Cmdr. René Campos, USN (Ret), MOAA's senior director of government relations for veterans-wounded care, outlined the association's legislative priorities for the VA during the hearing, to include the expansion of health care offerings, a renewed emphasis on behavioral health care, and a push to reach more women veterans with needed VA services.
"It is a privilege to represent thousands of servicemembers across the country," Campos said after the hearing. "We have a unique perspective to see servicemembers as they transition from time in the military to the outside. We can help VA be more receptive to their needs."
Rep. Mark Takano, D-Calif., chairman of the House Veterans Affairs Committee, thanked each of the veteran groups for attending the hearing. Takano mentioned mental health and expanding care for women - two topics that MOAA has been involved with.
[RELATED: Health Care Improvements Veterans Can Expect in 2019 ... Is VA Up to the Challenge?]
"Your concerns are my concerns, and the concerns of the House Veterans Affairs Committee," he said. "The message from you and your VSO cohorts is clear - Congress must keep a vigilant eye on the VA and pass legislation to care for our veterans."
MOAA will advocate for dependents up to age 26 to be eligible for health care coverage under the Civilian Health and Medical Program of the VA (CHAMPVA), Campos said. The change would mirror health insurance plans offered through the federal Affordable Care Act.
MOAA is also pushing for the VA to meet the needs of women veterans, including expanded health care and disability benefits. Women make up about 10 percent of the veteran population - a figure that is expected to grow over the next decade.
[RELATED: Read MOAA's Written Testimony to the Joint Committee]
VA Secretary Robert Wilkie has emphasized the importance of caring for women's veterans. He has made filling vacancies for women's health care in VA centers across the country a priority.
Finally, Campos said MOAA will work to strengthen collaborative efforts between services at VA and the DoD and investing in ways to identify at-risk populations.
The VA came under scrutiny late 2018 when a GAO report stated that the department spent only $1.5 million of its $17 million budget to combat veteran suicide. Since then, the VA has ramped up its efforts, including hiring a new suicide prevention director.
"There's no doubt VA has made great strides in expanding its health care services to help veterans suffering from pain, traumatic brain injuries and mental health conditions," Campos told the joint hearing. "VA can't let up in its efforts because the need is so great."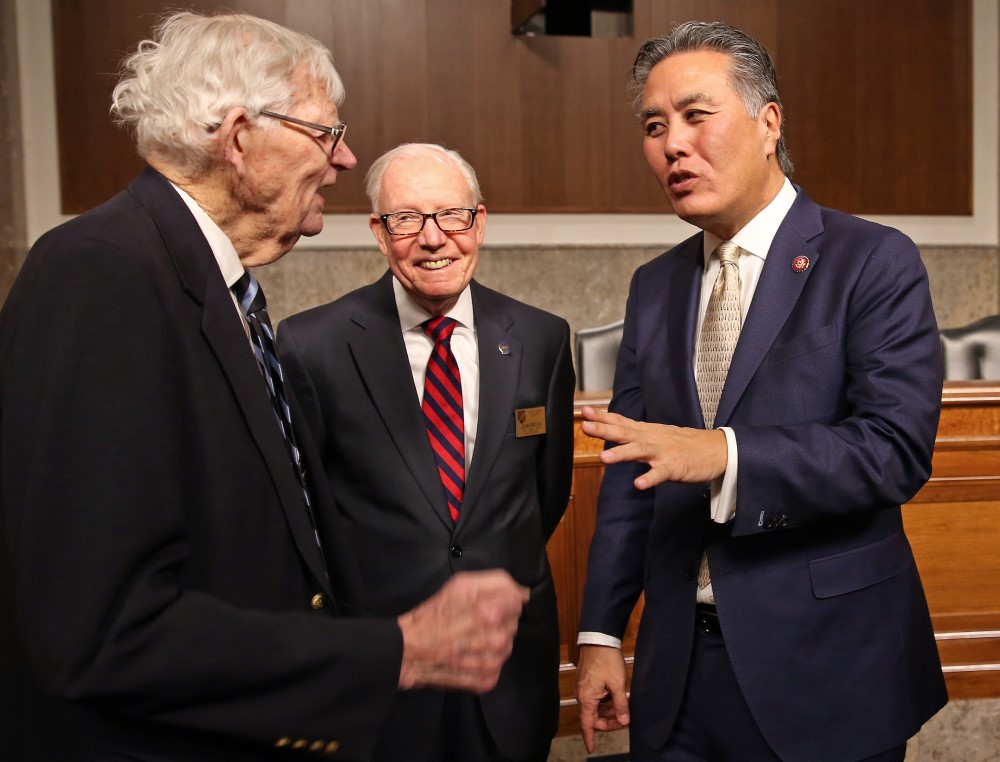 MOAA Life Members Lt. Col. Carroll Towey, USAR (Ret), left, and Cmdr. John Prevar, USN (Ret), center, speak with Rep. Mark Takano (D-Calif.) after Tuesday's hearing. (photo by Jennifer Milbrett)
MOAA Life Members Lt. Col. Carroll Towey, USAR (Ret) and Cmdr. John Prevar, USN (Ret), were among the attendees at Tuesday's hearing. Both men said MOAA's strength has been instrumental in crafting legislation to benefit the range of servicemembers' needs.
"There's more strength in numbers," Towey said. "I work with [Virginia] Congressman [Don] Beyer, and he recognizes MOAA because of its initiatives for helping veterans and their families."
Amanda Dolasinski is MOAA's staff writer. She can be reached at amandad@moaa.org. Follow her on Twitter @AmandaMOAA.