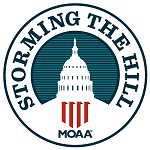 This article discusses a key part of MOAA's Storming the Hill 2019. For more, visit our Storming the Hill page.

MOAA will host its annual Storming the Hill event on April 10. During the all-day event, MOAA members from across the country will visit their elected officials to address important issues affecting servicemembers and their families.
One of the issues MOAA members will discuss with lawmakers is the "widows tax," a financial penalty affecting almost 66,000 military survivors.
Under current law, survivors of deceased servicemembers must forfeit part or all of their purchased Survivor Benefit Plan (SBP) annuity when they are awarded the VA's Dependency and Indemnity Compensation (DIC). The widows tax is the loss of any portion of the SBP annuity.
Legislation to end the offset has been introduced in the House by Rep. Joe Wilson (R-S.C.) and in the Senate by Doug Jones (D-Ala.) and has broad, bipartisan support. As of April 3, the House bill had 204 cosponsors; the Senate bill had 45.
New rules passed earlier this year in the House make it easier to force a vote on a bill if it has 290 cosponsors. With your help, we can make that happen.
Please take a moment to send a MOAA-suggested message to your elected officials about the widows tax.