Maryland Launched a State Military Coalition, and You Can, Too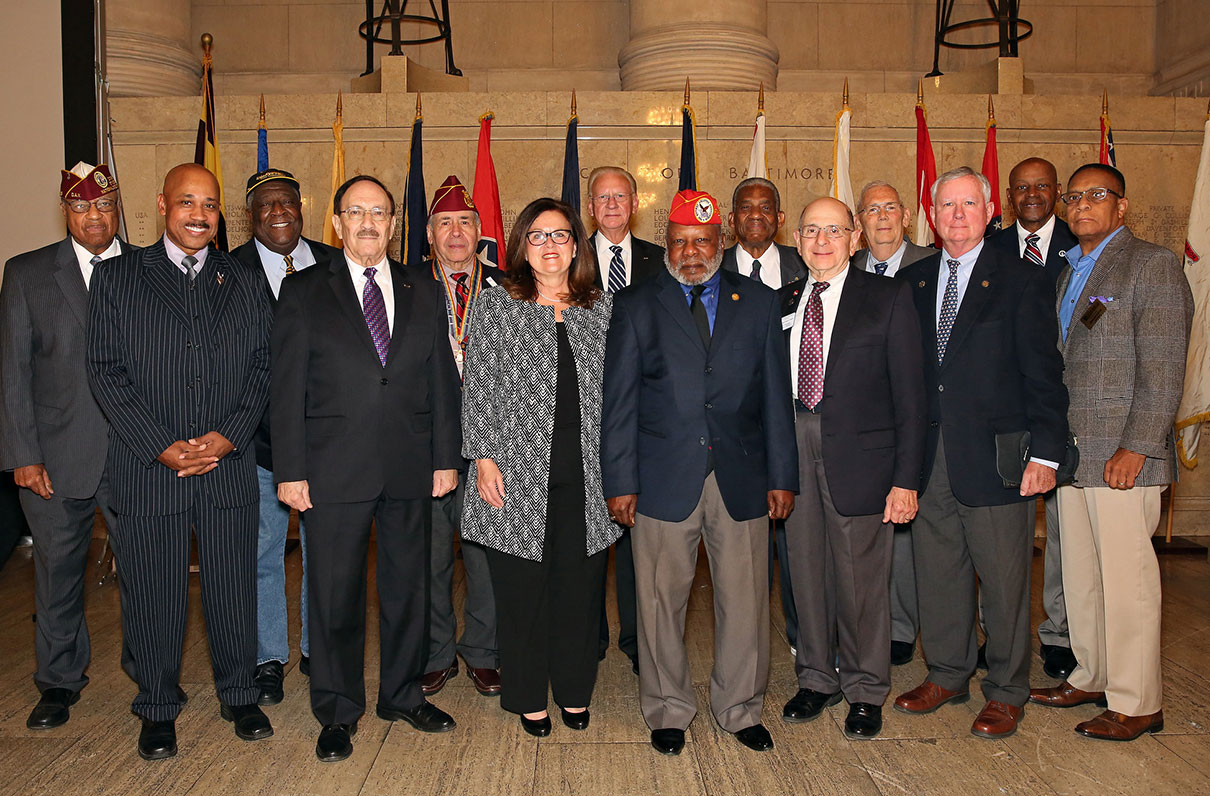 The charter members of the Maryland Military Coalition, who will lobby state legislators and government for positive change for service members and veterans, and their families. (Photo by Jen Milbrett)
Thirteen Maryland-based service organizations, including MOAA's Maryland Council of Chapters, have joined forces to better represent the state's servicemembers and veterans, and their families.
The Maryland Military Coalition formally launched over Veterans Day weekend and will lobby the state legislature and government to improve the lives of members of all seven uniformed services.
Col. Bob Norton, USA (Ret), the coalition's president-elect, said the group will focus on "broad, cross-cutting issues we all agree on." These could include pay and benefits, health care, quality-of-life programs, and taxes, said Norton, who is the second vice president for MOAA's Maryland Council.
The 13 charter coalition members are:
Air Force Sergeants Association
American Military Society
Association of Commissioned Officers [NOAA Corps]
Commissioned Officers Association of the USPHS [U.S. Public Health Service]
Disabled American Veterans
Jewish War Veterans of the USA
Maryland Air National Guard Retiree's Association
Military Officers Association of America
Military Order of the Purple Heart
Military Order of the World Wars
National Association for Black Veterans
The Retired Enlisted Association
Veterans of Foreign Wars Maryland
The Maryland Military Coalition is modeled after The Military Coalition, a national group of military and veterans organizations that includes MOAA National.
Top priorities and issues to pursue will be addressed at the coalition's next meeting, on Nov. 27. Veteran service organizations in Maryland interested in joining the coalition are still eligible for charter membership through Dec. 31. For more information, contact retired Air Force Chief Master Sgt. John T. May, the coalition's secretary/treasurer-elect, at jpaulmay@aol.com or 301-583-8687.
The state of Maryland includes 460,000 military-connected people, the coalition estimates. That includes Fort Meade, the Army's second-largest post, based on employees.
"It's vitally important that we all come together to speak with one voice," said Arthur "Coop" Cooper, a retired Army sergeant first class and past national president of the Retired Enlisted Association.
Phil Munley, director of the Veteran Service Program for the Maryland Department of Veterans Affairs, said he is looking forward to seeing the coalition's efforts come to fruition.
"Any step for the good of a veteran, I'm going to take as a positive," Munley said.
Col. Harvey Kaplan, U.S. Army Corps of Engineers (Ret), said the real work starts now.
"As the Maryland MOAA Council President, I'm very proud of what we've done so far in our state with the MMC. Nevertheless, we all recognize that the 'heavy lift' is still coming, after the General Assembly convenes in January for its three-month session."
He hopes the work will inspire other MOAA leaders on the state level.
"I'd say that each MOAA Council and its officers can make this happen; similar initiatives unquestionably will benefit all of our military members and families across the U.S.A.," Kaplan said.