The Army may have missed its recruiting goal this year, but the head of Army Cadet Command said he remains confident in officer accession.
Maj. Gen. John Evans, who is also the commanding general of Fort Knox, Ky., said there have been challenges - such as low nationwide unemployment, which means increased competition for top talent - but the officer corps is strong. By 2020, leaders hope to have 6,000 new second lieutenants filtering into positions.
"While there's always a concern about growing the officer corps and whether you can get the right number of qualified candidates, I feel very comfortable right now that we are on the glide path to making our mission in the out years," he said.
Here are four ways Evans is working to grow the officer corps.
1. Reaching the 2020 goal. It may be tough competing with the private sector for quality, talented officers, but Evans said there is a propensity for individuals to serve. He said he is tapping into all the ways the Army commissions officers: military academies, Officer Candidate School (OCS), Reserve Officers' Training Corps (ROTC), and direct commissioning.
"What we are seeing is the Army has a desire to grow because we have downsized for a while," he said. "We're trying to ramp back up so we can meet the threats on the future battlefield. In doing that, we need to meet a commissioning mission of 6,000 by 2020. We are on the glidepath to do that. There is still a propensity to serve, despite the fact that there's a challenging job market."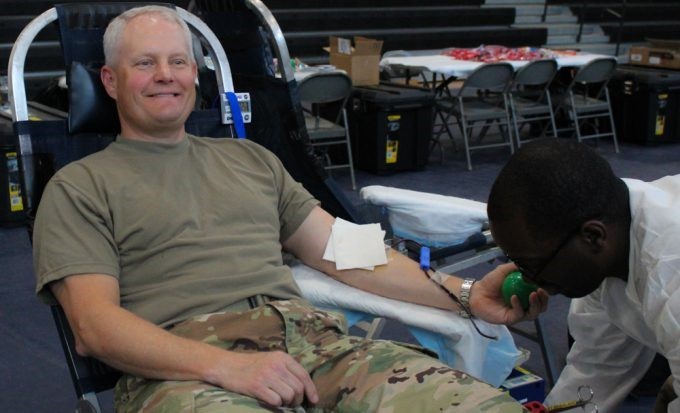 Giving his all: Maj. Gen. John Evans participates in the Armed Service Blood Program. (Gia Cruz/Army)
2. Building up JROTC groups. More than 300,000 high school students belong to about 1,700 Junior Reserve Officers' Training Corps (JROTC) groups across the country - but more students want in.
"We have a waiting list ... of school that want to introduce the JRTOC program to their school district," Evans said.
3. Reaching out to students who miss the cut at West Point. More than 12,000 students apply to the U.S. Military Academy each year, but only about 1,000 students make it in and move on to commissioning.
Evans said he is working with Congress to offer scholarships to quality candidates who don't get into the academy. He said the plan is for Congress to identify students who miss West Point and ask them to work with ROTC, in return receiving a four-year scholarship to university of their choice.
"We think that's a good way to get people who already have a propensity to serve and get them a tool, a vehicle, to help pay for the college and also get them into the ROTC pipeline to be an officer."
The program went through a small pilot phase last year. Officials are working with ethics committees and legal counsels to finalize plans for moving forward, Evans said.
"We've got some work to do in that space, but we are still moving out on that and we believe it's a big effort for us once we get it finalized," he said.
4. Calling on retired officers. One of the most significant tools to recruit officers is retired officers, Evans said.
Retired officers are encouraged to attend community events and share their experiences with young adults who are considering joining the military, he said. Retired officers connect with potential officers in a way advertisements and recruiters simply fall short.
"We go after the market in terms of the men and women we want to bring into the force, but most of those youngsters are still looking to mom or dad, an aunt and uncle, a mentor, a community leader, somebody that they know and respect, somebody to help guide them for those life choices," Evans said. "Some of our Soldiers for Life - our retired officers - can be chief influencers in the decision to join the Army. You need to be out there and be vocal.
"Tell somebody about how what you did in the Army helped you be successful. We find that's a very effective method and we're continually investing in our soldiers for life to get them to do that."
Amanda Dolasinski is MOAA's staff writer. She can be reached at amandad@moaa.org. Follow her on Twitter @AmandaMOAA.