'America Must Do Better' When it Comes to Veteran Health, Former Air Force Chief Says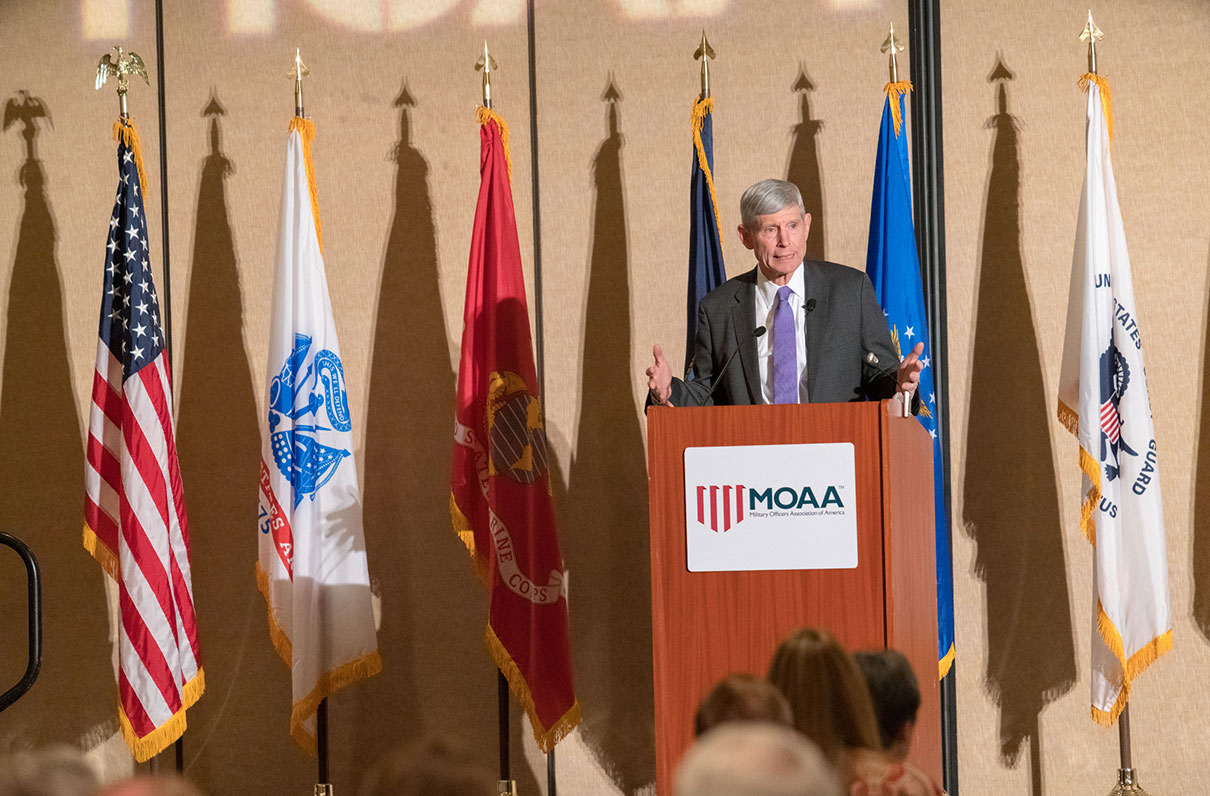 Gen. Norton Schwartz, USAF (Ret.), talks with MOAA members on Nov. 2 during the Annual Meeting in Phoenix. (Photo by Rob Cannon)
Despite this year's big defense budget and support from the American public, veterans still aren't getting all the health benefits they deserve, according to Gen. Norton Schwartz, USAF (Ret.), the Air Force's 19th Chief of Staff.
"America can and must do better by way of our veterans. No one who has ever worn a uniform should ever be homeless. No one who has served in battle should experience any difficulty in finding employment," Schwartz said during his keynote address Nov. 2 in Phoenix at the Military Officers Association of America's annual meeting.
While serving as the Chief of the Air Force from 2008 to 2012, Gen. Schwartz was faced with the same budget issues that plague today's service chiefs. He maintains there is no reason why our veterans should not be receiving adequate medical care and benefits.
"No one suffering from physical or mental injuries should suffer from substandard care and no one's bravery, service, and sacrifice should ever be forgotten," he said.
Yet, Schwartz acknowledges it will take more than government programs to change the care and health and benefits system for our currently serving and veterans.
"As recent headlines serve and remind us, our institutions tasked with helping our heroes are imperfect," said Schwartz, which is why non-profit organizations and philanthropies are "so critical."
Organizations such as MOAA are needed to keep government departments in check, and to ensure retirees and former servicemembers maintain the level of benefits they were promised, Schwartz said.
"This association has a long and proud tradition of supporting those active-duty military and our veterans," he said.
During his more than 40 years in the military, Schwartz served multiple tours overseas, including the evacuation of Saigon at the end of the Vietnam War, and operations Desert Shield and Desert Storm. He writes on his military and leadership experience in his newly released novel, Journey.
Blended retirement
When asked how the new blended retirement system will affect future military benefits, Schwartz described it as a positive example of how the services are adjusting military benefits to keep up with the ever-evolving defense budget.
"We had a retirement system, a defined benefit system, which encouraged people to serve at least 20 years," Schwartz said. "The downside was for those members who didn't serve that long were left, as a general rule, with no stipend at all."
Moving to the new blended retirement system allows the military to provide for medically retired veterans and troops who serve fewer than 20 years, even though it may not be as enticing to servicemembers who plan to make a career out of the military.
Are you eligible for blended retirement? Please take this MOAA survey. If you aren't eligible, please share it with the military members in your network.