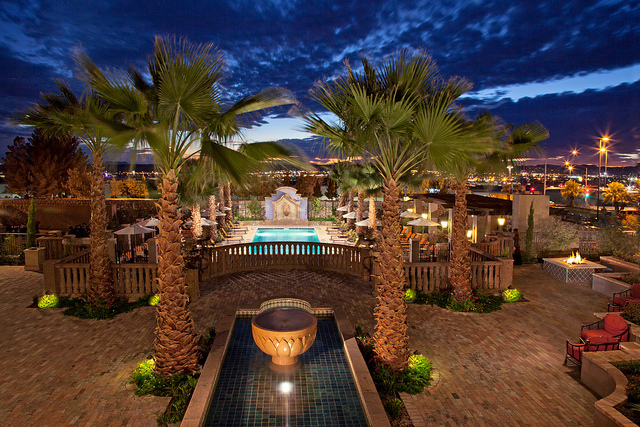 Photo Courtesy of Hotel Encanto de las Cruces
By Maryann Hammers
Whether you love nature or nightlife, the Southwest has something for you. Flash your military ID for discounts on lodging and attractions.
National Parks
With their deep canyons and massive rock formations jutting toward a bright blue sky, the National Parks and National Monuments of the Southwest are a must-see. Active duty military members (including National Guard and Reserve members) and their families can explore them with a free America the Beautiful Pass . Just show your common access card or DD Form 1173. Anyone over age 62 can get a lifetime pass for just $10.
Arizona
Flagstaff offers plenty of adventures for military members. In addition to free admission to national parks, national monuments, and U.S. Forest Service sites such as Walnut Canyon National Monument , Wupatki National Monument , Sunset Crater Volcano National Monument , and Lava River Cave, here are some suggestions:
Ride the Arizona Snowbowl scenic chairlift, which reaches an elevation of 11,500 to Agassiz Peak. In 25 minutes, you'll reach the top, with great views of the North Rim of the Grand Canyon. Have lunch, hear ranger talks, or take a hike. Show your military ID for a 20 percent off the regular price (you pay $15.20). For more information, call (928) 779-1951.
Flagstaff Extreme's Tree Top Adventure course is an elevated obstacle course set in the tall ponderosa pines, with suspended bridges, swings, slides, nets, zip lines, and even an aerial surfboard. Military members get a 10-percent discount. Call (888) 259-0125.
Science and astronomy buffs will have stars in their eyes at Lowell Observatory , which offers solar, star, moon, and galaxy viewings, Pluto tours, and multimedia shows. The military price is $11. Call (928) 774-3358.
New Mexico
Heritage Hotels & Resorts , an independent, locally owned boutique hotel chain, offers military members a discounted $99 rate in Santa Fe, Albuquerque, and Las Cruces. The offer is valid at The Lodge at Santa Fe (call 505-992-5800), Nativo Lodge in Albuquerque (call 505-798-4300), and Hotel Encanto de Las Cruces (call 575-522-4300). While each hotel has its own distinct vibe, they all boast authentic southwestern architecture, design, artwork, landscaping, and cuisine, blending Native American, Spanish, Mexican, and American Western influences. The rate includes breakfast for two each day, plus free parking, free Wi-Fi, and discounts at nearby restaurants, shops, and attractions. Use code MILBRKFST when booking online.
The Courtyard Marriott Santa Fe is near Santa Fe Municipal Airport and attractions such as Loretto Chapel, the Georgia O'Keeffe Museum, and Canyon Road gallery district. Accommodations offer free Wi-Fi and refrigerators, and parking is free. Active duty and retired military members get the current government per diem rate. Call (505) 473 2800.
Drury Plaza Hotel in downtown Santa Fe offers veterans and active duty military members a 10 percent off its regular rates. Free hot breakfast is served every morning and free food and beverages are served in the evening. Veterans use promo code VET; active duty military members use promo code SALUTE. Call (505) 424 2175.
While you're in town, stop for a bite at The Plaza Café Southside , where seniors and military personnel get a 10-percent discount. The menu features New Mexican flavors and Greek recipes in a classic American diner setting. Call (505) 424-0755.
Las Vegas
The Plaza Hotel & Casino on Main Street in downtown offers the traditional Vegas experience — plus a 15-percent discount for active duty (not retired) military members. Book online using promo code "hero." Call (800) 634-6575.
Military members and veterans get 35 percent off tickets to Cirque du Soleil's The Beatles LOVEat the Mirage. To get the discount, you'll need to buy your tickets over the phone or in-person (not online) and show your valid photo ID at the box office. Call (702) 792-7777.